Free agency roundup: Cavs preparing max offer for Hayward, more
Free agency madness continues, with players agreeing to contracts that can be signed on July 10.
• 1 min read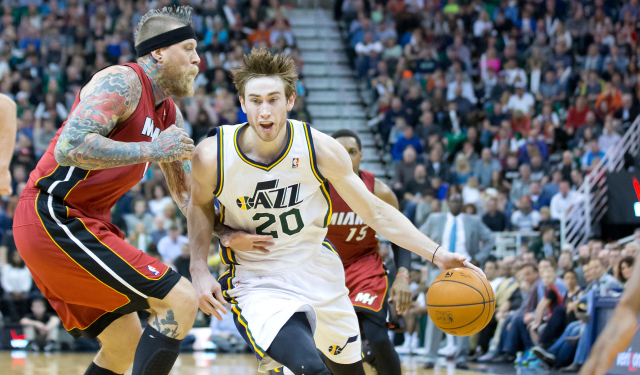 More Offseason Analysis: Coaching changes, news | Free Agency | Draft
• The Cleveland Cavaliers are preparing a maximum offer sheet for swingman Gordon Hayward, according to ESPN's Brian Windhorst. He's meeting with the team on Tuesday, as reported by Yahoo Sports, and a contract that lucrative would put the Utah Jazz in a tough position. They'd obviously rather he didn't leave for nothing, but is it really worthy investing that much money in him? You'd think they'd at least consider sign-and-trade scenarios.
• Kyle Lowry is reportedly weighing an offer from the Toronto Raptors for four years and $44 million. They might up it to five years and $55 million. That sounds about right. 
• Avery Bradley accepted a four-year, $32 million offer from the Boston Celtics, who clearly didn't want to risk someone offering more in restricted free agency. Not sure how likely that would've been, but Bradley is young, improving and already a great defender. 
• The Orlando Magic agreed to a contract with Ben Gordon for two years and $9 million, which sounds kind of crazy. The second year isn't guaranteed, though, and it's not that's going to restrict what Orlando does this summer. You don't have to freak out about it.
• The Indiana Pacers and Damjan Rudez reached an agreement on a three-year deal. Indiana's offense needs a lot of work, and Rudez can help with floor spacing.  
• Lance Stephenson is having "trouble finding leverage on the Pacers," according to Yahoo Sports' Adrian Wojnarowski.  
• The Miami Heat and San Antonio Spurs are interested in Pau Gasol, which makes sense, but the big man is "still pushing for a $10 million-$12 million annual salary," according to Yahoo Sports. That figure might need to drop.
Thomas took to Twitter to let the Celtics know he doesn't want to ruin Pierce's night

The Hall of Famer was a seven-time All-Star with the Celtics, and was MVP of the 1976 NBA...

It's rare to see a legit punch in an NBA fight, but this was definitely one of them
We've got all the scores, highlights and news from an NBA Tuesday

The former Slam Dunk Contest champion will take his talents to Tri-State

Do NBA players have look-a-likes from famous paintings? We found out on the new Arts & Culture...