Friday Q&A: Steve Nash confronts the inevitable
During a series of conversations this week during the Lakers' trip to Texas, 39-year-old Steve Nash opened up about pain, injuries and a word he's not ready for yet: retirement.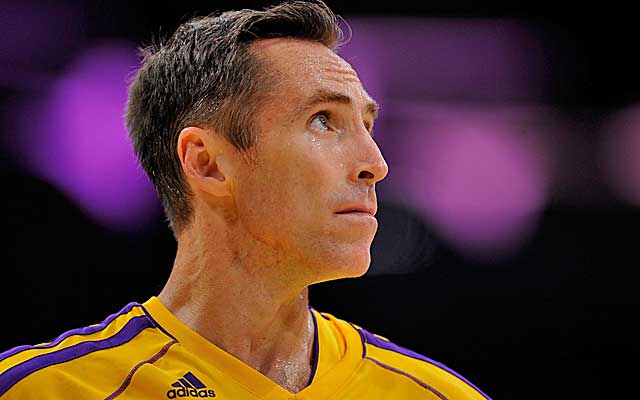 Steve Nash has seen it all during his 18-year NBA career, but nothing as daunting as what he is facing now.
He's facing the inevitable, the way they all do. He's facing the end.
At 39, Nash is coming off an injury-ravaged season that saw him miss 32 games with physical ailments ranging from his hip/hamstring to chronic back pain to a fractured leg that cost him 24 of those games – an injury that continues to cause lingering pain due to nerve damage.
It's a daily struggle for Nash, a two-time MVP and eight-time All-Star, just to get his body ready to play as the Lakers try to avoid a lost season with Dwight Howard in Houston and Kobe Bryant trying to return from a ruptured Achilles' tendon. There are hours of rehab and physical therapy, rest and ice, as well as the mental challenges that come with all of the above. Ask Nash how he's feeling these days, and he'll shrug and say, "Same old. With the emphasis on old."
He faces the struggle with the same determination that has made him one of the most overmatched physical specimens ever to reach NBA greatness – a first-ballot Hall of Famer and one of the best point guards ever to play. But even the ever-optimistic Nash can see the horizon – the finish line.
He has this season and next left on his contract with the Lakers, and despite the pain, Nash fully intends to see it through. In a series of conversations this week during the Lakers' trip to Texas – first in a small-group setting after LA's loss in Dallas on Tuesday night and then in a sitdown with CBSSports.com on Thursday in Houston -- Nash opened up about rebuilding at this stage of his career, the physical challenges he's facing and a word he's not ready to think about yet: retirement.
Q: Is it enjoyable at this stage to look forward to this type of process?
A: Yeah, if I can get the body to improve a little bit more, I can really enjoy it. I really want to play. I really want to be healthy enough to be effective. I'm just on that verge of trying to get over the hump physically. If I can do that, I'll really enjoy it
Q: With the team, what about just having patience?
A: We have no choice. I think the biggest thing for us is we knew that coming in with so many new faces … no Kobe or Dwight, that's just such a big difference from last year. We know that this is going to be a team that's going to continue to improve, hopefully, and find an identity, but it's going to take a lot of time. That's not something that just happens overnight.
Q: How difficult is it to be patient with the physical challenges you're going through right now?
A: It can be difficult some days, but you get a good night's sleep and you come back at it tomorrow. You've got to try to be as resilient as possible and hope all the work pays off.
Q: How do you measure progress with that?
A: It's a feel. Obviously, just being able to do to the things that I'm accustomed to doing and doing  them with comfort and ease and repetition -- it's gotten better throughout camp, but it's still not there.
Q: You've been able to address the health issues and the age factor with humor. But at some point does it become a legitimate, serious discussion you have to have with yourself about how much longer you can do this?
A: Yeah, and I've got 18 months. So we'll see. Hopefully, I can get through 18 months and contribute and produce.
Q: You're talking about this season and next season?
A: Yeah, think about it, right? That's about 18 months. So I've got to find a way to get through that and prove to myself every day that I can contribute.
Q: Do you envision any set of circumstances that would cause you to say, 'You know what? Next season is not going to happen? I'm not going to be able to be the player I want to be?'
A: I don't think so. I'm already not the player I want to be and just [have] a different body. My body's different. I'm still trying to adjust and adapt and get my body to accept a certain amount of the pounding and forces and be able to adjust my game and still be productive. I still feel like I've got a lot of life left without basketball so I'm going to try to enjoy it and make the most of these last 18-20 months, whatever it is.
Q: Can you give people some insight into exactly what it is you're going through just to get yourself ready to play – as far as therapy and treatments?
A: It's OK. I've accepted it and enjoy it and embrace it as a process. It's been educational and it definitely takes a lot of will power, but I don't mind making the sacrifice. The energy and effort and commitment is something that I enjoy. But going through the pain some days? Going through the pain combined with not being able to do what you want to do out there? That's the inevitable equation that everyone faces at the end of their career – or a lot of people face at the end of their career. That's something you have to deal with, but right now I still enjoy being a part of the team and trying to fight to give my team something.
Q: So in your mind, retirement is not a word that you …
A: No. I'm not there yet. No.
Rodman's agent says he is urging the ex-NBA star to check into rehab

The players and referees are working to fix a relationship that has recently been deterior...

The locker room heist is going to lead to plenty of fines and maybe some suspensions from the...
Larry Hartstein has his finger on the pulse of Boston basketball and locked in a pick for...

The always consistent Spurs take on the rebuilding Lakers in a national TV contest.

The lack of urgency from the front office has some players doubting their chances of reaching...