From clutch shots to Sir Charles: Journey down the rabbit hole
Clutch shooting discussion can take you to Charles Barkley. From there, you just want to keep digging into all of the material you can find with Sir Charles.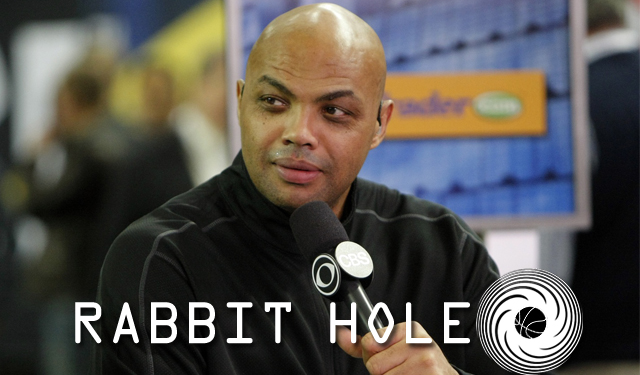 In last week's Rabbit Hole post, we killed some time by going over Ray Allen 's gorgeous shooting stroke and what I deemed to be the biggest shot in NBA history. Don't worry, Spurs fans; we're not going to show it again. It's always funny to think about the clutch debate and how angry all sides of it eventually get. It's something that could send you on a journey throughout the internet in order to kill some time. Hey, that sounds like a good idea!
Let's journey down this week's rabbit hole:
First Stop: Let's talk about the boring ole clutch gene idea
The idea of someone being clutch has been a very hot topic of debate ever since we figured out we can yell at people by using the internet. We've wanted to figure out which player is the most clutch and whether or not a great player isn't clutch so we can "properly" judge his legacy. If a player confirms our bias one way or another, it's a talking point for us as we add drama and intrigue to end-of-game situations that are already overflowing with drama and intrigue. 
Tom Ziller of SB Nation had some incredibly adept points and thoughts about Frank Deford's dismissal of advanced stats about baseball. In a very mature and well thought out manner, Ziller discusses why the idea of a clutch gene is actually quite boring and the fact that we can point out the randomness of clutch execution is a good thing. 
The thing is that the rejection of the presence of clutch and embrace of chaos theory in sports doesn't mean that you can't count on nobody no how. It means that you can count on everybody who puts themselves in a position to succeed. And isn't that a helluva more compelling situation?

Take the clutch argument all the way. Imagine a sequence in the human genome coded for, say, performance under pressure. If the gene was turned on, you have the clutch gene and make every clutch shot you take. If the gene is turned off, you don't have the clutch gene and you miss every clutch shot you take. We'd find out quickly who has the clutch gene and who does not, and man, the ends of games would be boring as hell to watch. Glory would be birthright.

That sounds unfair, but it's the inverse of what Deford accuses the "hard-hearted brutes" of the stats movement of believing and proselytizing. In reality, Deford doesn't believe in a pure clutch gene any more than a sports econometrician believes in total equality in clutch performance. In reality, both positions are more nuanced. In painting the stats guys as absolutists who believe only in chaos, Deford obscures the real debate, which is whether some people are predisposed to sporting heroism.
The idea of players being predisposed for something so focused is weird, but it doesn't mean some personalities don't embrace such a moment. We just don't necessarily have a gene that says Player X is likely to make the shot and embrace the moment while Player Y would rather sit in a warm bath and do a crossword puzzle. This is the fun thing about basketball. We've assumed guys like Kobe Bryant , Carmelo Anthony , LeBron James , and other stars either do or don't want the ball in these situations.
It adds drama to an event because one pure moment of success or a failure of confidence-shaking proportions can add so much heat or water to the debate. There isn't a clutch gene but there also isn't an answer as to why a certain moment plays out the way it does.
Speaking of clutch, let's check out a bunch of cool clutch shots
With all that said, watching clutch shots go through the net is ridiculously fun and something I could do all day. It's probably something you could do all day as well so we might as well cozy up to the warmth of the computer screen and settle in for a few minutes of big time shots that would make Sam Cassell... well... let's just call it "picking up bowling balls.
Jerry West's comments in the beginning of the video were kind of cool, but I suspect if a player said it today it would be picked apart for a month and thrown back in his face whenever something went wrong at the end of a tight game.
"It's almost like an arrogance that you don't think you can fail. And particularly when the game is on the line, it seems like it's easier."
I'd love for LeBron James or Carmelo Anthony to say something along those lines just to watch the internet eat its own tail like a snake. We just need one volunteer to stand in the line of fire and tell people the end of close games is easier. No, Monta Ellis  put your hand down.
But wait, there's more!
From 2008 to 2011, there were a lot of clutch shots in the NBA. How do I know this? Someone made a 14-minute compilation of these shots and it's a lot of fun to watch. 
I have a couple of thoughts from this video:
1. Runners off one foot from distance to win the game don't really look very cool unless the player is moving in the direction of their shooting hand (i.e. - Emeka Okafor , Kobe's winner over the Miami Heat ).
2. The Indiana Pacers got beat on last second shots a lot from 2008-2011. The Milwaukee Bucks did too.
3. The Manu Ginobili step-sideways winner against the Bucks was just so filthy. We see plenty of step-back jumpers or pull-up jumpers but that step to the side movement was just so awkward and herky jerky. It's absurd.
4. Not as legendary as the fan that celebrated his winner though.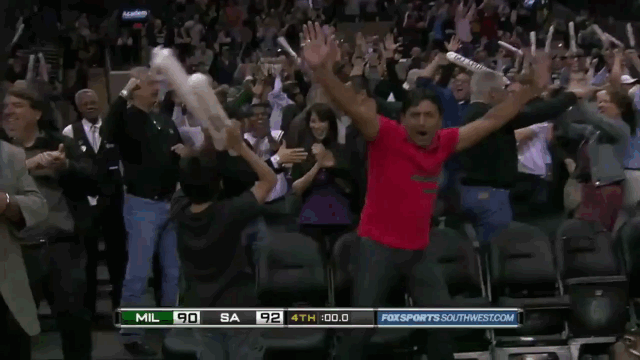 I think we need to pass a law that if you're sitting courtside at an NBA game and your team wins it on a last second shot, you immediately have to find a camera panning for crowd shots and do this dance. Is there anyway anybody opposes this idea? I don't hear any naysayers or see any hands in protest. Motion approved. 
Before we go a bit deeper into this post, let's check out one more clutch shot compilation (this one is much shorter):
We've seen it on two of those video compilations of all-time clutch shots so far. The Charles Barkley shot over David Robinson was one that stuck with me as a kid. I think it's because of the angle they cut to in the broadcast, straight away with just Chuck's eyes focused on the clock and the basket instead of the monster defensive wizard in front of him was just a cool way to view the play. 
They took a team moment and turned it into a one-on-one moment in someone's driveway, making it so much more relatable and something you could go outside and recreate. 
Speaking of Charles Barkley, this dude was unreal
Some of the kids today who watch Inside the NBA on TNT after Thursday night games probably just know Barkley as a funny guy who used to play the game. However, there was a time in which he was one of the baddest guys in basketball. He dominated games and was really only about 6'4" as a power forward in the NBA.
It's funny that he criticizes Blake Griffin on those halftime and postgame shows so much because really he was a lot like Griffin in his early days. He was a wrecking ball at the rim who was physically imposing in so many ways. (WARNING: There's a bit of bad language in the middle, which is just audio from Barkley in a game)
I've seen a lot of basketball stuff in my lifetime because I'm an obsessed basketball nerd. So when I come across something peculiar that I haven't seen before, I'm always a little taken aback and start wondering how something so noticeable was never noticed by myself before. This screenshot from that video is a perfect example of what I'm talking about: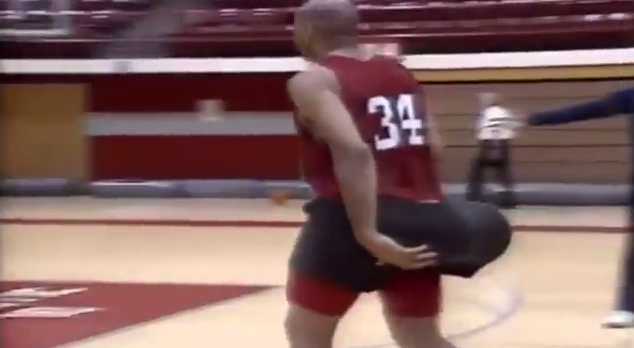 The lasting image of Barkley in his final game with the Houston Rockets was a pretty incredible sight, simply because it was assumed his career was already over. I'm sorry. I'm sure it's a little distracting trying to read whatever words are right under the picture above. Even just writing these words right now, I can't seem to fully concentrate on what I'm supposed to be doing. You should probably scroll a bit to get the image off the screen before we can continue.
This should be better, right? I'll continue.
On December 8, 1999, Barkley and the Rockets were in Philadelphia to take on the Philadelphia 76ers , his first NBA team. He was honored before the game and his mother and grandmother were even flown out for the game. Early in the game, Barkley went up to block a shot by Tyrone Hill and he ruptured the tendon that attaches your thigh to your kneecap.
It was something that was supposed to take five or six months to rehabilitate and for a 36-year old power forward, it was certainly supposed to be the end of his career. He was going to go out on the floor in Philadelphia, in some kind of cosmic cyclical gesture from the basketball gods. But that wasn't enough for Barkley.
On the final night of the regular season, Barkley suited up and played six minutes for the Rockets. This was merely four months after the gruesome injury. He grabbed an offensive rebound, made a bucket, and dished out an assist before being ceremoniously taken out of the game so he could have a proper goodbye. As many of us always assumed, Barkley would always leave the game on his terms and nobody else's. 
There is always more Barkley
Here are some quick-hitter items for you to click and watch at your leisure:
-- Charles Barkley on Who Wants To Be A Millionaire (17 minutes)
-- Charles Barkley reflecting on his life at the age of 50 (46 minutes)
-- A really great appearance on David Letterman (12 minutes)
-- Charles Barkley-only version of Inside Stuff from 1994 (22 minutes)
Here's a fantastic video of Barkley discussing facing a young Dirk Nowitzki :
There is also a CDW commercial with Barkley that is roughly four minutes long, but it's both celebrating the big man and poking fun at him at the same time: 
Chuck is an IT guy. 
And if you want to go all the way back with Barkley's ad campaign and feel dated, we can finish this post off with Chuck and Humpty Hump giving some love to Alonzo Mourning .
Straight butter, baby.
Markieff Morris was already in line to miss the start of camp due to a pending assault cas...

The 76ers should hopefully get a lot of play out of their young guys this season

Okafor's been on and off the trade block for over a year and doesn't seem to be in Philly's...
Fisher is the fourth NBA player to compete for the Mirror Ball trophy on the show

Barkley commends the NBA, sarcastically, for extending the season and reducing back-to-back...

Enes Kanter isn't seeing much comedy in the Kevin Durant social media situation