From one-and-done to tanking, Silver's agenda begins to take shape
Barely a month into Adam Silver's reign as NBA commissioner, his to-do list is overflowing -- from the one-and-done rule to tanking to the longstanding imbalance between the conferences.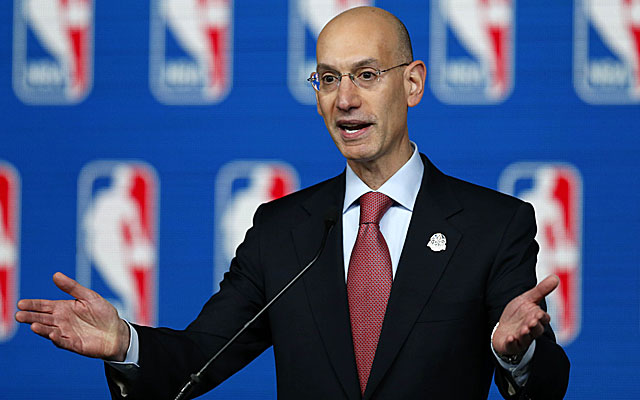 More NBA: Power Rankings | Expert Picks | Latest news, notes
During his All-Star address in New Orleans last month, new NBA commissioner Adam Silver let it be known that the old way of doing things would not necessarily be his way. A lot went right during David Stern's 30 years in the cockpit, but Silver couldn't have been clearer: Just because we've always followed a certain flight pattern doesn't mean we'll blissfully continue in the same direction for the next 30 years.
Everyone involved in the NBA's $5 billion business seems to sense Silver's openness to change. Maybe it's a feeling among Silver's various constituents that the new boss is more open-minded than the old boss. Perhaps there's a natural desire to test the new leader. Whatever it is, there's been more public dialogue about what should change about how the NBA conducts its business in the first month of Silver's commissionership than there was in the previous decade or more under Stern.
In truth, it began before Stern's handoff to Silver even became official. A few months ago, for example, the idea of scrapping the draft lottery and replacing it with a predetermined draft wheel was floated. Recently, people took too seriously what was essentially a hypothetical discussion about what a 4-point line would look like in the NBA. 
How many of these new concepts actually get adopted -- if any -- remains to be seen. But it's clear that, with a new commissioner and deputy commissioner, Mark Tatum, the seeds for change and taking a fresh look have been planted.
"David always looked at stuff, too," Mavericks owner Mark Cuban said recently. "At least in my experience, there was only one topic he was close-minded on and he was open-minded on everything else."
The close-minded topic, of course, was Cuban's long list of fines for publicly criticizing the officials. There's no sign, by the way, that Silver will be any less heavy-handed when it comes to that. Beyond that holy grail, though, the perception is that everything is up for discussion.
"I don't think that's necessarily a change, but Adam will use his approach to deal with it," Cuban said. "There will be some things that David was better at and there will be some things that Adam is better at."
Given Silver's stated openness to change and all the public dialogue about taking a fresh look, we already have enough evidence to set forth the five most pressing agenda items for the new commissioner in the coming months:
The one-and-done rule
Silver, as the lead negotiator for the owners on the 2011 collective bargaining agreement, pushed for an increase in draft eligibility to two years beyond high school graduation and 20 years old from its current one year and 19 years old. The issue was put off for another day along with other so-called "B-list issues" that still have not been addressed.
During his All-Star address, Silver said, "It is my belief that if players have an opportunity to mature as players and as people, for a longer amount of time before they come into the league, it will lead to a better league."
It will lead to better college basketball, too. One of Silver's greatest strengths is his ability to see beyond the silos of the NBA, NCAA, FIBA and AAU. Bridging the gap between the league, the players' association and the NCAA on the age limit will be one of his biggest challenges -- but one he must tackle sooner than later.
Tanking
At All-Star weekend, Silver feigned ignorance to the notion that teams would make spending and competitive decisions based on their desire to maximize draft picks as assets for rebuilding. He oversimplified the idea of tanking by describing it as "losing games on purpose. And there's absolutely no evidence that any team in the NBA has ever lost a single game, or certainly in any time that I've been in the league, on purpose."
Then, Silver hit the nail on the head: "What you're referring to, I think, is rebuilding."
Bingo. It's time to acknowledge that tanking happens, and that in the context of an overall plan to build a competitive team on a specific timetable, there's nothing wrong with it. If the CBA ultimately works as well as Silver believes it will, then the rebuilding valleys will be shorter and more shallow as teams take advantage of tools that were designed to spur quicker roster turnover. What did half the teams in the league do during the 2009-10 season? They tanked, but nobody called it that; they called it "clearing cap space for LeBron." The Lakers are tanking now, but nobody's calling them on it. The Knicks aren't tanking; they're just inept.
The challenge for Silver on this issue is to reframe the rhetoric about how teams choose to assemble a competitive roster. Were the Colts tanking when they cut Peyton Manning? Are baseball teams that are out of the playoffs tanking when they make September callups? It's time to stop using the term tanking as profanity. That's not to say, however, that there isn't a better way. Silver recently stated that he's intrigued by the idea of a play-in tournament, which in theory would give more teams the opportunity to compete for a playoff berth -- and remove some of the incentives for tank ... I mean, rebuilding.
East-West imbalance
Under Stern, the NBA never wanted to make drastic changes based on conditions that could be characterized as a one-time event. So if Stern were still commissioner, he no doubt would scoff at the disparity between the Eastern and Western conferences and characterize it as an anomaly. But it's not. The way things stand now, as many as six teams will make the playoffs in the East with the same or worse record than two teams in the West (Memphis and Minnesota) that may not.
The East is on pace to have the largest gap (currently 11 games) between the second- and third-seeded teams since the current playoff format was adopted in 1984. Barring a miracle, the ninth-best team in the West will finish with a better record than the eighth-best team in the East for the 11th time in 14 years. This is clearly a problem.
One solution that has been floated is to rework the playoff format so the 16 best teams make the "tournament" regardless of conference. But that may just be a Band-Aid. Realignment is a dirty word in sports, but it may be time for Silver to consider it as a real solution to the long-standing issue of conference imbalance. Again, if now is the time to take a fresh look at everything, let's take a fresh look at everything.
Officiating transparency
Cuban recently revealed that the league office has begun sending non-public memos to teams to admit missed or incorrect calls that did not meet the threshold of a game-deciding call warranting a public acknowledgment. This is a step in the right direction, and Silver mentioned in his All-Star address that transparency is "one of my guiding principles coming in." Of course, the NBA can't win for losing when it comes to reassuring teams and fans that the officiating is on the up and up.
Since Cuban's revelation, some team executives have expressed their dismay to me about perceived inconsistency in these non-public memos. In other words, some teams say they're receiving them and others say they're not. Either way, Silver faces an uphill battle in peeling back the veil on how decisions are made at the league office. No matter what he does, someone is always going to be unhappy.
HGH testing
This was another of the B-list issues from the last round of bargaining that was kicked down the road, but the day is coming when Silver will have to confront it head-on. Representatives of the league and the players' union have been in agreement on one aspect of the problem: They don't view this as the NBA's issue and have been comfortable waiting for Major League Baseball, the NFL and, to a lesser degree, the NHL, to set the agenda. But if the NBA has been using the absence of a permanent replacement for Billy Hunter as executive director of the National Basketball Players Association, that will soon be a moot point when the union finally chooses a new leader in the coming months.
The NBA has a comprehensive policy with year-round testing for more than 200 banned performance-enhancing substances and masking agents, including human-growth hormone. But the league is now a full season behind Stern's stated goal of having an agreed-upon testing protocol for HGH, which requires blood screening. The related issue of biological passports -- measuring blood markers that signal PED use even without the presence of the banned substance -- is another matter than must be addressed.
It's only been a month, and Silver's to-do list already is overflowing. And while his openness to change is refreshing, it doesn't make the challenges any easier.
Cavs star chose to be very secretive when talking to Lakers rookie after Thursday's game

New York announced Porzingis would not return shortly after star forward left game

Teletovic missed the final three months of 2014-15 season with Nets recovering from same i...
Keep it right here for all of the news, notes, scores and highlights from around the leagu...

The NBA's City edition Nike jerseys are bold and very different

The Wolves may be smoke and mirrors, but the Pacers have the look of a team that can hang in...