Future NBA commissioner Adam Silver might still want a hard cap
Deputy NBA commissioner Adam Silver is looking at the collective bargaining agreement and luxury tax teams. He may still want a hard cap.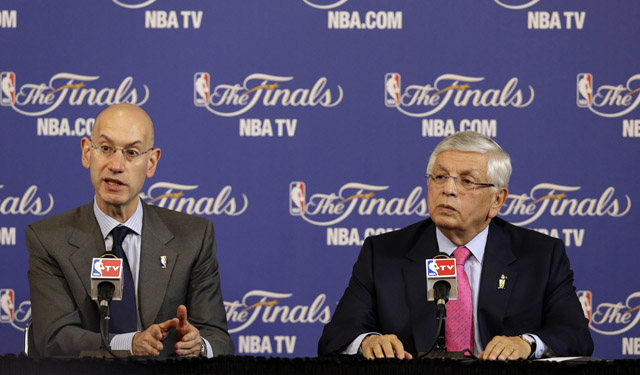 Remember the lockout? I know we've all tried to forget the months without basketball when there was supposed to be a lot of basketball, but the last lockout wasn't that long ago. At the time, they were quibbling over the percentage of a $5 billion pie that was going to be distributed to the players and owners. The owners wanted to be saved from themselves with a hard cap or luxury tax restrictions and the players wanted to keep things status quo at worst.
Eventually, everybody came to an agreement on the appropriation of NBA revenue and we got to enjoy basketball again. In 2017, we might find these two parties back at the negotiating table and with the lay of the land as it currently is with the Brooklyn Nets laughing at luxury tax penalties as they cut a check, the next commissioner of the NBA might be looking for that hard cap again in order to show the league means business when it comes to its finances and parity. From Tim Bontemps at the New York Post: 
"I would say it's no secret that we went into collective bargaining seeking a hard cap," NBA deputy commissioner Adam Silver -- one of the main architects of the current CBA and who will replace David Stern as commissioner when Stern steps down Feb. 1 -- told The Post Wednesday after speaking at the league's Rookie Transition Program in Florham Park. "So, for the long-term health of the league, we would rather do more to level the playing field among our teams, so the teams that have disparate resources are all competing with roughly the same number of chips so to speak."

"What I'll add is that what we've seen with the Nets, ultimately there's no prohibition if you're willing to pay a very substantial tax -- there's no prohibition on signing the players they did, but the new rules also dramatically limit those players that are available to sign, especially once you move into the tax. So we'll see [what happens]."
The Nets are on the hook for roughly $187 million in salary this year when you factor in their insane bar tab with the luxury tax. After this season, they're likely to pay $87 million alone in luxury tax, which is more than probably every team (except the New York Knicks) in the league will pay for their players. That's an issue the league office and the owners aren't going to take lightly and will probably be the example they use for needing a hard cap or even stricter penalties that could restrict player salary.
If that's the case, the last lockout might look a lot nicer than what we see. I can't imagine new leadership of the NBPA giving in on something like that during its first negotiations without Billy Hunter in quite a long time because it would set a precedent of the owners feeling like they can walk all over their new negotiating competition (although maybe they already feel like they can). If ever there were a CBA issue to dig their heels in to prevent, it's certainly accepting a hard cap.
We have a few more years until we truly have to worry about this stuff but maybe it's time to take the checkbook away from Billy King and Mikhail Prokhorov. 
Jordan Bell had himself a night against Portland

The younger Ball brothers are heading to BC Prienai, but that could spell trouble

Not many games, but still plenty of action and intrigue Monday in the Association
SportsLine's advanced computer model simulated Tuesday night's Lakers-Knicks game 10,000 t...

The Reno Aces are concerned about the new WNBA franchise stealing their thunder

Hinkie parted ways with the 76ers in 2016 after drastically changing the direction of the...