Future of the Wolves isn't just search for playoffs but health too
With Flip Saunders taking over the direction of the Minnesota Timberwolves, he's looking to prevent injuries as much as he's looking for wins.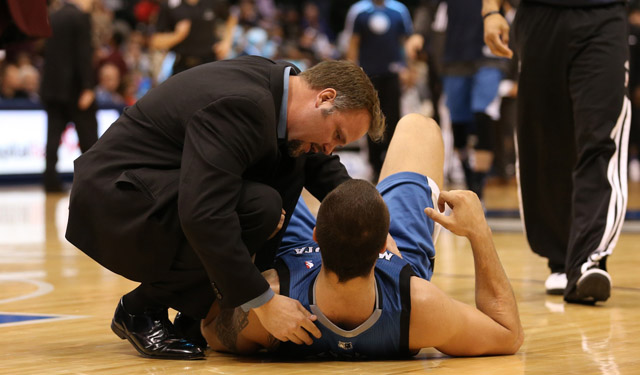 MINNEAPOLIS -- On a day in which the Minnesota Timberwolves were officially announcing the completion of a five-year, $60 million contract for restricted free agent Nikola Pekovic, the Wolves' new president of basketball operations and former coach Flip Saunders had an even bigger topic to discuss than his newly minted 6-foot-11, 290-pound center. 
The Wolves had high expectations going into the 2012-13 season with Nikola Pekovic having emerged as a quality starting center in the previous season, Kevin Love coming off an incredible season, the excitement of Ricky Rubio returning from a torn ACL, the signing of Andrei Kirilenko fresh off a resurgent year in Russia, and arguably the most talented roster in franchise history from top to bottom. However, a problem that has plagued the Wolves for quite some time crept up and battled them more than the other 29 teams around the league. Minnesota suffered injury after injury after injury and had their ninth straight season without making the playoffs.
As I noted in the Wolves' offseason report, the team lost 341 games due to injury last season and had their newfound depth and talent ravaged in the process. They were still able to manage 31 wins on the season -- their most in a season in which Kevin Garnett was not involved -- but it wasn't anywhere close to acceptable, regardless of the hand dealt to them by injuries.
Preventing injuries and dealing with injuries when they do happen have been as much of a priority for Saunders and the organization since he took over as has been the retooling of this roster in the hopes of bringing them back to the postseason.
"That's something we need to address to as an organization," Saunders said during Pekovic's press conference after the topic of the center's health was brought up. "We are working with Gregg [Farnam] our trainer and we are going to be very proactive medically. I've been a firm believer, I believe there have been times we've over trained players and there's been a number of injuries we've had over the last five or six years and players continue to trainer harder and harder and harder. And there's got to be a part where we can come to a meeting of the minds between the two."
Pekovic has missed 39 games the last two seasons, although seven of those games in the 2011-12 season were DNP-CDs. And there are some people who believe he sat out the final four games of last season because the campaign was a lost cause and he was headed into restricted free agency. Even if that's true, 28 missed games due to not being healthy enough to play over two seasons is still a lot for a player you've just invested $60 million into.
But this isn't just centered around their center's health. Love has broken his hand twice and had various nagging injuries over the years. Rubio tore his ACL. Josh Howard tore his ACL. Al Jefferson and Corey Brewer have both torn their ACLs while in Wolves uniforms. As Jonathan Abrams noted in his Grantland piece on former lottery pick Jonny Flynn, not only did Flynn tear the labrum in his hip as a member of the Wolves, but former management allegedly rushed him back to play even when there was legitimate concern that he shouldn't come back so quickly with such a mysterious injury.
There are bigger problems than just Pekovic and the bumps and bruises he deals with over the course of a season and Saunders would love to become a cutting edge team that gets ahead of the problem, instead of having to react to bad situations.
"I don't know if I want to get into it because we haven't finalized things," Saunders admitted, "but we're probably going to bring in one or two other people on our medical side from a strength conditioning, from a physical therapist, and then just working with our doctors. We're trying right now to gather a lot of raw data too. As I said, I believe we sometimes over train.
A lot of players, it's gotten to the point as coaches work guys, they want to get them working on the floor. They get done, the strength coach wants to show his importance so he gets them into the weight room and he works them. They get done and all of these guys have personal trainers and the personal trainers want to show that they're working so they take them out and work them, so the players are almost working too much. I think there has to be a meeting of the minds of getting all people together and really getting a good plan and good format that players are doing the right thing. And they're not over training parts of their body."
Perhaps the Wolves can look to an organization like the Phoenix Suns, who have a training staff that is widely accepted as the best in the business at preventing injuries and understanding the bodies of their players as they deal with the rigors of an NBA season. Back in 2012, Michael Schwartz of ValleyoftheSuns.com wrote a great piece unveiling a look into the system the Suns' training staff and how they prepare their players.
With the use of a goniometer, manual muscle testing, and visual and movements assessments with leg squats, the Suns are able to measure how the players' bodies are reacting to the training and physical play and adjust their players' plan of attack that day in order to adjust and keep the body finely tuned and relatively injury free (or free enough to avoid big injuries). This is the type of system the Wolves could eventually lead to employing if their search for different answers about injuries yields similar results.
"Well, there are two points," Saunders explained. "There's the part of taking care of injuries, minor ones when they happen that they don't become big injuries, but then there's also what do you do prior to? What can you do to prevent those and get players better prepared going into games, better prepared going into practices? And I think we're really right now trying to put more emphasis on that. And like I said, right now we don't have the answer but we're going to try different things. We're not going to sit back and just say, 'well this is how it's been done, this is how we're going to do it.' We're going to try some different things."
With the advancement of training methods and nutrition in our society and fitness world, there really aren't any excuses for why a professional sports organization with incredible resources would resort to doing things the way they've always been done. This is part of the new frontier of sports analytics and preparing a team to be successful. If you can get out ahead of the health of your players and prepare them better, then you can have an advantage over teams that suffer more injuries because of old practices or plain bad luck.
"You can't, with a player who's physically fit, who is very muscular, how they train and how a player who is more lean, they can't train the same way," Saunders said. "We've got to be more cutting edge and maybe training our players differently could help that."
Trying different things and deviating from past practices might not only yield new results in the health of their players over the course of an 82-game campaign, but it also may lead to the end of a playoff drought that has gone on far too long.
Ball walked away from an altercation between the Lakers and Suns on Friday night

Keep it right here for all your Friday NBA scores, updates and highlights

The Celtics have won 14 games in a row
Shaq posted a picture of his 'Broken Rim Tree' to Instagram

SportsLine's Mike McClure, a DFS pro with more than $1M in winnings, gives optimal lineup...

Paul may be getting a late start in Houston, but he promises to unlock some key role playe...