Game 4: Spurs locker room no party as team turns to final business
The Spurs were happy Monday night after winning the Western Conference Finals 4-0 over the Grizzlies. But they're also ready to get to work.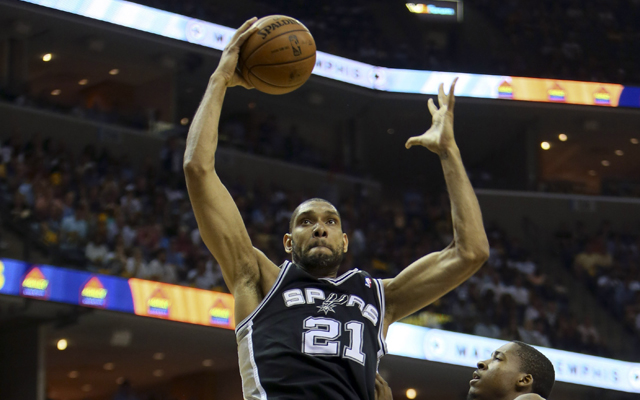 MEMPHIS, Tenn. -- It wasn't a jubilee, or anything.
The Spurs' locker room after their Game 4 win to sweep the Grizzlies and advance to the NBA Finals for the fifth time in franchise history and their first since 2007 wasn't some big party. No champagne, no beer, no big raucous scene. There weren't wild hugs or anyone singing or rapping.
It was happy. Just, you know, not that happy. It was more like an office after the whole team had just closed a major deal on a Friday afternoon. Matt Bonner smiled for the cameras with a "Best in the West" T-shirt. Cory Joseph seemed genuinely thrilled with having advanced this far.
Tony Parker in his postgame press conference was pleasant but not giddy. He's been here before. Many of them, but not all of them, have. But making the Finals is the kind of thing that translates to human emotions, even in the Spurs-O-Tron 5000's.
"It's an unbelievable feeling," Parker said. "It's really hard to go to the Finals, to win a championship. Every team wants to beat you, and that's why it makes it even more special to go back after all those years playing at a high level with the same coach, with the same big three but changing a couple of pieces. If we go all the way it'll definitely be my favorite because it gets harder and harder."
If you wanted the real proof of what this means, look no further than the smile, yes smile, on the face of Gregg Popovich. The surly, recalcitrant general for the Spurs actually seemed relaxed and happy after the victory.
"Well, I appreciate (making the Finals)," Popovich said. "Maybe I don't show it the way I should, but it's pretty special. I'm just really proud of this group, the way they've worked all year long to get there and I'm sure that we've been a team that's probably been written off like they've had their day... and it seems logical. I would probably have said the same thing if I was a fan from the outside looking in. It doesn't show the way these guys compete and what they think."
To a man, the Spurs said nothing changed with Popovich's approach before the game. No special talk being that close to the Finals, no extra motivation with a chance to close out a team on the road and get nine days off. Popovich just went back to work, did the same thing he's been doing since he arrived, and led his team to victory and his fifth Finals appearance.
There were hugs, high fives, and a few moments of genuine "wow" from the younger players in the Spurs locker room. It was a happy scene. Save one.
Tim Duncan did his time. He spoke to the cameras for the allotted amount. He gave the quotes to the throng. Then he finished getting dressed, in jeans, never a suit, and headed out for treatment. People congratulated him, he thanked them, honestly and sincerely. And then he left, another opponent vanquished, with the fifth ring now four wins away.
Duncan will stop someday, maybe someday soon. And we may never hear from him again, despite being one of the best players of all-time. He'll go somewhere, sit on an island, drink beer and swim.
He'll stop someday.
But not yet.
The party hasn't started, another big deal was just completed. The Spurs still have work to do. They're happy to have the opportunity to.
But they're also ready to get to work.
SportsLine's Mike McClure, a DFS pro with more than $1M in winnings, gives optimal lineup...

SportsLine's advanced computer model simulated Friday's Bulls-Warriors game 10,000 times

Okafor has played just 25 minutes this season for the 76ers
Is Boston confident that it can erase any deficit, or concerned that it constantly needs t...

Ball and Simmons are having very different rookie seasons, but they could lead to the same...

Keep it right here for all you news, notes, scores, and highlights across the Association