Game 7 Sunday: Previewing NBA Playoffs Deciding Games
Previewing the Game 7s on Sunday: Brooklyn Nets vs. Toronto Raptors and Dallas Mavericks vs. San Antonio Spurs.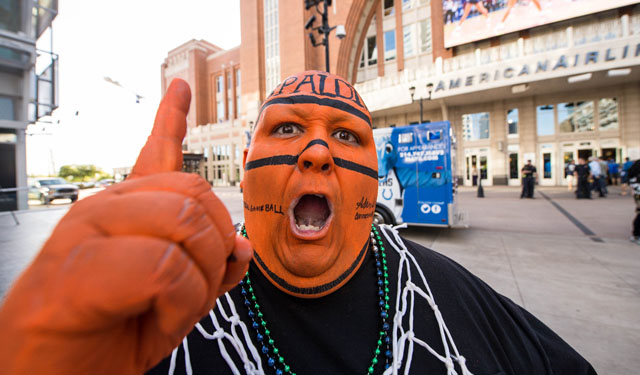 More postseason coverage: Playoff schedule, results | Latest news, notes
One day of Game 7s on Saturday simply wasn't enough. 
The basketball gods smiled down on us and gave us two more to have Sunday, bringing our grand total to five Game 7s in a matter of 24 hours. With the Brooklyn Nets trying to take one more road game against the Toronto Raptors and the San Antonio Spurs trying to avoid being a 1-seed falling to an 8-seed for the second time in four years, we're going to have a great capper to an amazing weekend of do-or-die basketball.
Let's take a look at the fourth and fifth Game 7s of the weekend:
1. Where We Are: We're tied after a pretty phenomenal six games. In Game 1, we had a raucous crowd inside and outside of the Air Canada Centre in Toronto showing the world just how cool a basketball place the city is. And yet through the chaos, the Nets' veterans weathered the storm of energy in the building and Paul Pierce's big fourth-quarter run showed everybody why the Nets wanted him. Game 2, we had DeMar DeRozan finding his scoring ability in the playoffs, surrounded by role players stepping up. In Game 3, Deron Williams and Joe Johnson combined to lead the Nets attack and take a 2-1 lead in Brooklyn.
And the Raptors responded in Game 4 with a big effort from their own backcourt and they limited the Nets to 12 fourth quarter points. Toronto regained control of the series in Game 5 by building a huge lead early on before barely holding on to victory when they survived a huge second half run by the Nets, getting outscored 44-24 in the fourth. Game 6 gave us the Nets holding serve at home with a comfortable victory behind Williams on a bad ankle to force a Game 7.
With the way these teams have struggled to keep leads in this series, we could be in for anything Sunday afternoon.
2. The Big Numbers: 9.4 and 21.3. The starting lineups have been extremely different. These numbers are certainly skewed because of  wild swings in such a small sample size, but the Nets' typical starting lineup of Williams, Shaun Livingston, Johnson, Pierce and Kevin Garnett have been a plus-9.4 points per 100 possessions this series. The Raptors' starting unit of Lowry, DeRozan, Terrence Ross, Amir Johnson and Jonas Valanciunas is a minus-21.3 points per 100 possessions. 
Part of that is because Johnson for the Raptors has been wildly inconsistent and Ross is shooting 25.7 percent in this series. Where the Raptors have feasted is with their bench mixing in with the starters and putting up some big numbers. Switching out Ross with Greivis Vasquez and Johnson with Patrick Patterson gives them a 27.4-point swing. The Nets swapped Alan Anderson for Livingston for the Game 6 lineup, which proved to be a great move. That five-man unit is a plus-49.1 points per 100 possessions net rating in 26 minutes in this series.
3. Key Adjustment: Crash the glass. With the Nets forced to play small this season after Brook Lopez's injury, you can hammer them on the offensive boards. That's been one of the big differences in their losses this series. The Raptors' group of Lowry, Vasquez, DeRozan, Patterson, and Johnson is grabbing 41.7 percent of offensive rebound chances when they're on the court. This is a huge deal because the Raptors grab 32.7 percent of offensive rebounds in their victories and just 20.7 percent in their losses. If the Nets rebound as a team, they'll be fine. But if the Raptors can keep possessions going, the Nets' defense will break.
4. The Big Story: Will the Nets come through on a star-studded offseason of promised change? The Nets seemed to lack passion and drive in last year's first round series loss to the Bulls. They went down 3-1 in the series before battling back to force a Game 7 that was on their home floor. However, that wasn't enough incentive to close out the series and advance, and they lost to the Bulls in seven games. They didn't want that kind of inexperience and lack of passion to linger, so they went out and traded for Garnett and Pierce. They signed Andrei Kirilenko. They brought in Livingston and hired Jason Kidd as the coach. They made wholesale changes to ensure they had the pedigree to come through.
This time, they'll be on someone else's floor for Game 7, but they'll have the experience to come through in a hostile work environment. Their only worry is this Raptors' team being possibly naive or inexperienced enough to not know they're supposed to lose out to the veterans who have been there and done that before. It will be a fascinating battle between vastly different levels of playoff experience to draw back on in the tight moments. 
5. The Facts: 1 p.m. ET. Brook Lopez is out for the Nets with a broken foot. Raptors' Landry Fields has back spasms, but could still play. 
Where We Are: Somewhere we didn't really expect to be. The Dallas Mavericks have been fantastic on offense but struggled on defense all season long. Once they matched up with the San Antonio Spurs in the first round, the Spurs' machine appeared to be too good offensively for such a poor defense. And yet the Spurs haven't had an easy time adjusting to the Mavs' defensive game plan. Dallas turned the freewheeling, extra pass-making offensive into much more of a one-on-one affair early on in the series and took the Spurs out of what they do best.
This series has come to a Game 7 because the team with the role players stepping up the most has come through in crunch time. Manu Ginobili and Tiago Splitter have been great. Vince Carter, Devin Harris, and DeJuan Blair have saved the Mavericks for huge stretches. We're left with an incredible coaching matchup between Rick Carlisle and Gregg Popovich that is a clinic for anybody willing to pay attention to the tactics, schemes and rotations. Sometimes you can't quite expect the tactical measures taken by the underdog to bust open the door and show they belong in the building.
The Big Number: 20.3. In 66 minutes, DeJuan Blair has had an unreal impact against his former team. He has a net rating of plus-20.3 for Dallas when he's on the court and minus-5.0 when he's sitting. He barely played in a Game 1 loss (four inconsequential minutes). In a Game 2 win, he had eight points, seven rebounds, and four steals in only 14 minutes. In a Game 3 victory, he only played in three inconsequential minutes.
Game 4 is really where we started to see his impact. He had 12 points, 11 rebounds, and two steals in only 15 minutes of play, but he also kicked Splitter in the face, which cost him the rest of Game 4 and drew a suspension for Game 5. In Game 6, he bounced back once again, this time putting up 10 points, 14 rebounds, and four steals in 28 minutes. He plays the in-between game so well against the Spurs and is using being cast aside by the organization as motivation. He could be a huge difference-maker once again in Game 7.
Key Adjustment: Pick up the pace and create a little chaos. These were two very-middle-of-the-road teams in terms of pace during the regular season. The Spurs were 12th in pace and the Mavericks 17th. They typically like to catch teams off-guard with transition opportunities, but they don't make them a staple of their team identity. When they're there, they take advantage. Creating a bit of chaos on the court though could greatly impact the Mavs' chances of stealing this game on the road.
In their three victories in this series, the average number of possessions in the game is roughly 95. That number drops three possessions in the losses. When the Mavericks are pushing the tempo a bit and playing a little recklessly, they're actually better because it takes the Spurs out of their regimented, robotic style of offensive perfection. Dallas is turning the ball over 5.0 percent more in their wins in this series and the Spurs turn the ball over 6.8 percent more. The more turnovers the game has, the more chaos is happening on the court, which means the Mavericks are making things unpredictable. That's how an 8-seed ends up pulling off the upset.
The Big Story: Is this incredible Spurs' run going to be halted again by being toppled by an 8-seed? In 2011, the Spurs were a little banged up, but they succumbed to the aggressive, physical nature of the Memphis Grizzlies and ended up losing to an 8-seed. Then they had incredible back-to-back seasons and postseasons in 2012 and 2013, nearly winning the title in Game 6 and Game 7 against the Miami Heat a year ago. As the Spurs try to redeem themselves for last year's collapse, they've once again proven their résumé under Popovich to be hard to match.
Even with as impressive as they are as an organization, one of their last runs together with this core is in danger of suffering the same embarrassment now as they did in 2011. A loss to this Mavericks' team wouldn't be totally shameful, but just two weeks ago we believed this Spurs team was one of the favorites to win the whole thing. It would be weird to have this incredible run by the Spurs over the past 15 years include to first round defeats as a 1-seed, but that could very well happen in San Antonio Sunday afternoon.
The Facts: 3:30 p.m. ET. These two teams are ready to go. 
Warriors' forward doesn't understand the reasoning behind the all-too-common double technical...

Hardaway Jr. gave a 'safe' call like he was an umpire in baseball

Barnes hits the trey with less than a second left to lift Mavericks to dramatic 95-94 vict...
Kevin Durant was once again back in Oklahoma City

Gregg Popovich has never seen an injury lead to the issues that Kawhi Leonard has been fac...

Kobe Bryant, of course, had his 81-point game against Rose and the Raptors back in 2006