Garbage Time Gunners: Who shot in blowouts last season?
J.R. Smith, Chris Copeland, Jamal Crawford, and Jordan Hamilton all took a lot of shots in garbage time, it turns out.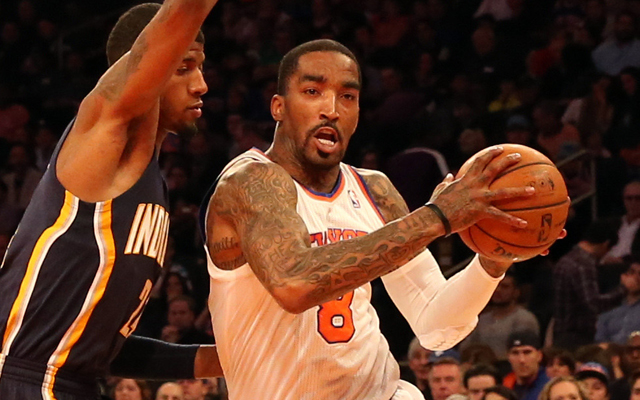 So I had this question pop into my head the other day. 
"Who scored the most in garbage time?"
Garbage time really is a special element of the NBA. In baseball, the only way to start an improbable comeback is with a single run, so every player does need to try their best in that situation. In football, it's a team effort, so you can't really improve your own numbers. It relies on receivers catching, lines blocking, quarterbacks managing handoffs and throws. But in the NBA, you can literally inflate your own statistics by exerting yourself in situations that are beyond reach.
I wanted to know who the best and worst, but mostly the most active garbage time scorers.
Before we begin, let's get one thing clear. None of this "means" anything. It's fun information. It doesn't make these players good or bad. Scoring a lot in garbage time can be a reflection of opportunity, the style of play, the quality of the team. Some scorers are going to have a lot of points in these situations because their team is terrible. At the same time, these scorers are the ones chosen to be on the floor for pointless time for a reason. But we're also talking tiny samples here. The object here is not to pass judgment on players and downgrade any of their contributions last season but just to show something fun on the Sunday before training camps open. So don't take it too seriously, OK? You're usually good at that, Internet.
So how do we define garbage time? I started with the fourth quarter with a point-differential of 10 or more. But then I realized that a 10-point game is still very much within reach for most teams. So I shortened it to eight minutes, with a point differential of at least 15.
Now, teams are going to come back from deficits like that, too, but the way Basketball-Reference is configured, those points won't show up. So we're missing some garbage time data. If teams closed it to a 10-point lead with 90 seconds left, we don't have that data. But there's no way to feel that the goals scored under these conditions were not garbage time. So I settled on field goals scored in the last eight minutes of the fourth quarter with at least a 15-point difference. Here's the top 20 players sorted by field goals made in that situation.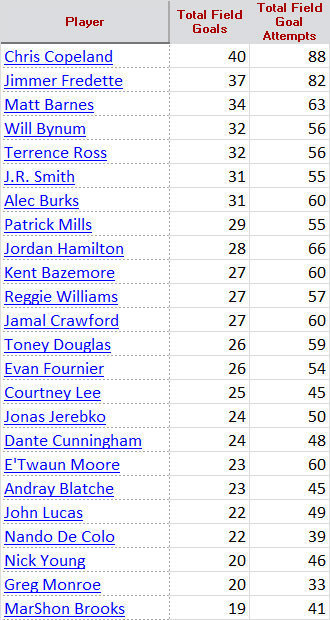 Lot of familiar faces there. You notice two Knicks in the top 10, as a product of being involved in over 20 blowout situations last season. New York's Chris Copeland made the most of his opportunities and poured it in. You notice a lot of end-of-the-bench developing players, which is what you should see. What you shouldn't is two of the league's sixth men of the year candidates filling it up and running up the stat line. Those 31 field goals for J.R. Smith make up only 6 percent of his total number of field goals. Removing those makes and attempts drops his overall season field goal percentage from 42 percent to 41.6 percent, but of course, that's 42 percent rounded up.
But it is notable that these players don't change their approach no matter the circumstances. Jimmer Fredette showed some good things last year, and took advantage of the high number of blowouts absorbed by the Kings.
But that's makes. Who really tried to run it up in garbage time?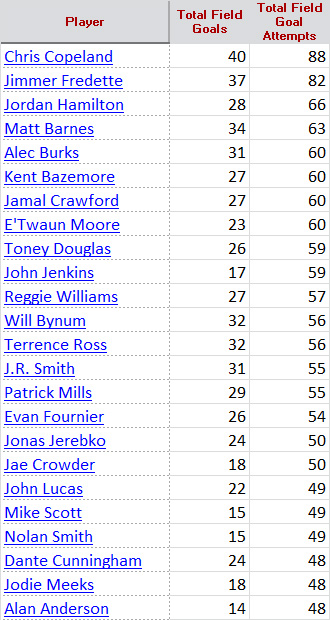 Again, two Clippers come into the picture, as Matt Barnes and Jamal Crawford leap to the top. Some of that is a product of the number of blowouts the Clippers produced, but you can also ask why two of their top seven players are so prominently features in those situations.
But let's say you wanted to look at this data outside the context of how many blowouts they were involved in. Here's the top 20 players sorted by field goals per blowout. I limited this to players who appeared in at least five blowouts last season. (A better, future method here would be to look at per 48 minute production in these scenarios.)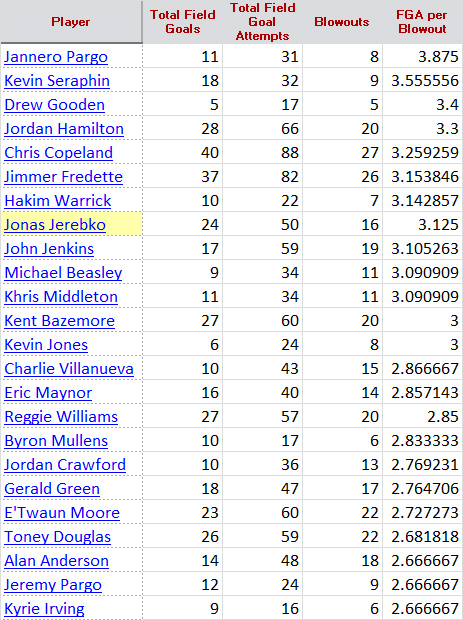 Jordan Hamilton of the Nuggets did some WORK (in terms of shooting, not scoring) in these scenarios. He appears in the top five of all three lists. How about Jannero Pargo, carrying the banner? You also have multiple Bobcats on this list, and Copeland shows up once again.
Michael Beasley, Byron Mullens, Gerald Green. That's some rough names to be in there with.
Finally, I was curious about how players were getting these shots. Who was playing in the flow of the offense, and who was just gunning? Who really were the garbage time gunners? I looked at percentage of field goals assisted for players shooting at least five times.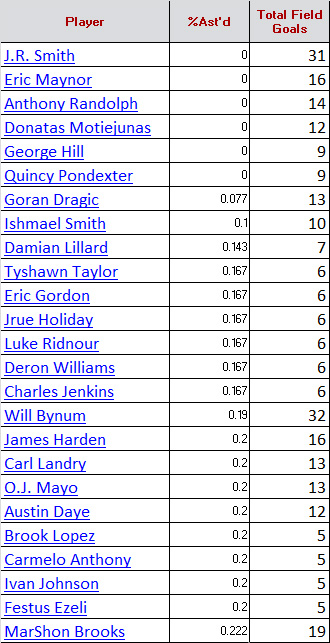 If you're a point guard, you kind of understand it, and that's why Jrue Holiday, Luke Ridnour, Will Bynum, Deron Williams, Eric Maynor, and George Hill among others appear on his list. The shooting guards ... it just kind of reinforces the stereotype about their play. Smith shot 31 times in these situations. He wasn't assisted ... on any of them.
So what do we take away from this game? Nothing, really. As I said, this is not something to be used to make an evaluation of a player's worth or to take anything away from them, just like shooting well or scoring a lot under these conditions shouldn't hurt their potential. Copeland made the most of the situation afforded him. Smith tore up his opponents when presented with a weaker opposition. Pargo is a bench player.
But it is kind of fun to see who embraced the garbage time and who didn't, and who took advantage of those situations. Long live the Garbage Time Gunners. 
The Warriors used a huge third quarter to come back from a 23-point deficit to get the win

Three takeaways from Golden State's 24-point rally past the Sixers

Okafor has played only 25 minutes this season
Capela's shoe slipped off, and was sitting near the free throw line

The Magic will instead play in the Las Vegas Summer League

Ball walked away from an altercation between the Lakers and Suns on Friday night