Garnett '50-50' to play as Celtics host Heat on Monday
Kevin Garnett could miss Monday's Celtics game vs. the Heat, but we doubt it.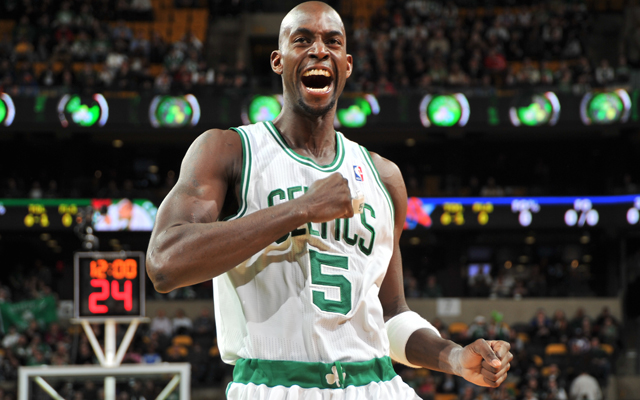 Kevin Garnett missed Saturday night's Celtics game against Charlotte with a left adductor strain and did not practice with the team Sunday. Coach Doc Rivers said Sunday that Garnett is also "50-50" to go vs. Miami on Monday. 
The odds are pretty unlikely Garnett: A.) misses a game vs. Miami, Boston's arch-nemesis, B.) misses a game in which the Celtics have a chance to gain yet another game on the Eastern Conference teams above them as they inexplicably close in on a chance for the third seed and the division, and C.) did I mention Boston hates Miami? It would also have a chance to end the Heat's historic winning streak should the Heat beat Toronto on Sunday. 
So, yeah, pretty likely Garnett's going to go. 
But the Celtics are clearly zeroing in on rest for the playoffs. The real question for them is how far they're going to keep the foot to the pedal before they back off and focus on getting healthy. It would be easier if New York weren't completely unraveling, opening the door for Boston, which was an abject mess for a good five-eighths of the season, to somehow steal the division. As it is, the Celtics will keep chugging along and giving rest where appropriate. 
It's just hard to see Monday as one of those appropriate moments. 
Garnett, age 36, is averaging 14.8 points and 7.8 rebounds this season for the Celtics. 
With 2K18 out everybody wants to know who has the 10 highest ratings in the game. Here's the...

Durant noted in an interview that all of the criticism in the immediate aftermath hit him...

Want the swagger of LaVar Ball? "NBA 2K18" lets you copy his absurd run from his WWE appea...
Durant apologized for a few tweets in which he criticized OKC and his former coach Billy D...

Lue does not expect the Cavs' big trade to affect the team's starting frontcourt ... at least...

Dwight Howard wants to be a farmer in his future and retire with his donkeys