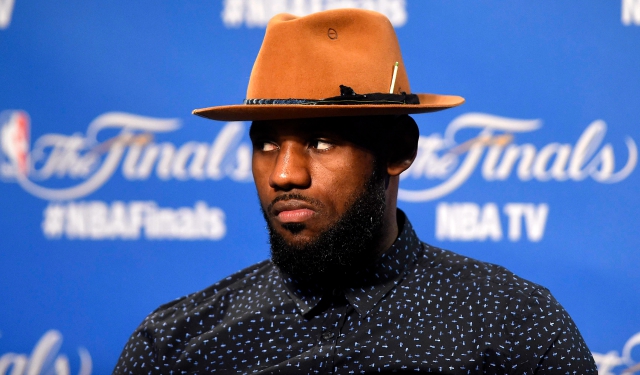 LeBron James and his legacy will probably end up being one of the most polarizing and highly debated topics in NBA history when his career is over. In fact, for years to come we'll hear about how the next great players do or don't compare to James and whether or not he was able to compare to the legends like Michael Jordan, Magic Johnson, and Kobe Bryant, who came before him.
The Cleveland Cavaliers' superstar has lived his ascension and career through the emergence of the social media age when things have become highly scrutinized at an incredible volume. He's played through questions of whether or not he can live up to the hype, lead his team to the playoffs, learn how to shoot, learn how to post up, become a champion, prove the first championship was legitimate, and now bring a title to Cleveland.
Apparently, he's now being questioned as a No. 1 scoring option. Former NBA player Gilbert Arenas took to Instagram with an incredibly long caption as he broke down the wonders and weaknesses of LeBron and what he has and can do on the basketball court. Part of that was saying he isn't a No. 1 option.
The caption is so long, let's break it up into smaller parts and process exactly what he's saying.
KINGJAMES.....this person comes around once in a blue moon...a man whos so physically gifted he could walk into any sport and be a HOF'ER off his natural (God given ability) last person who was this gifted in sports might have been #BOJackson...LET'S take away EVERY STAT and start from scratch..#NATURAL gifts...6-8..275..44 inch vert...once at top speed can't be stopped...vision like magic johnson..a natural #LEFTY who plays basketball as a righty....him stepping on a nba floor with no effort stats are 25 6 7...
Arenas comes out of the gates praising the natural gifts and abilities of LeBron by saying he's so physically gifted that he could be a Hall of Fame athlete in just about any sport. We all know about his exploits as a high school football player, but it's pretty obvious he made the right call by pursuing basketball. Arenas compares James to Bo Jackson in terms of natural athletes and says the measurements of size and vertical leap with the vision and ambidextrous nature mean he can accumulate incredible stat lines with great ease and no effort.
Then he gets into the weaknesses:
now his WEAKNESSES he had to work on to be the G.O.A.T...James is more like a train then a cheetah in movement.. his first 2 steps aren't very powerful so this hurt him on iso's and the ability to blow pass players from standstill position...hints why he's at the point he needs to be moving at all time so when he decides to attack he's already in full motion...he doesnt change direction well becuz he doesn't bend much he plays str8 up and down like #jkidd did which limits him from cross overs and spinning...
I'm not sure how accurate this was for LeBron in his early years in the NBA. He was ridiculously quick, especially for his size, and he was able to live at the rim with bone-crushing dunks and incredible highlights. It seemed like if you blinked, he was at the rim creating some kind of spectacular moment. He relied on this because his jumper was really inadequate, as is the case with most young stars.
As the years and minutes piled up on him, I think this analysis from Arenas became much more accurate. LeBron has struggled a bit with his back tightening up, especially during the past couple years, and it causes him to play with a more straight up-and-down posture. He doesn't display the same consistent quickness he used to and uses his strength and angles much more often to create scoring opportunities for himself and teammates.
Speaking of scoring opportunities, Gilbert said LeBron isn't a No. 1 scoring option:
James isn't a #1 option..and yes I (didn't stutter) he lacks #selfishness so he will always need a go to guy like wade was or kyrie.. he lacks what jordan and kobe were..great 1 on 1 players... he needs a pure scorer beside him so he can carry the TEAM load...he gets bashed alot by media becuz he doesn't take over like #MJ or #KB but #LBJ is MAGIC with Jordan like athleticism..so he walks into stats without trying and when forced he will give u 41 12 8...the finals was the first time in his career he was physically pushed to the limit becuz he had no one to defur to...when players like magic,Barkley and analysis bash him I cringe...like u ppl have no idea what he could do if he had (1) season just 1 selfish season like kobe did in 2005-06 he will avg 40+ 11 9 and no one could do shit about it...
This is where I'm going to respectfully disagree with Gilbert on the subject. There hasn't been a single season in LeBron's career in which he didn't lead his team in field goal attempts per game. The closest we've ever seen to a teammate taking more shots per game than LeBron is in 2010-11 -- his first season with the Miami Heat -- when he averaged 18.8 shots and Dwyane Wade averaged 18.2.
Shot attempts don't mean everything in terms of whether or not someone is a No. 1 option, but it's hard to argue against the overwhelming evidence of LeBron being the guy when it comes to scoring in an offense. Granted, the list of great scorers during his first stint in Cleveland consists of Ricky Davis, Larry Hughes, Drew Gooden, Zyndrunas Ilgauskas, and Mo Williams, but there's not much he can do about that. He was the leading offensive option all four years in Miami and then again when he came back to Cleveland. The shot attempts have rarely been close in comparing LeBron to any other teammate he's had.
Arenas' overall point though is it's a shame because we'll never get to see LeBron be the selfish star that can lead to greatness in overall stats and proving they're a top star. We've seen it with just about every elite scoring option in NBA history, but barring a disaster to Kyrie Irving and Kevin Love in Cleveland like we saw during the NBA Finals this year, we'll never get to see that from LeBron.
it's sad the world wont get to see Who I'm talking about becuz his legacy is built on winning...if u doubt what I'm saying..look at every game he was pissed off and was challenged....this man could be the second best 3rd for sure player to ever play when it's all said and done around 2020+and he didn't even tap into his ability to be GREATEST..
The game that fits this last bit of analysis by Arenas the best is probably the 45-point Game 6 performance we saw against the Boston Celtics in 2012 when the Heat were facing elimination prior to James' first championship. That look in his eyes and the accuracy of his scoring was spectacular. Gilbert just wants a full season of this.