Give and Go: Who made the biggest mistake at the NBA trade deadline?
A look at lost opportunities and bad slips by teams at the trade deadline, including a look at whether the Hawks, Celtics and Rockets wasted opportunities.
The NBA trade deadline failed to send shockwaves throughout the league. In fact, it didn't even knock any paperweights off the bookshelves. Nary a glass of water trembled in the wake of the small series of trades this week, outside of the deal completed Wednesday between the Magic and Pistons for Tobias Harris, and the Clippers and Grizzlies making a last-minute deal involving Jeff Green and Lance Stephenson. 
However, there were some interesting moves in light of the the long- and short-term goals of the teams involved. James Herbert, Matt Moore and Zach Harper talked it out to try and make sense of everything. 
Matt Moore: So we had no big moves at the deadline. The Hawks, Rockets, Celtics, Cavaliers and Clippers all stood pat, save some back-end moves of Lance Stephenson, Donatas Motiejunas, Shelvin Mack and Channing Frye. Is there a team that you think should have made a move and didn't, and how about a team that you think played it right by standing pat?
I think the Rockets actually made the right move. They were dealing from a position of weakness and while this season is in a tailspin I'm not sure that making a deal for Howard or other significant parts was going to turn this year around. If they need to restructure the whole thing, wait for the full season to see how bad it is. Basically, see if the infection is so bad you need to remove the leg or just treat it with penicillin.
Boston needed to do something, to make something happen. That sounds easy. But there were guys we know who were available: Al Horford, Pau Gasol, maybe Kevin Love (maybe not), Dwight Howard, and they did nothing. They have this roster full of good-to-really-good players and no one great, and all these picks they don't have room for. They can deal them on draft night, but will they get significantly better guys available then than the ones they had a shot at during the deadline?
I do like that the Cavs and Clippers held tight. I'm not sold on either of those cores long-term, but there was just no reasonable deal to get appropriate value back.
James Herbert:  I actually really liked the Frye pickup for Cleveland, even though it doesn't make them much more of a threat to the Warriors. Staying in the East, I think Atlanta did the right thing. Al Horford is in the last year of his deal, but he wasn't asking to be traded. If he likes playing in Mike Budenholzer's system and believes that the Hawks can recapture what made them so special last season, then you have to give it a shot, see what happens in the playoffs and try to re-sign him. There's a lot of talent here, and there's no reason why Atlanta can't get back to the Eastern Conference finals.
Chicago, on the other hand, is almost certainly not going to get to the conference finals. This team has had serious issues for most of the season, and Jimmy Butler's lingering injury certainly doesn't help matters. I would have liked to see the Bulls make a move, whether that meant trading Pau Gasol or Taj Gibson. After bringing back nearly the same team as last season, this will be a busy summer for Chicago, and I'm not sure Gasol's All-Star appearance or his reported desire to stay means he's a real part of the future anymore. Even if general manager Gar Forman says otherwise. 
Matt Moore: I don't get the Frye move for Cleveland. What lineups are you going to play him in? Where can you use him? I know they gave up nothing, just don't see the point.
Zach Harper: I like the Frye move. I'm with James there. As a fifth big, he's a huge luxury. He's another guy to spread the floor for a few minutes a game. Run a Horns play with Frye and Tristan Thompson as the bigs and Delly as the guard. You pop with Frye, you roll with Tristan, and the defense has to make a choice between a Tristan lob or a Frye 3-pointer. That can't be deadly for a four-minute stretch here and there?
Matt Moore: The offense gets better with Frye. But the numbers with Tristan might mean a unit might bleed badly with Frye and Thompson. Maybe not, though. It'll be interesting to hear what David Griffin thought the upside was there or if he was just a good player available for nothing.
Zach Harper: I think the Bulls should've found a way to make a move with the Sacramento Kings for Pau Gasol. Selfishly, it was purely for my own entertainment. I wanted to see a bit of chaos. Keeping George Karl and then adding Pau Gasol to what he wants to do on the court makes very little sense, but it fits the Kings' style of just grabbing random talent hoping it molds together. And for the Bulls, I don't have a ton of confidence in them making the conference finals because of the Jimmy Butler injury, so I say go get assets like Kosta Koufos or Ben McLemore.
As for Boston, what was there to force? Why give up assets when you can pursue someone in the offseason and possibly give up fewer assets, if you have to give up any at all? I've been annoyed with the Danny Ainge plan and rebuilding process. I think it's too conservative at times, and I don't view their young players as the assets the fans like to pass off. Perhaps that divide is part of the reason the Celtics haven't been able to swing for that star. Kelly Olynyk and Jared Sullinger aren't demanding you get in on the ground floor now with them. But this wasn't the time to force that because I don't think Al Horford was going there without the Brooklyn pick coming back.
Ainge being conservative here maybe doesn't give us the big domino to fall, but it might lead to a more exciting summer.
Matt Moore: Do we think the Brooklyn pick will be absolutely more valuable than Al Horford? I'm not sure. There's a chance. There's a good chance not, though, and they would have still had enough assets to swing for another star later.
Maybe it will be. Right now, on Feb. 18, sure, Ben Simmons or Brandon Ingram will be more valuable/better than Horford. But Al Horford is so good and so many rookies never pan out. Is the upside good enough to turn it down flat?
Zach Harper: Well, if you're not getting Horford to re-sign, yes.
Matt Moore: Yeah, I get that, I just think Horford would have seen a playoff team with the ability to offer the fifth year, and that could have been worth the risk. I also feel like Al Horford is a guy other stars would want to team up with.
James Herbert: I get the argument that Boston should have made a move. Someone like Horford or Howard could have made this team a serious threat for the NBA Finals. Ainge has been nothing if not patient, though, and I don't see the point in trading for either one of those guys if it's just a rental. You don't give up the Brooklyn pick for a rental.
Matt Moore: I find it odd the Cavs didn't go defense. That stands out to me.
Zach Harper: Yeah, I wonder what was available for defense in that respect. Do you hunt out a wing player if that's the case?
Matt Moore: I would have taken the gamble on [Ben] McLemore.
Zach Harper: Yeesh, for Cleveland? I don't think you can really fit him in any time soon, unless Iman Shumpert really is going to go Stephen Jackson on us and go music career.
And while I know Tyronn Lue is the coach and everything, the first time McLemore screws up a defensive rotation and looks lost doing it, I think LeBron subs him out.
Matt Moore: Trevor Ariza would have been optimal, but I just don't know if Houston was going to accept below-market for anyone.
James Herbert: I think it's pretty clear the Rockets were driving a hard bargain. They gave up Motiejunas, yes, but that was for a first-round pick. If they held onto Dwight Howard and Ty Lawson, then I think Ariza was always staying, too.
Matt Moore: With the Wizards, was what they gave up worth getting the gamble on Markieff? Do we think he can move past all his issues?
Zach Harper: CAN he move past his issues? Yes. Will he? I don't know that he's owed any credit here until we see it. I like the gamble for the Wizards because you talk about the pick they gave up and it's similar to wondering if Washington ends up with a player as talented as Markieff in the draft. Probably not, right?
But you still have a huge issue to get Markieff to care and be a good teammate. Maybe it was an isolated incident, but he has to prove he's trustworthy in that sense.
James Herbert: I expect Morris to be a model teammate for the rest of the season. His reputation is in shambles, and the Wizards need him for their playoff push. The question, to me, is whether that is sustainable. Is Morris the right guy for this team long-term? Will he be reliable for the duration of his contract? I'm not so sure, and I agree with Zach -- it's on him to prove it.
Zach Harper: Do we expect the Wizards to have enough to push and get into the playoffs? Not can they but will they? How much do we buy into them?
Because we bought in a lot before the season started.
James Herbert: If Morris and the returning Alan Anderson are as productive as Washington hopes they will be, then sure! But Detroit just got better, and Charlotte's Courtney Lee pickup was nice, too. It's not guaranteed, even though the Wizards clearly have playoff talent.
Matt Moore: I think it's going to be tough, especially with Detroit getting so much better. Then again, Orlando got worse and the Knicks are fading. Still, they need another team to drop.
James Herbert: Maybe that team will be Chicago, as weird as it is to picture that team out of the playoffs for the first time since before Vinny Del Negro showed up.
Zach Harper: Chicago could drop but Charlotte is right there and stronger with Courtney Lee.
James Herbert: The last Bulls team to miss the playoffs had a rookie Joakim Noah on it, by the way. Dang.
Zach Harper: So what James is saying is Bobby Portis is the new Joakim Noah.
James Herbert: They're both very expressive.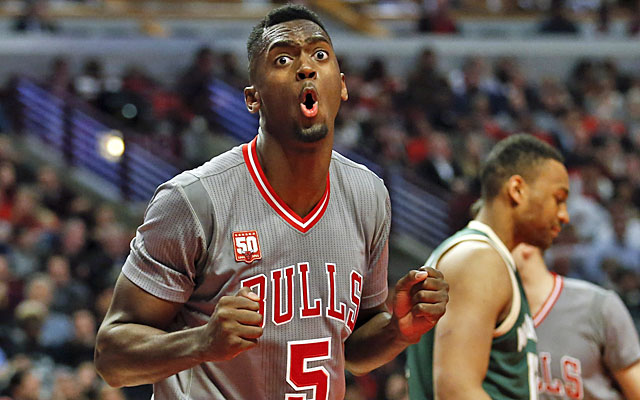 Matt Moore: I liked the Shelvin Mack pickup for Utah, by the way. Worth the flier.
Zach Harper: I like that move way more than I like testing out Ty Lawson.
James Herbert: It would have been a little weird to get Lawson, given what he had said about Utah.
Matt Moore: Did anyone make a mistake in a trade?
James Herbert: The Clippers? I don't love them giving up a first-round pick for Jeff Green, even if they're better in the short term with him.
Zach Harper: Doc. I don't see how he values the draft so little when he could benefit from it so much. Just a constant pattern of ignoring first-round picks as capable additions you develop. If he put as much care into the draft as he does pretending his son is a lead guard, they might have a real bench.
James Herbert: If Los Angeles could have acquired Frye instead of Green and saved the pick, I would have liked that better.
Not sure whether that was possible, but hey. We know they were in the mix for Frye, and he would have been what they hoped Spencer Hawes would be.
Matt Moore: I'd rather have Jeff Green than Frye straight up, but I'd rather have Frye than Green while giving up a pick.
James Herbert: It's kind of amazing that Joe Johnson and Thaddeus Young are still Nets.
Matt Moore: Well considering Sean Marks hadn't even set up his voice mail probably by that point, maybe not.
Zach Harper: Good on Joe Johnson. Get that money and keep all of that money. And I think it says something about him wanting to sign there for longer than just this year. If he's happy there, good for him. Sean Marks makes two people who want to be there. That's a start.
Matt Moore: Poor Brian Roberts. Practiced with Miami and everything. Also, man, Olshey is good.
James Herbert: I love the sneaky Blazers. Olshey has been in Hinkie mode with all of that cap space, and the team's actually good, too. Impressive.
Matt Moore: Final Q: Does this deadline make this summer crazier, less crazy, or same amount?
James Herbert: Crazier! It was always going to be crazy, but there are many teams that wanted to do something now, but couldn't pull it off. We'll be hearing about some of these same names around draft day, and the free-agent frenzy is going to be complete insanity. Can't wait for Kent Bazemore to get 40 gazillion dollars.
Zach Harper: As crazy as it was before. Guys are going to get stupid paid. Teams are going to panic with all of their money. Trades will be insane. And I think we'll see weird stuff on draft night because of it.
Matt Moore: I'll say more crazy, because I think a lot of teams wasted opportunities and are either now banking on the summer, or are going to have a rude awakening in the second half of the season and then face a reckoning and have to get desperate to improve in the offseason. We thought this summer would largely stunt this trade deadline, and for once, the NBA failed to surprise us.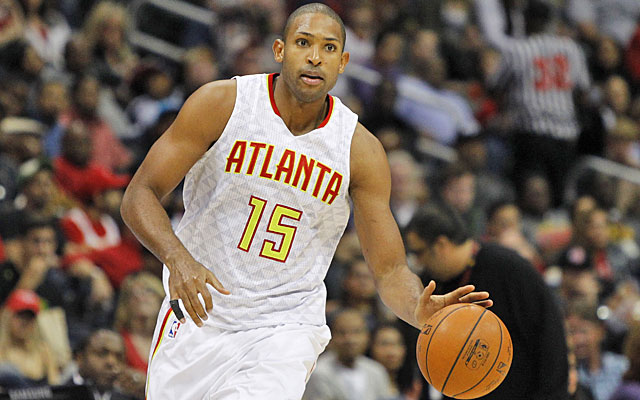 Bryant will have both No. 8 and No. 24 raised to the Staples Center rafters on Monday

The Lakers will be retiring Kobe Bryant's No. 8 and No. 24 jerseys at halftime

The Nuggets will look for their second-straight win with Nikola Jokic back in the lineup
This composition is absolutely amazing

Stephen Curry, who grew up in North Carolina, wants to be part of the next Panthers ownership...

Vince Carter is destined for a Raptors reunion; he doesn't know when it'll happen