Glen Davis apologizes for breaking computer at Florida motel
Orlando Magic big man Glen Davis has apologized for breaking part of a computer in the lobby of an Orlando motel early Saturday morning.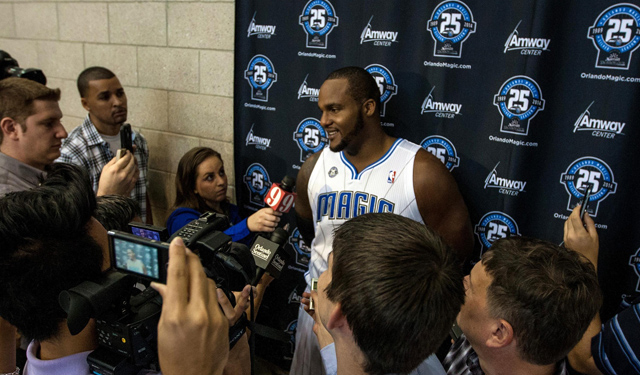 If you think Orlando Magic big man Glen Davis takes a loss poorly, you should see how he handles being denied a room at a motel. During the wee hours of Saturday morning following the Magic's loss to the Boston Celtics, Davis tried to book a room at a Travelodge somewhere in Orlando. The problem was that the Travelodge had the "no vacancy" sign on because there wasn't a free room for him to rest in. 
Davis didn't take the news all that well and ended up ripping a keyboard off the front desk and threw it against a wall before furiously walking out of the motel. The front desk employee called the police and two officers showed up to the motel but didn't make an arrest of any kind. From TMZ (video in the TMZ post):
It all went down early Saturday morning at a Travelodge in Orlando, FL -- when the 27-year-old tried to book a room with the front desk and was told the place was sold out. 

Glen -- clearly frustrated -- reached over the front desk and grabbed a keyboard, which he proceeded to rip from the front desk computer and throw across the lobby.  Davis then stormed out of the motel in anger. 

The Travelodge employee immediately called police ... and moments later, two cops arrived on scene. 

Law enforcement sources tell us ... cops investigated the situation but Davis was not arrested. 
Why was Glen Davis trying to book a motel room after a home game in Orlando? That's a good question that we don't have an answer for. In the security footage from the motel, you can see a woman sitting on the couch on her phone in the background, but there's no way to know if she was just a bystander or with Davis at the time. Regardless, the Magic power forward didn't deny any of it (How could he? He was on video) and apologized on Twitter. 
In regards to the incident that occurred on Friday night, I want to sincerely apologize for my actions. There is no excuse for what I did...

— Glen Davis (@iambigbaby11) November 12, 2013
... I was obviously wrong and I take full responsibility. I apologize to the Magic, my fans and the city of Orlando.

— Glen Davis (@iambigbaby11) November 12, 2013
Smart to apologize the way he did. Maybe he ended up staying at a Holiday Inn Express after being turned down by the Travelodge? 
Based on Gentry's tongue-in-cheek price, Boston is highly unlikely to acquire the big man

Larry Hartstein is 22-11 in ATS picks for or against the Timberwolves and has a play for T...

First they were fragile, now they're dealing with 'rotation' challenges
You could say the Brazilian big man marches to the beat of his own drum

Rivers says Ariza called him to hash everything out following the heated skirmish between both...

Larry Hartstein has his finger on the pulse of Philly basketball and locked in his pick