Glen Taylor, Flip Saunders now reportedly open to Love trade talks
Wolves owner and President discuss the Kevin Love trade rumors, and in a notable change, acknowledge they could look to trade Kevin Love at or after the draft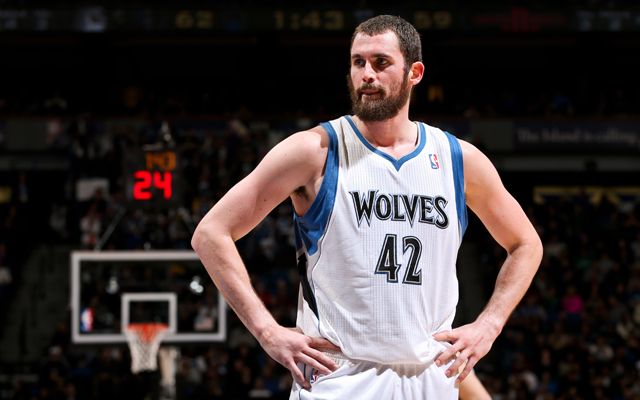 More on Kevin Love: Celtics could be in mix | Warriors, Bulls interested?
The NBA storyline that will likely dominate the next two to 12 months is in full swing, as rumors of the Timberwolves looking at trading Kevin Love have hit full swing. Reports exploded over the weekend of potential landing spots for the Wolves forward, and the Star Tribune reports on the predictable tempering of talks by Wolves management ... while also acknowledging the situation. 
The Associated Press, citing two unnamed sources, reported Sunday that, with Tuesday's draft lottery and the June 26 draft approaching, the Wolves are softening their position that they won't trade Love and are open to the idea of doing so for the right deal.

"Not by the draft," owner Glen Taylor said before Sunday's Lynx home opener at Target Center about such a possibility.

Taylor said he hasn't discussed that option recently with Flip Saunders, the team's president of basketball operations, and said Love has not asked for or told the team to trade him. Taylor has remained hopeful the team, searching for a coach to replace Rick Adelman, will show enough improvement next season to convince Love his future is with a team that hasn't made the playoffs in a decade.

Saunders told WCCO Radio on Sunday morning that he hasn't talked to Love's representatives since the season ended in mid-April.

"We're proceeding the same way, that Kevin is part of our team, that we have," Saunders told WCCO. "You're always trying to get your team better. There have been reports we're actively trying to trade him, which isn't true. What we're actively trying to do is get our team better. When you do that, you look to see what's out there no matter what it is or for anybody. We're a team that hasn't made the playoffs in 10 years. We've got to get better."
via Wolves temper Love trade rumors | Star Tribune.
That's a pretty big change there from Taylor. Going from "We won't trade Kevin at all, period" which had been the team's stance to "Not before the draft" from Taylor and "We're actively trying to make our team better" from Saunders. That's a non-admission admission that Love is suddenly on the table, in NBA speak. 
Now, before the draft is important here. No one's making this deal before draft night. The Wolves will look and see what happens in the lottery, and if on draft night someone comes with a huge offer, they may push the button. But they're not under any duress. The Wolves' leverage is mitigated by Love's free agency stats in 2015, but that's a year away. They have time to wait the market out and hope for someone to get desperate for him, much the same way the Magic remained patient with Dwight Howard and Denver remained patient with Carmelo Anthony. 
As for the denial Love has asked for a trade? Well, one, stars rarely do that. They just make it known they won't re-sign. And even if Love did, neither Taylor nor Saunders would acknowledge that; it murders your leverage. 
But this has moved well beyond "Love could be moved if things don't change" to "the jig may be up" and the Wolves could be looking at their third major rebuilding process since trading Kevin Garnett in 2007. The "Loveboat" is in full effect as the next major NBA storyline. 
Wade, as he's done so many times in his career, threw it up to LeBron for the thunderous f...

The Warriors coach added there should be no shame in being picked last since everyone's an...

We've got all the scores, highlights and news from all of Saturday's games
The two teams have reportedly not had any substantial discussions to this point

Oladipo may be getting most of the shine, but this second-year big man has been phenomenal...

SportsLine's Mike McClure, a DFS pro with more than $1M in winnings, gives optimal lineup...