Glen Taylor takes Timberwolves off market, prepares for bright future
Minnesota Timberwolves owner Glen Taylor has decided not to sell the team as he prepares for the future of the organization.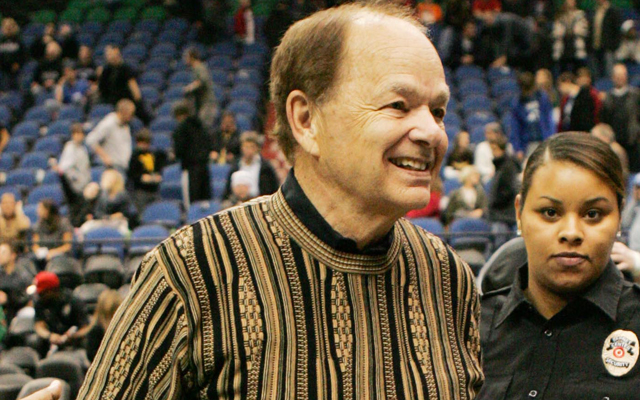 MINNEAPOLIS -- Minnesota Timberwolves owner Glen Taylor has done a lot of good for his home state of Minnesota. He's donated an incredible amount of money to charities, employed thousands of people, and he was even a state senator from 1981 to 1990. One more thing he's making sure he does for the state of Minnesota is guaranteeing it won't lose its NBA team.
As Taylor announced the hiring of new president of basketball operations Flip Saunders, he also told reporters Friday he was no longer actively looking to sell the team to a limited or minority partner who would eventually take over his majority ownership. In fact, Taylor is looking to buy out existing limited partners to own an even greater percentage of the franchise he saved from being moved to New Orleans in 1994. 
"I have made the decision not to sell the team at all," Taylor announced at the press conference to reintroduce Saunders. "Matter of fact, I have made an offer to my limiteds who have said that they might want to get out, that I offered to buy them out. So we're going to go the opposite direction. Rather than me having a smaller interest in the team, it would be a larger interest in the team. Any limiteds that are in a place in life where they want to take advantage -- and they'll make a healthy reward on their investment in the Timberwolves -- but want to take advantage of that, I will personally buy them out.
"But I would also say, as Flip is coming in as a limited [partner], that I still think that it would be in our interest to find some other people who live in Minnesota, who have a keen interest in our state and this organization, to come in as limiteds. So we're open to doing that."
Taylor said he currently has 12 limited partners and estimated that half of them might sell and the other half would stay in. 
Saunders has remained friends with Taylor, even after being replaced by Kevin McHale as coach of the Wolves back in 2005. When Taylor announced last summer that he was looking for someone to buy a minority stake in the team with the intentions of moving the majority ownership over to them at some point, Saunders stepped in and attempted to help Taylor find a group willing to keep the team in Minnesota. But selling off the team wasn't that simple for Taylor. As he searched for a group of local investors, he realized he didn't want to sell after looking at the organization's current state and the future of the NBA.
"I think just going through the whole process," Taylor explained, "I think it would be accurate if you just said maybe I had seller's remorse. All of a sudden I realized, 'Gee, what if I do sell this team? I like coming here, watching the games! I like being involved in this type of stuff.' Also, just that we didn't have the year that I thought we would have. The idea of selling it after a bad year doesn't taste good to me. Seems like to me, if I ever sell it, I would want to be close to the top, like we've built it up to the top. I think it's just the combinations of that.
"Then I talked to Flip, we were talking about selling the team and Flip was trying to figure it out. Then I can remember one day, he said to me, 'God, are you really interested in selling the team? You don't act like it.' And I said, 'No, I'm not really.' He said, 'Let's start thinking about another program here.' I don't mind people saying, 'Glen had seller's remorse and changed his mind and needs a better plan now.' "
Taylor was approached by various groups from out of state that were looking to move the team or to get a cheaper price than the Wolves owner was comfortable with giving them. Other potential buyers wanted to take the team over immediately, which wasn't something Taylor wanted to do. He didn't want to just relinquish controlling interest in the team right away.
"A couple of guys wanted to take over immediately," Taylor said, "and I wasn't ready for that. It was always that I was going to stay in partner with them for three years, so I just couldn't find the right partner. I would like to go back and see if there are some locals that are limited [owners]. I like partners. I like people that either help or criticize in order to help make the organization better."
The Hansen-Ballmer group that agreed to purchase the Sacramento Kings at a valuation of $525 million (and later increased it to $550 million) approached Taylor about selling the team to them before they became involved with the Maloofs in a deal to buy the Kings and move them to Seattle. But Taylor didn't like the idea of selling his team just to see it moved out of state.
"They came and met with me before the Sacramento thing," Taylor said, "when they were out exploring. Their interest at that time, I think they probably talked to a number of teams, I made it very clear to them that I wasn't going to move the team."
The change of heart for Taylor to go from wanting to own a smaller portion of the team to owning a larger portion of the team could be due to the improving landscape of the NBA for owners. With the new collective bargaining agreement increasing revenue sharing among owners and with a new television deal coming in 2016 that is expected to greatly increase the profits for the entire league, Taylor's new desire to keep his team and own more of it makes sense.
"As we talked about it, that time we talked about was probably four or five weeks ago, and I said, 'You really don't want to sell the team, do you?'" Saunders said as he recalled a conversation he had with Taylor. "He goes, 'You know, I'm really having fun and I see where the league is going. There's a new TV deal coming up and it's going to be astronomical prices, it could go through the roof.' "
Taylor is excited about the future of the Wolves' organization and the direction the NBA is headed. And if all goes according to plan, he will have kept his team in Minnesota for the long haul, made a lot of money off of a future sale, and will be able to continue to contribute to his home state. 
"I think some day it will be figured out," Taylor proclaimed, "that when Glen Taylor didn't sell his team in 2013 and he kept it until 2023, 10 years later, that he made a lot of money. And I'll tell you, most of that money is going to go to good causes. It's not going to go to Glen Taylor, it's not going to go to his family; it's going to go to good causes in Minnesota."
And what is Taylor's plan to take the necessary steps to keep the team in Minnesota when he is gone?
"I think you'll see the answer to that in a couple of weeks."
We've got all the scores, highlights and news from all of Sunday's games

The Rockets beat the Warriors 116-108 on Saturday night

The Cavaliers gave up 148 points in their loss Saturday afternoon to the Thunder
Blatt made the comment before coaching in the All-Star Game in Turkey

Is this rock bottom for the Cavaliers because it sure feels like it is

Wade, as he's done so many times in his career, threw it up to LeBron for the thunderous f...