GM Kupchak says Lakers could wait until 2015 to make free agency move
Could the Lakers wait a full two years to cash in on their max cap space? Kupchak says it's a possibility.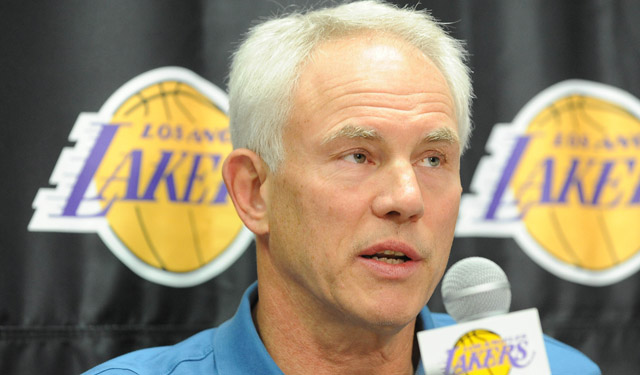 In an interview with Lakers.com, GM Mitch Kupchak says that the Lakers are open to the possibility of simply not signing anyone to a big contract this summer and instead holding cap space for 2015. 
MT: Going back several years, the 2014 summer was seen as this huge year for free agency, but perception may have changed. How do you see it for the Lakers?

Kupchak: Several years ago, we made a conscious decision to line contracts up for this coming year of free agency. If you look at our payroll a year ago, with the exception of Steve Nash, we didn't have anybody under contract (for 2014-15). That didn't have so much to do with who was going to be a free agent in 2014, but more a function of some planning of how our roster (looked). You really have to be conscious of when players get to a certain age. Even though they are great players, they're used to being paid at a certain level. And a lot of times you end up paying a guy a year to two longer than you should. This happens with championship teams, and we didn't want to have a bunch of guys locked up at the ages of 35, 36, and 37. We'd rather have the flexibility to make some decisions.

Obviously we broke ranks to sign Kobe to an extension, but we still feel like we have significant flexibility this summer and next summer. As far as who's available and who is not available around the league to sign, we still don't know. Some players will opt out, and some players you think will opt out may not. Some free agents may be extended, and some may not. It would be foolish to plan on somebody for sure not opting out or not extending. You really can't plan it with certainty that way. Now, we know who's probably going to be a free agent in the next three seasons, but just not for sure. You cannot earmark a player and say, "That's the guy we're going to get." The league is too competitive and too much can happen to change things. What we do know is that flexibility is good.

MT: People often ask, "Who's the next star the Lakers are going to get?" Around the league, some team may think they're in contention for a title, but then the best player gets injured – as so many stars have this season – and the entire outlook changes. How do you narrow things down from the GM seat?

Kupchak: When we're sitting in here with all the scouts having our meetings, it's so much fun to talk about, 'What if we got this guy or that guy,' or 'What if we paired up these two guys?' It's the same thing the public does. It makes for great speculation, great talk radio, great online (interaction), social media. It's great. But there's the reality part of it that tells us there is a lot that we still don't know. June 30th at 9 p.m. is when we really know, and that's when the mad rush begins.

MT: With Bryant locked in for the next two years, there is still space for a max player both this coming summer and the next. But in theory, if you like players you think would be up in 2015 and 2016, would you want to avoid giving a maximum contract this coming summer for a player you aren't sure you want for five years?

Kupchak: That's right.

MT: How would you summarize what you're looking at for these next three seasons?

Kupchak: One of the premier free agents this coming summer was going to be Kobe Bryant. He'll no longer be a free agent. We have acquired him. As we approach the summer, we will see who's available and weigh it against what we think is a sound and prudent basketball and business decision. And we'll decide whether to sign that player versus some other player this summer, or take somebody in a trade or make a trade, and weight it against the option of waiting another year.
via Q&A: Mitch Kupchak | THE OFFICIAL SITE OF THE LOS ANGELES LAKERS.
It's a pretty bold idea, just based on precedent. The Lakers are known for not being patient, for making big splashes as soon as they need them, for always reloading and not rebuilding. This would be two years in a row where the team fields an uncompetitive team built on short-term stop-gap contracts. And you've seen how that's worked out this year. Turns out when a guy named "Swaggy P" is your third best player, injuries or not, it's a a bad combination. 
Would the Lakers' fanbase really remain patient through a two-year rebuild? Will the Lakers' ownership? Will Kobe Bryant? 
Can the Lakers afford to waste a year of Kobe Bryant with his window closing after giving him that massive extension? Lot of questions, but also bear in mind the available free agents in 2015. 
Kyrie Irving (rookie deal, unlikely to sign elsewhere, restricted free-agent)
And that's not factoring the possible opt-ins this summer of LeBron James, Chris Bosh, and Carmelo Anthony.
So yeah, there's reason to wait. We'll see what the Lakers opt to do, but it's important to note that the idea of just passing on a big move this summer is something the Lakers have thought about. 
The Cavs would reportedly entertain the deal, but there's really no point

Westbrook claims he doesn't remember calling Jackson's celebration 'bull----' back in 2016

Rose is reportedly sick of being injured, and it's 'taking a toll on him mentally'
SportsLine's proven computer model simulated Friday's Cavs-Hornets game 10,000 times

SportsLine's Mike McClure, a DFS pro with more than $1M in winnings, gives optimal lineup...

SportsLine's advanced computer model simulated Friday's Bulls-Warriors game 10,000 times