GMs pick the Heat to win a third straight championship
In the annual general manager survey, the Heat are an overwhelming favorite to 3-peat. But who are the likely threats to stop them?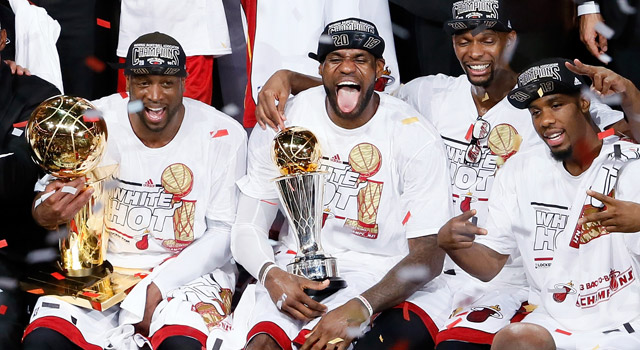 According to NBA general managers, it's going to be a 3-peat in Miami. 
In the annual GM survey, the Heat brought in 75.9 percent of the vote for who would win the 2014 championship. The most ikely to dethrone the King and his army, according to the GMs? The Spurs and Pacers at 6.9 percent, with the Clippers and Thunder also receiving votes.
All 30 NBA GMs were polled on 56 questions ranging from who takes the last shot, who's best at each position and of course, who will win MVP. For that, another 3-peat as LeBron James gathered 69.0 percent over Kevin Durant who brought in 24.1. 
The Heat are favored with 86.2 percent to win the East, with the Spurs favored in the West at 40.0 percent with the Thunder right behind at 36.7 percent. Divisionally, the Nets are picked to win the Atlantic (75.9), the Pacers to win the Central (51.7), the Heat to win the Southeast (100.0), the Spurs to win the Southwest (70.0), the Thunder to win the Northwest (96.6) and the Clippers to win the Pacific (89.7). 
LaVar Ball formed a pop up shop in New York to sell Big Baller Brand merchandise. The results...

The Cavaliers players took a stand against bullying on social media

The Rockets are gunning for their 10th consecutive win
Victor Oladipo just wants to live his life and enjoy his breakout season with his new team

Keep it right here for all of the news, notes, scores, and highlights from around the Asso...

LeBron has a player option for next season, and is expected to opt out and become a free a...