Good night, Brooklyn: Lopez injury a death knell to Nets
Brook Lopez's latest foot injury likely will cost him the rest of the season, a death knell for the Nets and their $102 million payroll.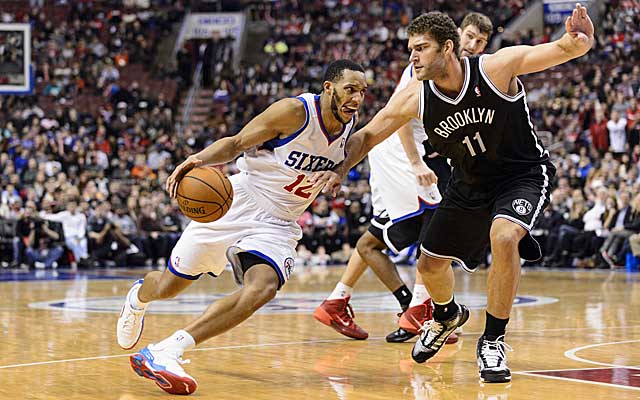 UPDATED 4:16 p.m. ET
If you thought the death knell for the Nets' season came when Paul Pierce put them up by one with 16 seconds left in overtime, only to have Evan Turner crush them with a buzzer-beating layup on Friday night in Philadelphia, think again.
The end came Saturday, when it was revealed that center Brook Lopez broke his right foot again and is out indefinitely.
The Nets are not officially ruling Lopez out for the rest of the season until more tests come back on the exact location and severity of the fracture. But according to league sources, the team isn't counting on Lopez returning this season.
Lopez fractured the fifth metatarsal in his right foot, the same bone he broke in December 2011. Lopez underwent surgery at that time and returned in February for five games before missing the rest of the lockout-shortened season with a sprained right ankle.
In June 2013, it was discovered that the screw in Lopez's surgically repaired foot had bent. He had surgery again to replace it and returned to basketball activities in August. So this time, the Nets are looking at a minimum of two months without Lopez, and given the repetitive injury history with his right foot and the circumstances surrounding their abysmal 9-17 start, likely a lot more. 
Meanwhile, the Nets do not plan to dip into the slim pickings of the free-agent or D-League market for a big man. League sources say the team plans to get by with Kevin Garnett at center and Mirza Teletovic at power forward with small forward Andrei Kirilenko likely to return from a back injury either Monday or Wednesday. For depth, they'll lean even more on Mason Plumlee and seldom-used Reggie Evans. 
Also, with a $102 million payroll, even a minimum-salaried player would cost many multiples of his paycheck because of the luxury tax. Even if the Nets got a disabled player exception (which they can apply for until Jan. 15), a $1 million player would still cost them more than $7 million.
Another option: At some point, the Nets could pursue a trade for the Rockets' Omer Asik, for whom trade talks broke down this week between the Rockets, Celtics and other teams. Brooklyn could offer Paul Pierce's expiring $15.3 million contract and a future first-round pick. Although Asik will be paid $15 million next season, his salary for trade purposes is $8.4 million -- meaning the Rockets would have to include other players in any such deal.
The problem, of course, is that the Nets don't have a first-round pick to trade until 2020 after sending their 2016 and 2018 firsts to Boston, along with the right to swap 2017 first-rounders, in the Garnett-Pierce deal.
Also, the way the rest of the East is shaping up -- the Knicks and Celtics both lost on Saturday, leaving the woeful Nets only two games out of a playoff spot -- the organization is inclined to see how things play out, for now.
Nobody wants to see anyone get hurt, but these are the circumstances the Nets find themselves in given their ambivalence to the financial ramifications of carrying an $87 million luxury-tax bill.
The Nets didn't acquire Garnett and Pierce and spend all this money to barely make the playoffs. Thus, the team slogan -- "Hello, Brooklyn" -- just became something else entirely.
Good night, Brooklyn.
Bagley wants to be in the 2018 NBA Draft and should be the No. 1 overall pick

Durant helped build the court in Manhattan as part of his community outreach program

Prince will be a special assistant to Memphis GM Chris Wallace
He speaks out at a LeBron James Family Foundation event; he tweeted about Charlottesville on...

Smith was at the event to support his Cavaliers teammate

Trade talks involving Irving have seemingly stalled in recent weeks