Goodman's 2012 NBA Mock Draft: Post-combine evaluations
College Basketball Insider Jeff Goodman got a chance to watch the Chicago NBA Draft Combine and talk to plenty of NBA guys, so it's time for his latest NBA Mock Draft. Plenty of changes in this version -- but his No. 2 pick remains the same.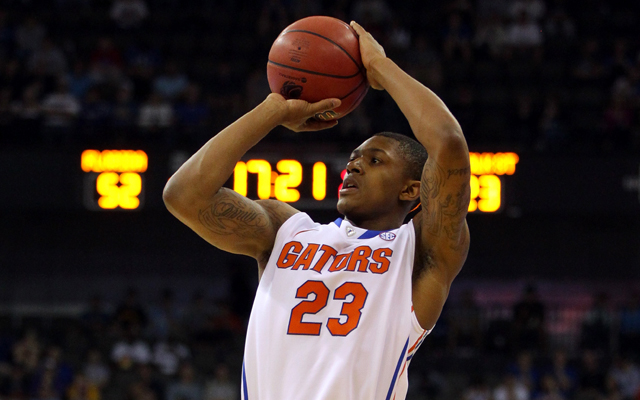 Despite the fact that Bradley Beal is our No. 2 overall draft prospect, it looks like the Bobcats will pass.
(Getty Images)
UPDATE: June 21
We've finally relented. After having Bradley Beal in the No. 2 spot since the moment the order of the draft was revealed, we're making a change and sliding Thomas Robinson in his place.
We're hearing that T-Rob is the current favorite for Michael Jordan, Rod Higgins and Rich Cho -- and he'll give the Bobcats an intense power forward who can provide immediate help.
That means Beal is on the board for the Wizards, who have a desperate need for a skilled two-guard to play alongside John Wall. It also means Michael Kidd-Gilchrist is likely to slip down to Sacramento at fifth overall.
June 11
We got a chance to watch the Chicago NBA Draft Combine and talk to plenty of NBA guys, so it's time for our latest NBA Mock Draft. Plenty of changes in this version -- but our No. 2 pick remains the same.
NBA Mock Draft - Updated: 6/21/2012
Round 1
1. New Orleans Hornets
Anthony Davis, PF/C, Kentucky: The Hornets won the lottery and get the future star. Davis is a shot-blocking freak, but is also skilled on the offensive end -- and should be a franchise-changing player.
2. Charlotte Bobcats (Updated: 6/21/2012)
Thomas Robinson, PF, Kansas: I still maintain Bradley Beal is the better fit in this spot, but we're hearing that Charlotte prefers Robinson - the athletic and relentless power forward.
3. Washington Wizards (Updated: 6/21/2012)
Bradley Beal, SG, Florida: Ernie Grunfeld's trade to acquire Trevor Ariza and Emeka Okafor cleared the way for plucking Beal with this pick. He'll be the ideal complement to John Wall in the backcourt.
4. Cleveland Cavaliers
Harrison Barnes, SF, North Carolina: The Cavs have enough high-motor guys with Anderson Verejao and Tristan Thompson; Chris Grant needs a skilled player and Barnes is the ideal fit here. He and Kyrie Irving are also tight -- which won't hurt the case.
5. Sacramento Kings (6/21/2012)
Michael Kidd-Gilchrist, SF, Kentucky: He's perfect for Keith Smart: a hard-playing, athletic, physical small forward who doesn't have to score with guys like Tyreke Evans, DeMarcus Cousins and Marcus Thornton being the go-to guys on the offensive end.
6. Portland Trail Blazers (from Brooklyn)
Andre Drummond, C, Connecticut: It's a roll of the dice, but it's difficult to pass on someone with the physical package of Drummond. He's a specimen, but the question is whether he will be motivated to play with intensity at the next level.
7. Golden State Warriors
Jared Sullinger, PF, Ohio State: He checked in at a legit 6-foot-9 at the combine -- and he's a guy who can give Mark Jackson and the Warriors an insurance policy for Andrew Bogut and added depth up-front.
8. Toronto Raptors
Jeremy Lamb, SG, Connecticut: The Raptors desperately need someone that can fill it up from the perimeter. As long as Lamb doesn't have to be "The Man," he'll be fine. Tremendous potential and he will give Dwayne Casey a much-needed sniper.
9. Detroit Pistons
Meyers Leonard, C, Illinois: He's a legitimate 7-footer who is a freak athlete and can be a true center in the league. Sure, he needs to get tougher -- but his upside is ridiculous.
10. New Orleans Hornets (from Minnesota through L.A. Clippers)
Damian Lillard, PG, Weber State: Jarrett Jack had a solid season, but Lillard is a big-time shooter -- and scorer -- who has a high enough basketball IQ to be able to run the point in the NBA.
11. Portland Trail Blazers
Kendall Marshall, PG, North Carolina: The Blazers could lose both Raymond Felton and Jonny Flynn, so they need a point guard. Marshall is a true floor leader who makes life easier for everyone around him.
12. Milwaukee Bucks
Perry Jones III, PF, Baylor: You can't let a talent such as PJ3 slide any further. Is he tough? No. But he's long and skilled -- and the Bucks need someone up front who can provide length and scoring.
13. Phoenix Suns
Dion Waiters, SG, Syracuse: Agent Rob Pelinka pulled Waiters from the Chicago combine -- which means his client likely has a promise from someone in the lottery. The word is it may be the Suns, who could use a tough, scoring guard like Waiters.
14. Houston Rockets
John Henson, PF, North Carolina: Kevin McHale needs a legitimate big man who can replace Marcus Camby -- and Henson will provide a similar shot-blocking presence.
15. Philadelphia 76ers
Austin Rivers, SG, Duke: Doug Collins and the Sixers need scoring desperately. Doc's kid does just that.
16. Houston Rockets (from New York)
Tyler Zeller, PF/C, North Carolina: We've got the Rockets already taking Henson, who may take some time physically to adapt to the NBA game. Zeller would give Houston a different dimension -- a guy who can score in the paint and who runs the court as well as any big man in the draft.
17. Dallas Mavericks
Terrence Jones, PF, Kentucky: The Mavs need someone up front who can rebound -- and also score some. Jones is erratic, but he would certainly benefit by playing alongside Dirk and Shawn Marion.
18. Minnesota Timberwolves (Utah)
Moe Harkless, SF, St. John's: Harkless has loads of potential. He's long, will become a better shooter -- and is a high-character kid.
19. Orlando Magic
Arnett Moultrie, PF, Mississippi State: He won't make people forget about Dwight Howard, but one thing Moultrie does extremely well is rebound.
20. Denver Nuggets
Marquis Teague, PG, Kentucky: The Nuggets have plenty of depth just about everywhere except for the point guard position. Teague is the ideal backup to Ty Lawson and also brings speed to the table.
21. Boston Celtics
Terrence Ross, SG, Washington: This would be the ideal replacement for Ray Allen. He doesn't shoot it quite as well, but he's got length, athleticism and can stroke it from deep.
22. Boston Celtics (From L.A. Clippers through Oklahoma City)
Fab Melo, C, Syracuse: Boston played Ryan Hollins and Greg Stiemsmsa in the NBA playoffs. Melo may not be ready, but he's still an upgrade over those guys in the middle.
23. Atlanta Hawks
Andrew Nicholson, PF, St. Bonaventure: No one in this draft is more skilled and versatile on the offensive end. He's also more athletic than he looks -- and he'll help the Hawks with his ability to score in the post or on the perimeter.
24. Cleveland Cavaliers
Royce White, PF, Iowa State: He's big, strong, plays with a high-motor and also has a high basketball IQ. Cleveland could use someone like White -- who makes people around him better from the forward spot.
25. Memphis Grizzlies
Doron Lamb, SG, Kentucky: The Grizzlies could use a dead-eye shooter -- and that's what Lamb is about. He can also back up Mike Conley Jr. at the point.
26. Indiana Pacers
Will Barton, SG, Memphis: The Pacers could use a backup wing -- and Barton could learn and develop physically in Indiana.
27. Miami Heat
Festus Ezeli, C, Vanderbilt: The Heat need a legitimate big man in the middle who can rebound and defend. Ezeli is solid on both ends and would provide the Heat with help up front.
28. Oklahoma City Thunder
Draymond Green, PF, Michigan State: He's just a player. He may not pass the eye test, but Sam Presti would love to have him around Kevin Durant, Russell Westbrook and James Harden.
29. Chicago Bulls
Tyshawn Taylor, PG, Kansas: Can be the ideal backup to Derrick Rose. Brings speed, toughness and a point guard with experience to the table.
30. Golden State Warriors (from San Antonio)
Evan Fournier, SG, France: Not a big-time athlete, but is a skilled scorer who has produced at the highest level overseas.
Another day, another social media beef for Embiid

We have all the latest scores, highlights and news from Wednesday's NBA games

Thomas spent a day with a 10-year-old girl whose family is also new to Cleveland
Barkley did not hold back with his opinion of the Big Baller Brand patriarch

LaVar Ball also made it clear he thinks his sons are being placed in 'a great situation'

The Thunder are just 12-14 on the season, despite the addition of Paul George and Carmelo...