Gordon Hawyard and Jazz fail to reach extension agreement
After failing to reach an agreement, Gordon Hayward will hit free agency next summer.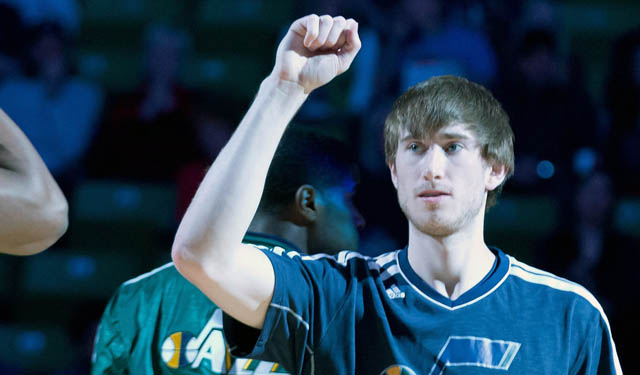 The deadline has passed and Gordon Hayward will now become a restricted free agent July 1. 
Hayward and the Jazz were engaged in deep discussions about an extension right up to the Oct. 31 deadline, but failed to reach an agreement. According to Yahoo Sports, the sides were millions apart, with Hayward seeking something in the four-year, $50 million range. 
Just recently, the Jazz extended forward Derrick Favors for four years, $49 million and were said to have intended to reach a similar deal with Hayward. 
Hayward will be an interesting player to watch in free agency next summer, especially since he's poised to have a big season as Utah's primary offensive player. He'll draw a lot of interest, and with teams around the league positioning for cap space because of the big names, he may get his desired offer anyway. It'll just be a question of if the Jazz are willing to match it. 
Thomas took to Twitter to let the Celtics know he doesn't want to ruin Pierce's night

The Hall of Famer was a seven-time All-Star with the Celtics, and was MVP of the 1976 NBA...

It's rare to see a legit punch in an NBA fight, but this was definitely one of them
We've got all the scores, highlights and news from an NBA Tuesday

The former Slam Dunk Contest champion will take his talents to Tri-State

Do NBA players have look-a-likes from famous paintings? We found out on the new Arts & Culture...