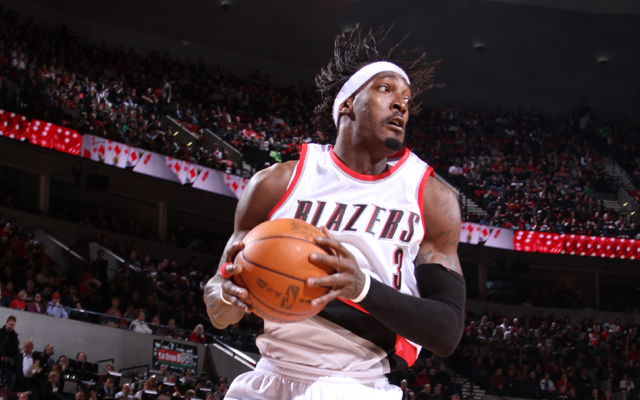 The New Jersey Nets acquired Gerald Wallace from the Portland Trail Blazers at the NBA Trade Deadline.
(Getty Images)
The New Jersey Nets receive: Gerald Wallace 
The Portland Trail Blazers receive: Mehmet Okur, Shawne Williams, 2012 protected first round pick
New Jersey Nets
This trade can only be described as puzzling from New Jersey's perspective, and perhaps a little panicked. With Orlando Magic All-Star center Dwight Howard deciding to stick around in Florida through 2012-2013, the Nets, who had been the favorites to land him via trade and in free agent this summer, had to go to Plan B.

Their ultimate decision to trade for Wallace, a high-energy, two-way near-star reveals how desperate they are in the short-term to keep All-Star point guard Deron Williams happy. Wallace has been inconsistent all season long and holds a player option on his contract for next season. If he opts out, the Nets' will face an expensive and difficult choice, given his age (29), miles and slipping production. If he stays, can they pay him, Williams, Lopez and another game-changing player that will be needed to produce a real winner?
Portland Trail Blazers
The Blazers made the smart decision, coming to their senses about where their current roster stacked up. There were ugly losses, competing interests, reports of a locker room mutiny and lackadasical play. It was time for the rebuilding effort and Wallace's departure represents step one. Wallace had a player option for next season, which he may or may not exercise, and that decision is now someone else's problem.

In Wallace's place, the Blazers get an excellent draft pick, a large expiring contract in Okur (who may or may not have game left in him in the future, althoug he's out for the duration of the season) and Williams, who doesn't seem like a long-term fit and may be bought out.

The whole goal heading into the trade deadline was asset accumulation, and getting the Nets' pick certainly accomplished that goal. Biting the bullet on a rebuild was surely no easy task for demanding owner Paul Allen, but he did the right thing.