Grade The Trade: Bulls deal Luol Deng to Cavs for Andrew Bynum
The Bulls and Cavs pulled off a significant swap Monday night. How'd both teams come out looking?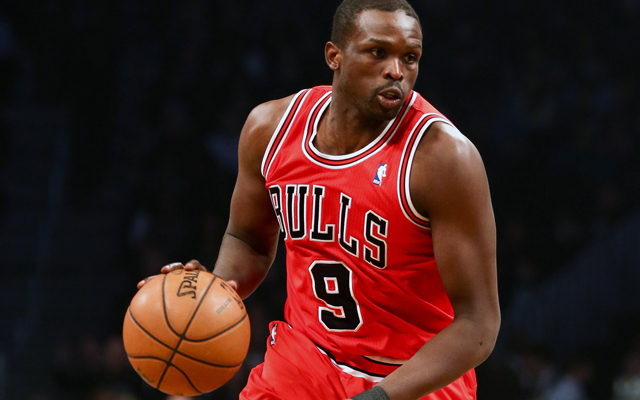 The Bulls and Cavaliers pulled off a significant swap Monday night with Luol Deng heading to Cleveland while Andrew Bynum and three future picks went to Chicago. How'd both teams come out looking?
CLEVELAND CAVALIERS
On paper, the Cavs assembled a pretty impressive young roster over the summer. A budding star point guard, a high energy center, a promising power forward and a couple shooters and scorers throughout. One glaring hole that they had that they couldn't fill? Small forward. 
The season started in disappointment though with the Cavs limping to an 11-23 record. There's been locker room uproar and problems from within on top of that losing. So not only did the Cavs fill their biggest positional need with Deng, but they've also added a high character, hard working winner and positive locker room presence. 
In a vacuum, it's a tremendous acquisition for the Cavs. 
But there's this question, what are you trying to be? And what does adding Deng accomplish? The Cavs are a lot more than Luol Deng away from being an Eastern contender. He makes them better, yes. But having dug such a deep hol already, are they even a playoff team with him? (The answer to that is "probably" because they play in the Eastern Conference.)
My guess is that general manager Chris Grant saw the writing on the wall of another lottery season, and with his draft record, decided it was best to change course. The Cavs have spent their post LeBron years trying to build through the draft, and while they landed Kyrie Irving and Tristan Thompson, they've also appeared to strike out on Dion Waiters and Anthony Bennett (at least in terms of where they were selected). So it was time to do something different. 
Still, with this draft class having the appearance of being so transcendent and the Cavs recent luck with the ping-pong balls, why not roll the dice in the lottery one last time? What's really to be gained in getting the seventh seed only to get swept by the Pacers or Heat?
The key to this deal being successful for Cleveland is re-signing Deng in the summer. Offloading Bynum is nice, but letting go of a potentially valuable pick stings, especially if it's all just for a half-year rental of Deng. Re-sign him in the summer and it's a steal. Otherwise, more wheel-spinning, more running in place from the Cavs. 
Grade: B+
CHICAGO BULLS
Letting go of Deng has to hurt. He's been an absolute warrior and the backbone of the Bulls the past few seasons, carrying them at times when there was oh so very much to carry. 
But it was time. It seemed the two sides weren't on the same page with extension talks and with Derrick Rose done for the season, the Bulls saw a window to cut losses and start a nosedive for the lottery. 
In the meantime, they land a future first-round pick and get under the luxury tax threshold, saving roughly $15 million in the process (assuming they waive Bynum and his $6 million guaranteed).  
And while Deng is a top caliber small forward, the Bulls do have a quality contingency plan in place. Jimmy Butler is clearly developing into a defensive wing stopper and while he doesn't seem to have Deng's offensive ability, he might have just enough. The Bulls still have their amnesty in their pocket to potentially use on Carlos Boozer this summer to complete their restructuring of their roster. (If they amnesty Boozer, which they almost assuredly will, they'll have almost enough space to fit a max contract in under the cap.) Get back Rose, keep Joakim Noah, add a lottery pick to what's in place, sign a free agent or two and the Bulls might not be rebuilding long. 
The Bulls are going to continue to scrap, because that's what they do. They may still even claw into the playoffs on the blood, swear and tears of Noah. But they appear to be on a crash course for the lottery. And with Rose's injury forcing them to hit the reset button on this season, they stepped in and made the prudent move. They save money, they get value back and they get worse in the present, which is good. 
The question is, could they have gotten more for an All-Star caliber player like Deng? One would think that Bynum's contract and a future first rounder wouldn't be enough return, but when someone's on an expiring like Deng and it's clear the two sides aren't close to a deal, he's up for grabs. The Cavs pounced, and the Bulls pulled the ripcord.
Grade: A
Right before Wiggins hit his shot, Carmelo Anthony hit a 3 to put the Thunder in front

The Suns firing Earl Watson three games into season is second-quickest firing in NBA histo...

Bledsoe tweeted, "I Dont wanna be here"
Giannis had his hand on McCollum's hip when he poked the ball away

Teodosic had to leave the Clippers' game Saturday night against the Suns

Irving said recently that he does not regret the profane outburst