Grade the Trade: Clippers land J.J. Redick in three-team deal
The Bucks, Clippers and Suns completed a three-team deal sending Eric Bledsoe to Phoenix and J.J. Redick to Los Angeles. Let's grade how each team did.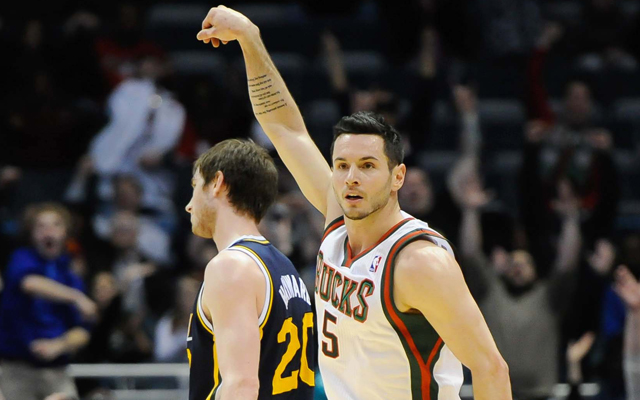 The Clippers, Bucks and Suns completed a pretty substantial three-team deal Tuesday afternoon that sends J.J. Redick and Jared Dudley to Los Angeles, Eric Bledsoe and Caron Butler to Phoenix and two second round picks to Milwaukee. 
How did the three teams come out? Let's grade the trade:
LOS ANGELES CLIPPERS
Receive: J.J. Redick (and sign him to a four-year, $27 million deal), Jared Dudley
Send: Eric Bledsoe, Caron Butler, second round pick
I don't know if Doc Rivers is the one that engineered this deal, or if it was player-GM-coach Chris Paul, or if it was someone else within the Clippers organization, but whoever pulled it off deserves a firm handshake and a hearty pat on the back.
Just a tremendous deal for the Clippers. They lose Bledsoe, who was of course a promising bench piece, but something of a luxury for the Clippers. It was extremely unlikely the Clippers would be able to retain him in restricted free agency, especially as a backup point guard. You see, having Paul as your starting point man means the necessity for a top-tier backup is limited. Bledsoe is a tremendous young talent. But not something that necessarily the Clippers needed. 
Redick seems to be the prize, and his ability to space, defend and score will be a terrific addition to the Clippers starting five, filling a hole at shooting guard that's been spacious for a while, but really it's the underrated aspect of offloading Butler's contract (owed $8 million next year) and acquiring Dudley as his likely replacement. 
Having Dudley as either a starting small forward or versatile bench option is a splendid weapon for Rivers to deploy. Dudley can play both forward spots, defends extremely well, rebounds his position and is a high caliber knockdown shooter. Put him in a number of different lineups with Paul spraying the ball his way with Redick on the other side and the Clippers have the makings of some special depth. 
And get this: The Clippers still have their full mid-level exception to use if they so choose. By taking on Redick as a sign-and-trade, they could still conceivably pursue, say, Tony Allen or maybe Carl Landry -- if they're hunting interior depth -- if they wanted to. Now that, would be something. 
Again, relinquishing Bledsoe stings. He was so dynamic and such a sparkplug off their bench that not having that will take some adjusting. The Clippers are suddenly light behind CP3 and need to fill another hole there. But again: Bledsoe was a luxury, and something the Clippers weren't going to be keeping next summer anyway. Parting ways with him now to acquire not just a fantastic shooter/scorer in Redick, but a versatile do-it-all weapon like Dudley is a truly excellent move for them. 
Grade: A+
PHOENIX SUNS
Receieve: Eric Bledsoe, Caron Butler
Send: Jared Dudley, second-round pick 
The first question that comes to mind: So... Kendall Marshall? Other than that, a very good, sensible move for the Suns. 
Remember, this is a team in a transitional phase, looking to get younger and build a talent base. New general manager Ryan McDonough has been aggressive early in his tenure, looking to add young talent wherever possible. Parting ways with a player like Dudley hurts, because you're giving up a glue guy that pieces together a locker room, and while taking on Butler's $8 million is a bummer, it's fine for Phoenix because now it's more of an asset. 
The Suns are rebuilding, so absorbing $8 million that's set to expire next summer really is not bother for them. And in return, they get an exciting young player in Bledsoe, someone who could potentially be a big time piece in the future.
Again, the roster is suddenly a bit more complicated with Marshall, but Bledsoe has proven his versatility and ability to play alongside other guards. So maybe it won't be that awkward. 
But what McDonough's done so far in just a short time is add an extremely talented big man with the fifth pick in Alex Len, and a possible point guard for the future in Eric Bledsoe. A basketball battery of sort. It doesn't make the Suns all that more competitive this season, necessarily, but they are certainly in a much better long-term position. 
Grade: A
MILWAUKEE BUCKS
Receive: Two second-round picks
Send: J.J. Redick (sign-and-trade)
Take today's trade at face value, limiting it to only today, and it's not all bad. The Bucks weren't re-signing Redick and getting anything in return for him -- even two mostly worthless second-round picks -- is better than watching him walk for nothing. 
But it's the unfortunate series of transactions that led to this, and that's what makes it so miserable. 
Ask yourself this: Why did the Bucks trade for Redick at the deadline last season? Did they think he was a missing piece toward making an improbable playoff run? Did they anticipate being able to re-sign him in the offseason? Did they see themselves as picking up an asset that would acquire something later down the road? 
Because here's what they gave up to get him: They gave Orlando Tobias Harris and Doron Lamb (and Beno Udrih but who cares). With minutes to play, Harris showed real promise the last two months, blossoming as a combo forward that can play inside and score effectively. Lamb is a raw swingman, but has good size, a quality stroke and the potential to be something better. 
And the Bucks gave them up to essentially snag two second-round picks later? What sense does this make? 
Again, getting something for nothing in Redick is fine. Second-rounders aren't much, but it's at least an asset of some kind. But even being in this position in the first place is the headscratcher. 
Grade: F
Durant, who joined the Warriors, says that Capela, the league's most efficient player, has...

Jason Kidd's firing gets the celebratory balloon treatment on Milwaukee's Twitter page

Milwaukee has parted ways with its coach in the middle of his fourth season
Larry Hartstein has his finger on the pulse of the Clippers and locked in a play for Monday's...

Our advanced computer model simulated Monday's Heat-Rockets game 10,000 times

Portland is among a few teams that have reportedly tried to engage in talks for the Clippers...