Grade the Trade: James Harden to Houston for Kevin Martin, Jeremy Lamb and more
Grading the trade which sent James Harden to Houston for Kevin Martin, Jeremy Lamb and three draft picks.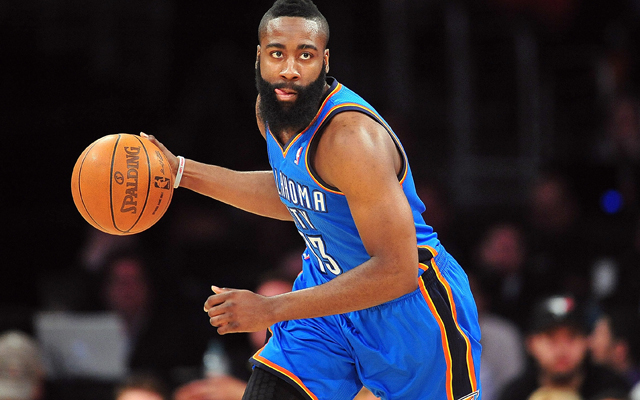 The Rockets desperately needed an impact player. They have one now.
(Getty Images)
Receive: Kevin Martin, Jeremy Lamb, two first-round draft picks, one second-round draft pick
Send: James Harden, Cole Aldrich, Daequan Cook, Lazar Hayward
Grade: D
Kevin Martin is going to be a great scorer with all the attention on Kevin Durant and Russell Westbrook. Jeremy Lamb shows great promise as a young scorer on a rookie contract with superb athleticism. The draft picks, which are unknown as to when and where they are at this point, could land them an impact player or two. 
But the Thunder have, or have been forced to, nuke a Western Conference finalist formula because they couldn't or wouldn't go for the max on three players. They have pulled in a capable starting shooting guard, a promising prospect and picks. It's a good return. But there's a fairly simple formula that OKC has either overlooked or was helpless to fight. 
You don't mess with what works. 
The Thunder as constructed were a championship-caliber team. A few things go their way and the Finals swing. They had the athletes, the talent, the ability, and most of all the chemistry to beat all comers and contend for a title. You've got to have such a rare combination of things happen to even allow that to occur. And they have messed with it. Even just by not playing out the season, they have interrupted the flow. They have created a disturbance in the force. Harden shares the burden for this with his decision not to take very nearly the max, but OKC still elected to pull the trigger on the trade. 
The Thunder were held together by chemistry. I believe in metrics, and advanced analytics, and X's and O's and concrete things. But having players who loved playing together and "get" one another has an impact you can see in the locker room which carries over onto the court. OKC had that, and now it faces an uncertain future. 
If it ain't broke, don't fix it. It wasn't about being broke, but it was definitely about money for both sides. And now they've tried to fix it and an uncertain future awaits. 
Receive: James Harden, Cole Aldrich, Dequan Cook and Lazar Hayward
Send: Kevin Martin, Jeremy Lamb, two first-round draft picks, one second-round draft pick
Grade: B
Here's the thing: Houston had no choice. It put together as many assets as possible in the past year and couldn't get Dwight Howard. The Rockets have missed on Carmelo Anthony and Howard and needed a star -- a true, legit star. Harden gives them that, or at least the appearance of that.
Harden supplies four elements that had to be supplied here. 
1. Worthy of a max-level contract by market standards
2. Name recognition and marketability
3. Superb advanced metrics impacts
4. Proven winner
Now some of those are completely arbitrary and based almost entirely on the context of where he happened to be drafted and the role he played. But the perception persists. He seems like a max player to many. He's won a lot of games so he seems like a proven winner. He is highly-recognizable and marketable, a player you can sell jerseys with. And his numbers are superb through most analytics.
It took Daryl Morey a long time, but he got the guy he was looking for. He had the extra picks to send without sacrificing the future, he still has two rookies with upside, he still has Jeremy Lin and Chandler Parsons, and now he has a featured guy to give the ball to.
Kevin McHale is going to have to get him to play better defense. They still have to build a system with Lin and Omer Asik as the other big-money guys. But if they don't work out, they can move them and figure something else out.
The hardest thing to do in this league is to get a star. And while we'll have to see if he can wear that title without Durant, Westbrook and their goofy backpacks and glasses around, James Harden fits the profile. You get a shot, you have to take it.
Morey pulled the trigger without thinking twice.
There's no shortage of moments to choose from

The Trail Blazers almost traded for Charles Barkley, but when they didn't, it put them in debt...

The self-proclaimed ASG snub Williams may be bitter about Butler requesting to sit out Sun...
The commish said they were overly conservative with the decision this year, but that should...

A dive into the NBA history books for every result from every NBA All-Star Game

James set the tone during practice that this year's All-Star Game was going to be differen...