Grade the Trade: Knicks send Tyson Chandler back to Mavericks
We grade the trade between the Dallas Mavericks and New York Knicks in which the Mavs send four players and two picks to New York for Tyson Chandler and Raymond Felton.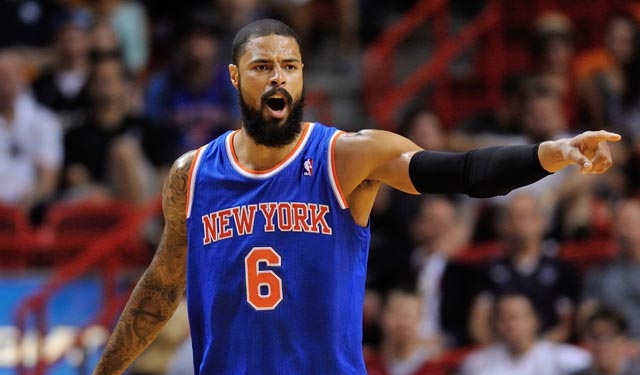 More Offseason Analysis: Coaching changes, news | Free Agency | Draft
With word that the New York Knicks and Dallas Mavericks have agreed to a trade involving six players and two draft picks, it's time to grade the trade and see how both sides did. The Mavericks bring back a familiar presence in the paint while the Knicks finally find a way into this draft while picking up some decent role players and salary cap flexibility.
New York Knicks receive Samuel Dalembert , Jose Calderon , Shane Larkin , Wayne Ellington , the 34th pick and the 51st pick in the 2014 draft
The reconstruction of the Knicks officially began when Phil Jackson was hired as the president of basketball operations, fired Mike Woodson as coach, and replaced him with Derek Fisher . Now we get our first roster tweaks for the Knicks with this trade. It starts off with the Knicks getting Samuel Dalembert on the roster, whom they can waive to save themselves about $2 million in salary next season. The Knicks are well over the salary cap, but they're saving a little over $5 million in this trade for next season. There's no real reason for them to keep Dalembert, unless they're worried about being competitive next season. That will probably all depend on how likely they believe they are to bring Carmelo Anthony back as a re-signed free agent.
Adding Jose Calderon to the mix is an interesting move for what they're looking to do.  Raymond Felton was a disaster last season, so the upgrade to Calderon is already a plus. What makes it even more intriguing is they really aren't losing any defense (Felton was just putrid) while adding a great shooter and a low turnover, high assist point guard to the triangle offense. Calderon moves the ball as well as any point guard in the league and he'll be a fantastic spot-up shooter if the ball does indeed move around the perimeter to him. Adding the $22 million-plus he's owed over the next three seasons isn't ideal but he'll at least contribute in the current system.
Shane Larkin and Wayne Ellington are fillers, but Larkin was a solid point guard prospect in last year's draft. He could end up being a starting option in the future if Jackson isn't able to bring in a better or bigger guard to play the point for the Knicks. Ellington adds a good outside shooter off the bench.
Maybe the most interesting aspect of this deal is the Knicks have draft picks. They were slated to be seeking to buy draft picks or possibly move Iman Shumpert or Tim Hardaway Jr. for a first round pick just to be in the draft. The 34th pick in this draft is pretty valuable, as there are expected to be roughly 35-40 players in this draft that can contribute to a rotation right away. Knicks can either use those picks where they are or try to package them with players to move up into the first round.
Grade: B-
Dallas Mavericks receive Tyson Chandler and Raymond Felton
Did you watch this Mavericks team last season? While they were offensively brilliant, they were a nightmare on defense and couldn't rebound all that well. They've missed the presence of Chandler since their championship run in 2011. After he left to sign with the Knicks, the Mavs tried placeholders at the center position with Brendan Haywood , Chris Kaman , and Samuel Dalembert getting significant minutes. None of it worked in terms of making them truly competitive.
The Mavericks still managed to have success by getting into the playoffs in 2014 and giving the eventual champions a run for their money in a seven-game series. Now, they get to see just how much juice Chandler has left in those legs. During his time with the Knicks, he won his only Defensive Player of the Year award before seeing the Knicks crumble last season and miss the playoffs completely. He was often painfully silent about the defensive woes, as if he was being silenced from above.
What Raymond Felton can do for this team may end up being irrelevant. He'll get a chance to get into shape and be a player who looks more like his first stint with the Knicks and less like his stint with the Trail Blazers and second run with New York. But if he doesn't actually prove he belongs in the rotation, the Mavericks may have a re-signed Devin Harris as their main starting option.
This move also possibly creates significant cap space to go after a big free agent this summer and help extend Dirk Nowitzki 's competitive career as he begins heading toward retirement. Not having picks in the second round can hurt their overall roster depth, but they were mostly looking to add a presence inside with those picks. They've solved that issue for now. 
Grade: B+
Dwight Howard wants to be a farmer in his future and retire with his donkeys

K.D. is still battling online critics, while the new Celtics guard is openly disregarding LeBron...

Collins has been working as a broadcaster, and previously coached the Bulls from 1986-89
Before accounting for revenue-sharing payouts, 14 of league's 30 teams reportedly lost money...

Howard considered calling it quits after his second season with the Houston Rockets

Bogut, coming off a broken leg he suffered with the Cavs last season, reunites with Luke Walton...