Grade the Trade: Lakers trade Derek Fisher to Houston for Jordan Hill
Here's how we broke down the Lakers' trade of Derek Fisher to Houston for Jordan Hill at the NBA trade deadline.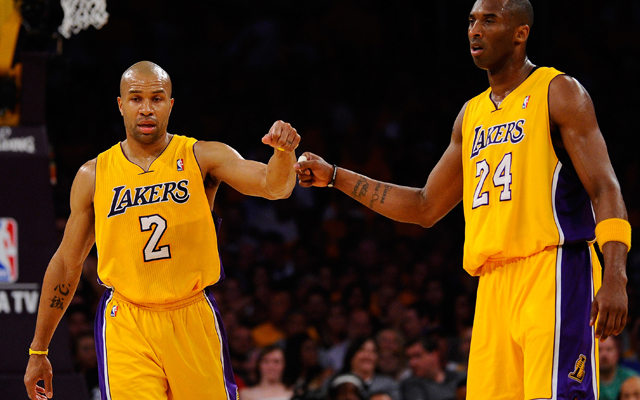 The Lakers traded Derek Fisher to the Rockets at the NBA Trade Deadline.
(Getty Images)
The Rockets receive: Derek Fisher, the Mavericks' protected first-round pick acquired by L.A. in the Lamar Odom trade. 
The Lakers receive: Jordan Hill
Los Angeles Lakers
The Lakers traded a player long regarded as the "heart and soul" of the Lakers Thursday, sending Derek Fisher to the Houston Rockets along with the protected pick acquired from Dallas for Lamar Odom, for reserve forward-center Jordan Hill.

Fisher has long been in decline and has struggled even more this season. But he had tremendous value as a locker room leader on that team. Most players talked about how much he meant to them, and though Kobe Bryant isn't really close to any human outside of his family, he seemed to really value Fisher as a confidante and partner in building the Lakers. You have to wonder how Kobe will respond to this trade after the Lamar Odom move.

The Lakers did clear space and got a decent back-up reserve, though. Very quietly, Jordan Hill's shown improvement at rebounding and defense this season. He's unlikely to make a huge impact, but he's a younger, more athletic player than the older diminished bigs the Lakers were using off the bench.

Trading the first round pick from Dallas isn't important as the Lakers are a veteran team that doesn't need rookies, and the Mavericks pick is heavily protected anyway.
Houston Rockets
Any time you can pick up an extra pick for a player you don't see contributing long-term, it's a good move. Hill had improved, but not enough and the Rockets' acquisition of Marcus Camby made him largely irrlevant next to Samuel Dalembert along with the plethora of Rockets forwards.

It's largely a cash dump. Having Fisher as a reserve is... fine, and he should help the locker room if he buys in. If not, there could be a buy-out and he gets to enjoy a nice long spring and summer after dealing with the lockout all summer as the leader of the NBPA. It adds a smart player. The Rockets didn't hit a home run here, but made a smart long-term decision regarding assset management.
Milwaukee's star did not get cleared to play for his national team due to a painful knee i...

Ball, the second overall pick in the NBA Draft, is receiving even more hype

Rap mogul supports the vision the outspoken father has for his brand and sons
Deciding who to watch on League Pass can be difficult, but these rankings promise to help

Veteran forward signed a one-year deal with the Knicks in offseason

Knicks forward had his truck stolen out of his driveway