Grant Hill thinks Jabari Parker is NBA ready
Former Duke legend and NBA star praises Blue Devils' best player.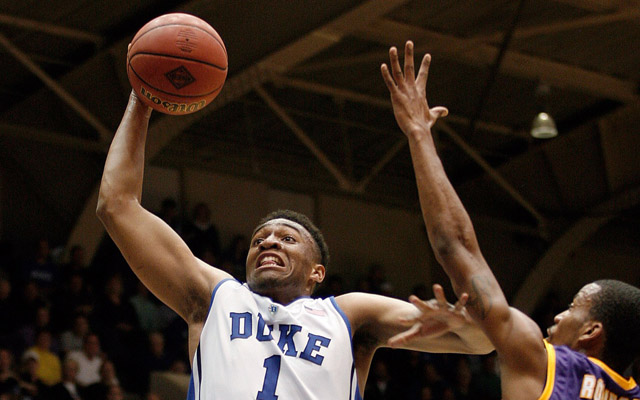 Duke legend and former NBA star Grant Hill spoke with Sporting News about freshman phenom Jabari Parker, and he had some pretty strong things to say about the highly-touted prospect. 
On  Parker's NBA readiness: "But he is as close to being an NBA prospect right now as you're going to find in college. He is the real deal. He is talented, he is a good person. The thing that impressed me is the way he uses his size and strength—he is NBA-ready, physically. He is a special player and I think he will be a great NBA player."

On Parker's NBA assets: "He is versatile, he can do a number of things and he might be the most skilled player in college basketball and the most versatile. He is unselfish, he can score in the post, he can score from the perimeter. He has those skills. He is a really good kid who is just absorbing as much as he can and I think he is a can't-miss at the next level."
via Grant Hill: Jabari Parker 'is the real deal' - NBA - Sporting News.
The versatility component is the biggest piece of this, in my mind. There's this discussion of whether he can play the four or if he's an elite enough shooter, but Parker is one of the few players in this draft who has the talent and ability to play multiple positions. There are "tweeners" who for example are two slow to play the three and too small to play the four, and there are versatile wings which are the modern stars. Parker may not have the talent like Dwyane Wade, LeBron James, Kevin Durant, or Carmelo Anthony (or he might), but he is a player you can give the ball to on the perimeter who can create multiple ways off the dribble as both a scorer and playmaker. 
There will still be questions about his play, as every prospect is dissected into tiny bits (have fun with that, Kentucky kids!), but Parker remains a viable candidate to go No. 1 in June's draft for the reasons outlined by Hill. 
Cuban weighed in on the ongoing feud between the basketball dad and the POTUS

Embiid has taken his trash-talk game to the next level this season, but he's not scared

Last year Durant said returning to his old home was 'never going to be a regular game'
The All-Star forward injured his wrist during Sunday's loss to the Lakers

Steven Adams believes he's the problem with the Thunder struggles in the clutch

LaVar claims that Luke Walton has been 'soft' on Lonzo so far