Great calls to Jordan Crawford: Journey down the rabbit hole
Some great March Madness moments can get you to the Jordan Crawford YouTube experience pretty quickly. Journey down the rabbit hole.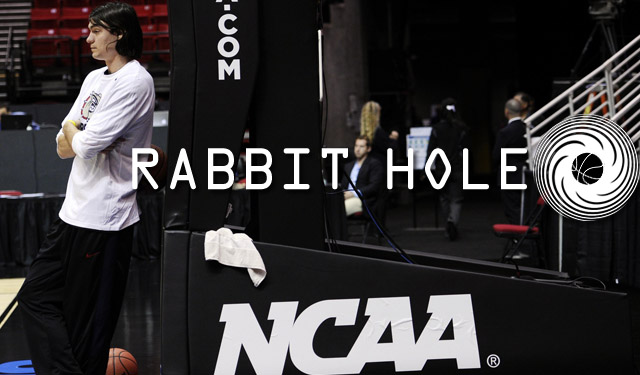 More NBA: Power Rankings | Expert Picks | Latest news & notes
Previously on Journey Down the Rabbit Hole, we were looking at old March Madness highlights and seeing where it could take us. We saw some Mike Miller magic from his days with the Florida Gators, and we saw all of the bizarre places Richard Hamilton searches could take us on the internet. There's still plenty of March Madness memories to explore and tangents to take, so let's keep up with the theme and see what happens. 
There are worse ways to kill time on a Friday, right? Let's journey down the rabbit hole:
First Stop: More incredible March Madness moments
As we've seen through the first couple rounds of this tournament, the beauty of March Madness is that anybody can surprise anybody. It's why we all didn't win a billion dollars with our brackets, or even why some of us were out after Day 2 of the second round of the tournament (thanks for nothing, Duke). In going over past highlights of March Madness, there is always some overlap of the highlights (you'll see stuff today you saw in last week's post), but there are also some incredible moments I had already forgotten about.
Let's check out another fun compilation:
Of all those incredible moments in the tournament, the craziest game I can remember is the UCLA comeback over Gonzaga back in 2006. They showed the final sequence in which Jordan Farmar stole the ball and threw the lob to Luc Richard Mbah a Moute, followed by Mbah a Moute getting the steal to all but seal the victory for the Bruins. 
The intensity of that game, the scrappiness of that UCLA team with all of those future pros Jordan Farmar, Arron Afflalo, Ryan Hollins, Luc Richard Mbah a Moute, Darren Collison, Cedric Bozeman) on the roster, and the scene in which Adam Morrison's Gonzaga team was ousted were one of those moments that stuck with you for a long time. Throw in Gus Johnson announcing the madness as it unfolded at it is just too good for one measley clip in a compilation.
2006 UCLA vs. Gonzaga: Adam Morrison's tears
The win was there for Gonzaga. They had the ball and a three-point lead with 40 seconds left in the game 26 seconds on the shot clock. A bucket would have won it. A defensive stop would have won it. Ryan Hollins shooting clutch free throws was supposed to win it. There were all of these factors for this Zags' team and almost every scenario of how it could play out meant they'd advance to the next round. But that's not how things happened:
There were a lot of people who hated Morrison back then. His attitude wasn't great but his play was so good that it made him a devisive character in college basketball. Some people wanted to root for the plucky underdog, who just happened to be a tall, scoring white kid. Other people hated his hair, hated the way he conducted himself on the court, and wanted the coverage of him and his team to go away.
Adding fuel to the bonfire of his existence in college hoops was the fact that he started crying before the game was even over. UCLA had forced a turnover with the lead after virtually shocking this Zags' team, and with 2.6 seconds left Morrison appeared to believe they had lost. It was a big story then but imagine Morrison existing in today's Twitter age and having this happen in the tournament with the figure he was in college basketball. He would have been eaten alive 140 characters at a time. 
The one thing we didn't know at the time, which we definitely know now and can credit him for was Morrison was planking way before Twitter made it a fad.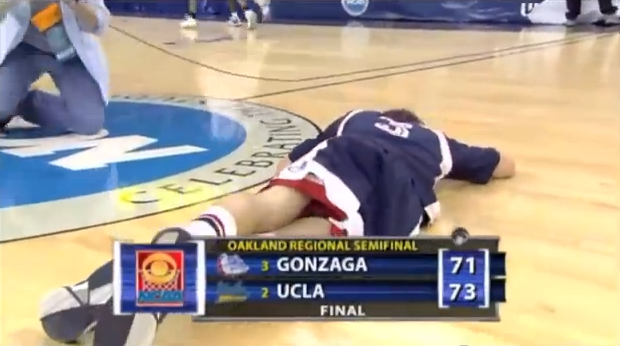 Of course, we can't fail to recognize part of the reason the experience of the game was so good is because of the excitement Gus Johnson brought to the broadcast. There are a lot of videos on YouTube of Gus' top calls but here is one that will take us into another insane game from tournament past.
The contest between Xavier and Kansas State was one of my favorite games in tournament history. Let's dive into that a bit.
2010 Xavier vs. Kansas State
One of the best games of the past decade was the 2010 Sweet Sixteen matchup between Xavier and Kansas State. Kansas State didn't have any future NBA players on the roster but they were led by Jacob Pullen, his neckbeard, and Denis Clemente. This was a team that got to the free throw line a ton and could kill you from the outside if Pullen got loose. They were going against an Xavier team led by Terrell Holloway and future NBA Eastern Conference Player of the Week Jordan Crawford.
This was the quintessential March Madness showdown with both teams hitting huge shot after huge shot while Gus Johnson screamed delightfully into a microphone. 
(These highlights are great but they don't totally do this game justice. You can watch the entire game here but if you don't have two hours to kill and want to only spend 45-ish minutes getting through it, watch the second half and overtime periods here.)
At the time, we didn't think much of it, but now that you know a bit more about the type of player Jordan Crawford is, how perfect is this performance by him? Crawford had 32 points in the game on 10-of-17 shooting, including just 3-of-12 from downtown. But he hit monster shots, including this deep shot that is such a Jordan Crawford shot.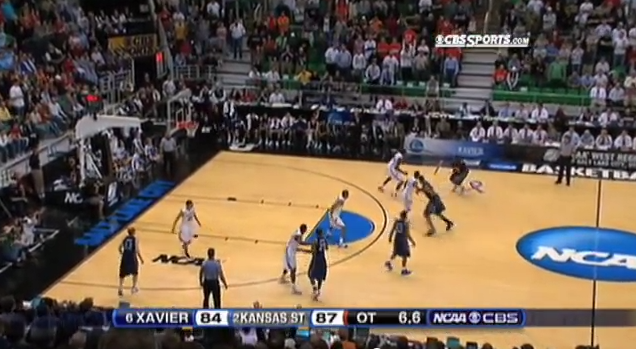 How Jordan Crawford is this? They're down three with under seven seconds remaining and their tournament lives on the line. Crawford comes off a screen and pulls up from the ribbon. "Pulls up from the ribbon" shouldn't even be a thing that makes sense and yet Crawford has made it so with this memorable shot. Here's a cool perspective of the shot from the upper level in the arena:
They ended up losing the game in double OT but it was a furious finish.
Jordan Crawford is a national treasure
Crawford is one of my favorite personalities in the NBA because everything about who he is seems so honest. He's a gunner on the court with an incredible amount of basketball skill and an incredible amount of questionable decisions with the basketball. He truly enjoys his position in life and will give you unfiltered answers to everything you want to know about being an NBA player. 
This interview on Highly Questionable with Dan Le Batard from last year shows what I'm talking about:
From the surreal feeling of defending Kobe Bryant to finding out Kobe hisses when he wants the ball to waiting for his first paycheck to thinking it wasn't enough, this is the gunner mentality wrapped up perfectly when you include how he plays on the court.
Grantland had some pretty cool shots of a showdown Crawford had with Nick Young at the Drew League, although the in-arena hypeman takes away from the experience a bit by screaming "I am legend" too closely into the mic about 12 times more than it needed:
Nick Young vs. Jordan Crawford at the Drew League is basically gunner porn.
And don't forget the time Crawford dunked on LeBron, which was the start of his legendary saga:
You're the best, Jordan Crawford. The best.
Larry Hartstein has a knack for picking Celtics' games and just locked in a play for Tuesday...

Leonard, who has played just nine games this season, has once again been shut down by the...

LeBron James received a touching note from, well, LeBron James
Kyle O'Quinn has reportedly drawn interest from the Warriors

LeBron James will try to finish off his 30,000 point milestone tonight when the Cavaliers play...

The old rivalry of Celtics-Lakers is renewed once again, but the stakes are still pretty l...