Greg Monroe refutes report Pistons offered him 5 years, $60 million
Pistons restricted free agent told a fan on Twitter that he had not rejected a reported offer from the team.
• 2 min read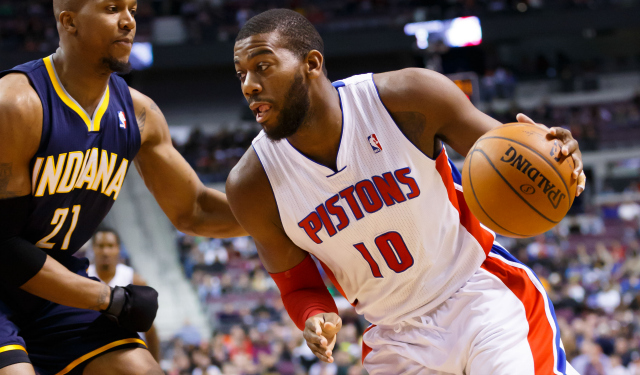 Offseason: Free Agency | Latest from Ken Berger | Rumors
Detroit Pistons big man Greg Monroe is in restricted-free-agent limbo. A recent report from the Detroit Free Press' Vince Ellis indicated the team had offered him a five-year, $60 million contract as well as a deal "slightly better" than the four-year, $60 million one Josh Smith signed last summer. That came out while Monroe was in Africa for Basketball Without Borders, and now that he's back, he's disputing it. 
"@millerfootball5: Come on @M10OSE how can you reject a 5 year 60 million deal" < cant reject anything that was not offered to me...carry on

— Greg Monroe (@M10OSE) August 10, 2014
It seemed strange from the start that Monroe would turn down an offer as lucrative as that, but reports from beat writers don't just come out of nowhere. You have to wonder just how far apart the two sides are in negotiations.
Pistons owner Tom Gores sat down with the Detroit Free Press last week, and their offer came up in the conversation:
Question: The No. 1 topic that has dominated the entire off-season has been Greg Monroe. What are your thoughts on the contract impasse? (Monroe is a restricted free agent.)

Answer: "We think Greg is a great player. First of all, he's done a really great job of establishing himself as a player in Detroit. He's shown great respect to the city and as a young man he's really done everything we could ask of him.

"With Greg we just believe in him. I'd like Greg to really get excited about being in Detroit because he deserves it. He's really been good to the city. You've seen him. He's good to the city. Stan is going to have to figure out exactly everybody's role, but we're believers in Greg Monroe. He's not just a great player; he also has a good basketball character. I know it's been a lot of the off-season stuff, but I'm a believer in Greg Monroe."

Q: There's a pretty substantial offer on the table (slightly better on a per-year basis than the four-year, $54-million deal Josh Smith signed last summer). Is there any disappointment that it hasn't resolved itself and he hasn't taken the offer yet?

A: "Of course we would like him to do that, but the fact is Greg has to decide what's exactly right for him and he has great people representing him. We'd like Greg to get on board, but he's got time to think about it and we should give him that time."
So, Monroe says Detroit's offer wasn't what was reported, and Gores says that the team is waiting on Monroe, hoping he accepts the offer. Something is off here, and Monroe doesn't have a lot of leverage at this stage of the offseason.
(HT: PBT)
McCollum hurled a clever insult at the French forward

Hosts Bill Reiter and Reid Forgrave are joined by Blazers guard CJ McCollum

Check back throughout the night for the latest updates from Monday's NBA games
Garnett has worked with Maker and says he is reminded of himself

It might be a good time to place a bet on the Boston Celtics

SportsLine's Mike McClure, a DFS pro with more than $1M in winnings, gives optimal lineup...