Greg Oden's return to the court is nothing but it means everything
After four years gone from the NBA, Greg Oden returns to an NBA preseason game and manages to make a few minutes out there matter.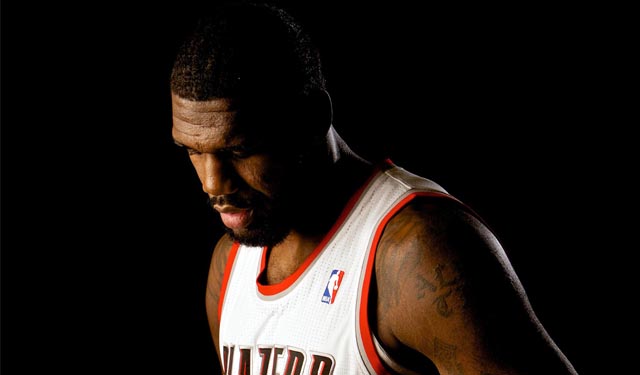 Preseason basketball is nearly impossible to make matter.
For the fringe guys in the thick of trying to make a roster, these games, minutes, possessions, etc. can mean the world. Incredible athletes with unreal skill sets are told they're not good enough to be the elite of the basketball world. They'd likely dominate any organized basketball setting you could throw them in, and yet not making the NBA makes a lot of their hard work and dedication seem meaningless for a moment when they don't make the final cut.
In the case of Greg Oden, preseason basketball matters. It actually transcends basketball and brings about emotions in those dedicated to the game. Whether it's fandom, obsession, or even the most miniscule involvement in the NBA, watching Greg Oden take the floor Wednesday night for the Miami Heat in a preseason game, that will be forgotten before the final buzzer even sounds, was a moment in time that's hard for the diehards to dismiss.
Nearly four years ago, Greg Oden was still potential in giant form for the Portland Trail Blazers. He was supposed to be the next great big man. He was the next coming. He was that legitimate as a basketball player. And then he jumped in a December game against the Houston Rockets, already grimacing and grabbing his knee on his way back to the floor. His left knee cap was fractured, likely on the jump itself. 
Over the next couple years, Oden was paid a lot of money to rehabilitate. The problem with that was the rehab wasn't going well. Surgery after surgery shocked the body of the former No. 1 pick; his knees rejecting the genetic makeup of a real life giant with each step. There were even points in which walking normally was in question.
Cracking (literally) under the pressure and expectations of a No. 1 pick that was selected ahead of Kevin Durant, as he showed a glimpse into being an all-time great, is enough to bring any spirit down. Oden's tale became one of depression and rumored alcoholism. Nothing would go right for him; everything brought about inadequacy and failure. 
Watching him return to a basketball court in 2013 seems impossible. In fact, even two years ago it seemed like a pipe dream at best. He is the fear of any hyped young player. He's the cautionary tape around pre-draft physicals. He is the worst-case scenario that doesn't involve actual tragedy. Greg Oden's journey has been a basketball tragedy. 
The players -- whether they have played with him, against him or watched him growing up -- respect his dedication. It would have been easy to walk away and not go through the fear of tearing another ligament, cracked another patella, or once again falling short from a dream. And yet there he was checking into the game, getting chest pats from teammates and opponents that respected his heart. 
On the first play of the game, he made a 6'9" professional athlete look like a child, moving him out of the way and throwing down a two-handed dunk that must have felt like Ray Allen's 3-pointer at the end of regulation in Game 6. The rim rattled, hearts swelled, and caps came off the heads of basketball junkies out of respect for what this man accomplished. The bench looking on with unyielding pride.
Three minutes and 59 seconds of preseason basketball have never been so satisfying.
The words that are being said here and will be said elsewhere about this moment in the NBA preseason can be dissected, but there is no real overreaction. At a certain point, accomplishment of such a small feat clearing a giant chasm trumps any feelings to point the finger and claim an overreaction. Yes, his career has been a bust because his knees have been a bust. Yes, Kevin Durant is a Hall of Fame development, despite being taken after Oden. Yes, nothing has gone to plan.
However, seeing Greg Oden step into an NBA game (even if it's preseason) makes it all worth it as a fan. It possibly can begin to give him peace of mind after such a tortured professional career. After the game, Oden put this moment into perfect summation by acknowledging the importance of being able to play and walk off the court under his own power this time.
It was just a brief moment, but preseason basketball meant everything Wednesday night. Congratulations, Greg.
(Interview video via The Point Forward)
The Rockets are gunning for their 10th consecutive win

Victor Oladipo just wants to live his life and enjoy his breakout season with his new team

Keep it right here for all of the news, notes, scores, and highlights from around the Asso...
LeBron has a player option for next season, and is expected to opt out and become a free a...

The Pistons will be looking to snap a five-game losing streak when they host the Celtics on...

Bryant offers some advice for Ball and other rookies about having a sense of urgency in the...