Gregg Popovich is upset with placement of cameras at NBA games
San Antonio Spurs coach Gregg Popovich would like the NBA to do something about cameramen on the baseline before something bad happens.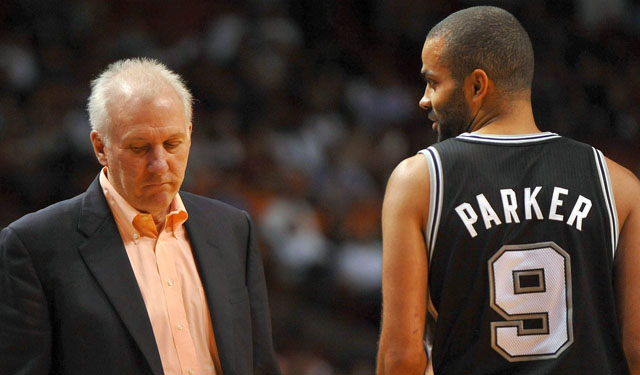 Tony Parker injured his left hand during Saturday night's blowout loss to the Miami Heat. At some point in the third quarter, the San Antonio Spurs' point guard hit his left hand on a photographer positioned on the baseline. Over the years, photographers and cameramen have been extremely close to the action on the floor and often end up making contact with players crashing into them when their momentum is too much to stop.
Luckily, Parker will be fine and his hand doesn't seem to be injured. That won't stop Spurs coach Gregg Popovich from being upset at the placement of the cameras along the baseline and the potential danger that players face because of it. According to Jeff McDonald of the San Antonio Express-News, Pop thinks it's a danger having them there and likened it to a neighborhood street that gets a stop sign put in only after a tragedy occurs.
Spurs point guard Tony Parker left Saturday's 121-96 preseason loss to Miami in the third quarter after banging a finger on the camera of a photographer seated on the baseline.

Parker's left hand is fine, but his coach was not thrilled with the cameraman's proximity to the court.

"It's a danger waiting to happen," Gregg Popovich said.

"It's kind of like when you're in your neighborhood. You keep telling people you need a stop sign, and they don't change it until a kid gets killed and then they put up a stop sign," Popovich said. "Somebody of stature is going to get seriously hurt by one of those guys, and then all hell will break loose."
Popovich is sticking with the analogies involving children. Last week, he was asked about the government shutdown and likened the elected officials to children fighting over their toys.
With NBA teams looking for more and more ways to put extra seats near the court in order to sell high-priced seating options to fans, it seems like there won't be much room to push the cameras back away from the action any time soon. The television cameras and photographers capture some incredible shots that help enhance the fantastic coverage of the game and its players. However, figuring out a way to give them the same angles and access to capturing these moments while moving them out of harm's way is something a lot of people around the league would like to figure out.
Until that happens, we just have to hope Popovich's concerns don't come to fruition. 
Wade is having a rough start to his first season playing in Cleveland

Greek Freak scores career-high 44 points and reaches scary level to finish the game

It was an ugly finish as the Warriors fell to 1-2 on the season -- both Curry and Kevin Durant...
Mirotic was hospitalized with facial fractures after an altercation with Portis during pra...

Irving had some choice words for a fan who heckled him in Philadelphia

Several teams were reportedly interested in Nelson after he was waived by the Nuggets