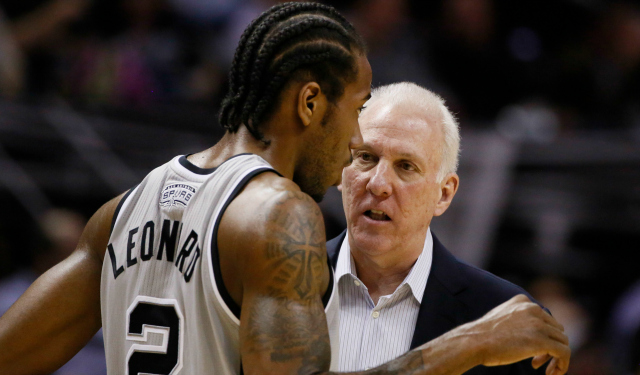 San Antonio Spurs head coach Gregg Popovich called Kawhi Leonard the future face of the franchise in 2012, and since then the forward has just kept getting better. With a Finals MVP on his résumé and his status as an elite wing defender cemented, Leonard is -- slowly -- embracing the challenge of becoming a full-fledged offensive star. In a profile from the Washington Post's Michael Lee, Popovich said that he's trying to get him to be more assertive with the ball:
"We're trying to loosen up a bit and give him more of a green light," Popovich said. "He's getting more license. When you're a young kid, you're going to defer to Timmy and Manu and [Tony]. Now it's like, 'To heck with those guys. The Big Three, they're older than dirt. To hell with them. You're the Big One. You've got to go do your deal.' So, we're trying to get him to be more demonstrative in that regard."

Popovich didn't need to see Leonard become the youngest NBA Finals MVP since Magic Johnson in 1982 last June to be sold on the 23-year-old San Diego State product. But Leonard's breakout showing during the Spurs' five-game annihilation of the Heat merely validated Popovich's belief in the unassuming rising star. The two had an emotional exchange late in Game 3 of the NBA Finals when Leonard scored 29 points and Popovich gave him four tough-love jabs across the chest.

"I said, 'This is you. This, Kawhi Leonard. You have arrived. This is what I'm talking about. Now you do it over, and over and over again. That's what the big boys do," Popovich said of Leonard, who posted 23.7 points on 68.6 percent shooting with 9.3 rebounds and 2.0 blocks in the final three games.
Leonard has started the season building on his excellent play against Miami. He's averaging a career-high 15.1 points and 7.7 rebounds in 31.6 minutes per game, and he's had a few standout performances. Leonard made a few huge plays down the stretch against the Philadelphia 76ers on Monday and finished the game with 26 points and 10 boards. That was the fourth time he topped 20 points on the year.
It'd be unwise, however, to expect Leonard to put up those kind of numbers every night. Beyond the fact that there will be times where Tim Duncan, Manu Ginobili and Tony Parker are piling up points, it's not Leonard's or the Spurs' style to force anything. He'll make smart plays and he'll be aggressive, but it'd be surprising if his usage rate jumped far above his current 21.9 percent by the end of the season.
San Antonio is lucky to have an array of playmakers as well as a 23-year-old rising star at small forward. Leonard is approaching franchise-player status, and Popovich is handling his development the right way. We'll surely see him dominate from time to time, but he even said in the story that "they're trying to score the ball as much as I am, and they've already been here for 10 years and Coach Pop has the confidence in them, and they've been here, they know more than me, so just got to ride with them and wait until they're on their way out."
Popovich's advice is to play as if they're out the door already. That's the balance Leonard and the Spurs are trying to reach.