Gregg Popovich's daughter gave him a pep talk about the NBA Finals
San Antonio Spurs' coach Gregg Popovich still isn't over his team blowing Game 6 and what would have been a fifth title. But his daughter gave him a pep talk to help him out.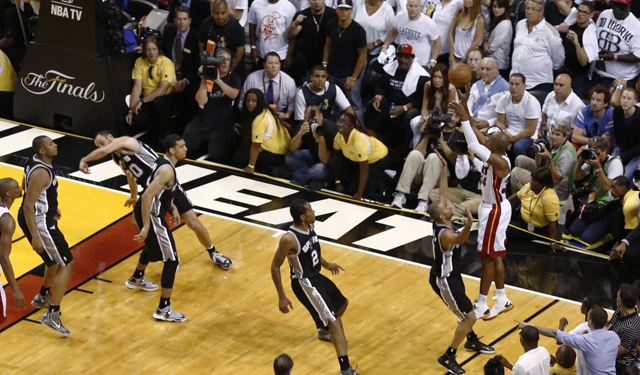 By now we all know the sequence of events. The San Antonio Spurs were up five points with roughly 28 seconds left in Game 6 of the NBA Finals. Holding that seemingly insurmountable lead against the Miami Heat would give them their fifth NBA championship in the Gregg Popovich-Tim Duncan era. Six second change points for the Heat and a missed free throw for the Spurs allowed Miami to force overtime, win the game, and eventually take their second straight title.
Since then, Gregg Popovich admits he's been quite lugubrious, as he puts it, or really sad as pretty much everybody else would describe it. Buck Harvey of the San Antonio Express-News tells the story of how sad losing made Popovich and how it was Pop's daughter who helped him begin to get over the devastating loss and put things in perspective:
His daughter, Jill, told him something similar this summer. With a personality she clearly gets from her father, she said:

"OK, Dad, let me get this straight: You won four championships, and you go to a fifth Finals. Other coaches lose all the time. But poor Greggy can't lose because he's special. Can you please get over yourself? End of story."

He stared at her — then started laughing. Hadn't his daughter told him the same get-over-yourself line he's told so many others?

"That started me on the path to recovery," he said.
A chip off the old block, it seems. It's not that Popovich doesn't have perspective on his career. He knows he was fortunate to get Tim Duncan on his team and have the Spurs find the right mix of players that took to his program and helped him become one of the most successful coaches in NBA history. However, the sting of losing, especially when you're so close that people are leaving the arena and the ropes are being put on the court for the eventual Spurs' celebration, shouldn't be able to go away that easily.
You won't find many people crying for Popovich's close defeat, but he also wouldn't expect people to do that. Until training camp starts and the Spurs embark on another attempt at a title run, all he can do is replay the final 28 seconds of regulation in his mind, see Ray Allen following through on his jumper, and possibly wonder if things would have changed with more of a rebounding effort.
Still, four rings aren't a bad consolation prize.
Kevin Durant says he doesn't agree with what President Donald Trump agrees with

Evaluating where the future Hall of Famer might land up if he is freed from Chicago's rebuilding...

Adam Silver said his piece with the schedule out; we address that and what the slate looks...
The Hawks and Sharecare reportedly agreed to terms on a five-year deal

A look at the context of the schedule and who plays who when, and how far they travel during...

Durant took on rapper Lil Dicky and actually might have lost