Greivis Vasquez won't stop talking about Kevin Durant in Toronto
The Toronto Raptors point guard would very much like to reunite with his high school teammate.
• 2 min read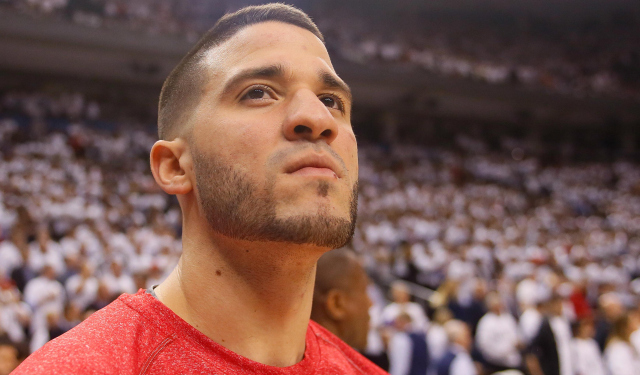 More NBA: Season Awards | Grades: East | Grades: West | Seasons in Review
Fun fact about Toronto Raptors point guard Greivis Vasquez: he teamed with Kevin Durant in high school at Montrose Christian. 
Fun fact about Durant: he grew up a Raptors fan because Vince Carter was his favorite player.
See where this is going?
In late March, after Durant dropped 51 points in Toronto and hit a game-winning three-pointer, the Toronto Star reported that the franchise was looking ahead to Durant's free agency in 2016, and that Raptors global ambassador Drake would be involved in recruiting him. That same night, in the losing locker room, Vasquez compared Durant to Jesus.
Now Vasquez is adding fuel to the fire on Toronto radio. First, there was this comment on TSN Drive with Dave Naylor on Monday:
Greivis Vasquez on high school teammate Kevin Durant: "Hopefully I get to play with him one day in the NBA & hopefully it's here in Toronto"

— Josh Lewenberg (@JLew1050) May 12, 2014
He doubled down on TSN 1050 with Bryan Hayes on Wednesday, bringing Durant up completely unprompted. At the 9:22 mark here, via TSN's Josh Lewenberg, Vasquez is asked about Raptors Day -- the event where Vasquez ended up lint rolling the Toronto deputy mayor's new Raptors jersey -- and, well, here's the exchange in full:
Hayes: "It was announced 'Raptors Day' on Monday here in Toronto, and you guys just got to the first round. What do you think the city would be like if you ever won a title here?"

Vasquez: "Well, imagine if we get KD, Kevin Durant, 2016."

Hayes: "That's your guy, too, right?"

Vasquez: "And he'll lead us to a championship."

Hayes: "Are you calling your shot right now, Kevin Durant coming to Toronto?" 

Vasquez: "I think he'll have statues right outside the ACC."

Hayes: "And where's your statue going to be?"

Vasquez: "It's OK. It could be back in the locker room, it could be in Venezuela. As long as I win a championship with KD, that'll be an amazing feeling. So hopefully that happens."
Toronto fans generally don't need extra motivation to get all riled up, but Vasquez is certainly giving them some. It's a wonder there aren't people walking around the city in custom-made Durant Raptors jerseys yet. 
The timing of this is hilarious for two reasons: 1) One week ago, Durant accepted his MVP award by thanking each of his Oklahoma City Thunder teammates individually, and talking about how much the team meant to him; 2) Vasquez will be a free agent in July, and while he has emphatically and repeatedly stated that he wants to return, there is no guarantee he will be back in Toronto.
Still, it's a full two years before this potential discussion can take place. The Thunder could win the title next month and compete for a second one next year. Things are looking up for the Raptors, though, and general manager Masai Ujiri, Drake and company might be able to put together a nice pitch. Let Vasquez and Toronto dream.  
Butler suffered the injury on Friday night against the Rockets

The extent of Butler's meniscal injury isn't yet known, but there's reason for Wolves fans...

No timetable was provided for Butler's recovery
We've got all the scores, top plays and news from Saturday's NBA games

Galin Dragiev is on a 31-18 NBA run and just locked in a play for Thunder vs. Warriors on...

SportsLine's Mike McClure, a DFS pro with more than $1M in winnings, gives optimal lineup...