Grizz beat Clippers to advance to Western Conference semifinals
Two ejections and at least that many scuffles. Game 6 in Memphis was wild and a fitting ending to a best-of-seven series between two teams that don't like each other much.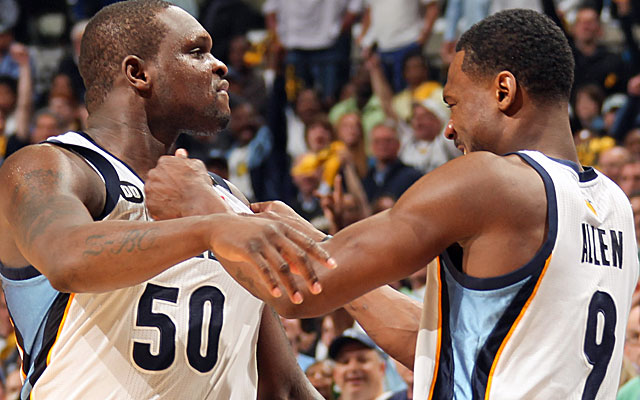 MEMPHIS, Tenn. -- I'm not sure you can call it a rivalry because rivalries in sports typically take many seasons to develop. But there's an undeniable something between the Grizzlies and Clippers, something that's frustrated this southern city on the Mississippi River ever since that Sunday last April when Chris Paul's team entered FedExForum and overcame a 27-point deficit to win Game 1 of a series it ultimately took in seven.
Then the Clips won three of four from Memphis this regular season.
Then they took Games 1 and 2 of this Western Conference Playoff series.
Add to that the big-market/small-market dynamic and the fact that Zach Randolph despises Blake Griffin, and you can understand why thousands -- a capacity crowd of 18,119, to be exact -- filed into this downtown arena late Friday amid the rain and wind, and despite the lure of the Beale Street Music Festival a few hundred yards away, to witness a possible closeout game that doubled as one of the most anticipated professional sporting events this city has ever hosted. Folks were amped, right from the tip. What followed was a 118-105 victory that featured two ejections and at least that many scuffles during 48 minutes of mayhem that propelled Memphis to the Western Conference semifinals for the second time in the past three seasons.
"That's grind basketball," said Grizz guard Tony Allen.
Boy, was it ever.
And it's exactly the kind of basketball that allowed the Grizz to go from down 0-2 to up 4-2 in the span of 11 days to setup a series with the Oklahoma City Thunder, who are without their point guard, Russell Westbrook, and seemingly vulnerable. Meantime, the Clips finished their season without their point guard, who was ejected late in this game after what looked like a cheap shot on Marc Gasol. So Paul was in the locker room when the final buzzer sounded. He traded his jersey for a red sportcoat, came to the interview room and was non-committal when asked if he'd be a Clipper again next season.
"I got a lot of time to think about that," said Paul, who becomes an unrestricted free agent July 1. "As I do with any decision in my life, I'll talk to my parents, my brother, my family. I might even let [my son] 'Little Chris' chime in on it. So we'll see what happens."
See what happens with Paul and his coach.
Yes, Vinny Del Negro's seat seems really hot.
For what it's worth, I heard no player lobby for him to return.
But that's a column for another day because this is a column about this day. Or night. Or wrestling match, if you will. Because that's what it felt like at times, specifically when Randolph and Griffin got tangled, fell to the hardwood and came as close as they've ever come to actually brawling. I can't tell you who started what, exactly, because it's usually hard to tell such things. But Z-Bo finished it, this much I know, with something that looked like either a mini-chokeslam or full-chokeslam.
So I asked Randolph what it was -- a mini-chokeslam or full-chokeslam?
"I don't even know what happened," said Randolph, as sly as he is imposing. "I was going down,  and I just tried to brace myself."
Good enough for me, Z-Bo.
So let the record show this picture is an example of Randolph "bracing" himself. And, while we're at it, let the record show this GIF is an example of how Randolph might exit the court when he's ejected after a 23-point, five-rebound effort with only a few minutes remaining in a Game 6 victory over a hated foe while thousands of delirious fans wave towels that read "WE DON'T BLUFF."
"I was just talking to the [Clippers] bench and exchanging words, and [referee] Joey [Crawford], he don't play, so he tossed me," Randolph said when asked about what prompted the ejection, and then he smiled because, you know, why wouldn't he smile?
He'd just eliminated the team that traded him to Memphis.
He'd just chokeslammed the player that led to his departure.
He'd just extended his All-Star season and kept alive the possibility of the franchise's first trip to the Western Conference Finals, and things really have broken perfectly for the Grizz. Still, there's no telling whether they'll advance to meet Tim Duncan's Spurs or Steph Curry's Warriors or become the next chapter in the legend of Kevin Durant. We'll see. But, if nothing else, they buried the Clippers, their NBA antithesis, and eased the pain of last year's disappointing ending to an otherwise nice season.
"Those guys got away last year ... redemption is big," Allen said. "Sky is the limit for us."
Embiid has taken his trash-talk game to the next level this season, but he's not scared

Last year Durant said returning to his old home was 'never going to be a regular game'

The All-Star forward injured his wrist during Sunday's loss to the Lakers
Steven Adams believes he's the problem with the Thunder struggles in the clutch

LaVar claims that Luke Walton has been 'soft' on Lonzo so far

Allen has filed an emergency motion in an Orange County court in response to an accusation...