Grizzlies-Clippers Game 3: Are the Grizzlies fighting for team's soul?
Could a Grizzlies loss to the Clippers in Game 3 spark a rebuild in Memphis? It's possible, Matt Moore says.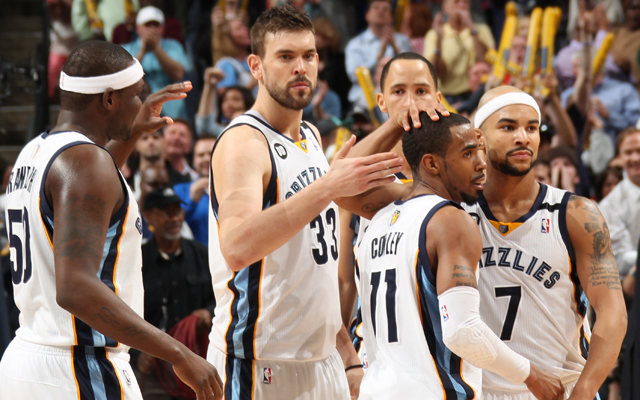 One game in the NBA never matters to a team, unless it's the elimination game for your season. Kobe Bryant was unfazed in 2011 after the Lakers went down 3-0 to the Mavericks; there's always another game. Lose the big regular-season matchup against the rival, and it's "There's a lot of season left." Lose all of these games, and there's always another one.
For the Memphis Grizzlies, Game 3 in Memphis on Thursday is not their elimination game. They can win Games 4 through 7, write their way into history and advance to the next round. They will have no choice but to look at it as an opportunity to do the impossible should they come out on the losing end.
But for Grizzlies management, a new cadre formed after the purchase of the team by Robert Pera this season, Game 3 could determine whether they push the start button on the rebuild machine. Coaches and players can't look beyond what's in front of them. Management and front-office officials have to. They have to see the whole board and act on probabilities and contingencies. They know that going down 3-0 means that's it. Memphis can go through the perfunctory exercise of Game 4, 5, 6 or even 7, but they know the realities and what history tells us happens. 
And a Game 3 loss would mean the offseason begins for Memphis. But it's more than that. The offseason for teams means looking at the draft, evaluating free agents, wrestling with decisions. For Pera, managing partner Jason Levien, John Hollinger, Stu Lash and Chris Wallace, it could mean the examination of whether it's time to blow this team up and start over.
The Rudy Gay trade represented two distinct objectives for Memphis. The first was that Gay's penchant for midrange jumpshots out of isolation was not only inefficient from a metrics perspective but threw the whole offense out of whack. Lionel Hollins (whom we'll get to in a sec) wasn't a fan of the trade, but he also thinks about the offense under different perspectives.
The second was the money. Gay's massive deal signed as a max in 2010 was going to be a significant hindrance for the team in terms of flexibility, and it was going to cause issues with just straight-up financial obligations after Pera and his massive army of minority owners had to spend the money to purchase the team and all the costs that go with taking over an organization.
Gay never reached the potential that he showed when he signed in 2010 and had settled in as a very good defender, a pretty good if inefficient scorer, not a huge playmaker, and an overall quality piece but not a superstar. Throughout the year, there were vague rumors of Zach Randolph being on the block. Randolph is an entirely different bag of tricks.
Randolph isn't just important because of his two All-Star selections and his place as the most potent scorer on a team that struggles to score at all. He's the icon of the Grizzlies. It's his style and attitude that got the city to embrace the team in 2011. He loves the city for its blue-collar culture, and it loves him for his similar attitude. Trading Randolph would be trading the team's second-best player, its veteran leader and the most popular player in franchise history.
And yet.
Among the many around-the-edges discussions when the new regime took charge and started evaluating its options was the idea that neither Pera nor the new brain trust viewed this team as a title contender, for whatever reason. If the people in charge don't buy into the idea of the scrappy underdogs winning a championship, and if winning a championship is the assumed goal, and if they then see the Grizzlies go down 3-0 and look wholly overmatched vs. the Clippers ... what's the value in paying to keep the team together? What's the value in paying the more than $34 million remaining over two years to Randolph, who has looked like he might have finally hit the slide that comes with age?
That's where a total rebuild starts. Because if you're going to go backward as a team, you're not going to take a small step back. You go all the way back and start over. And that allows for a slippery slope. If you're not keeping Randolph, why not let Tony Allen walk in free agency this summer? Why retain Tayshaun Prince, who hasn't been the scorer that they've wanted and looks slow on the defensive end due to age? Why bring back Jerryd Bayless should he opt out?
And once you go down that road, you go very quickly from "Mike Conley is part of our core and will not be traded" to "Well, if the right offer were to appear."
And that's not necessarily a bad idea. Taking this approach, if you accept the first postulate that this team cannot win a title, is not a bad pursuit, logically. But it risks alienating a city that took its sweet time buying into professional basketball, in a market where it's hard to pull a profit, anyway.
The path to perennial lottery status is paved with good intentions. Getting the rebuild going after you've torn everything down is often harder than you expect. What happens if you haven't been competitive for two years? Is Marc Gasol, as much as he has been a massively better soldier than his brother was in terms of loyalty, going to be happy to spend his offseasons starting in April?
This is all jumping ahead. But a seven-game loss to a very-good Clippers team would at least give the organization pause, make it want to rethink things, make it want to consider retaining Hollins, who continues to work without a net. A four-game sweep or a five-game gentleman's sweep (you give them one, to be polite) indicates something entirely different: that this team can't compete and it's time to cut bait and start over.
Game 3 is huge for this Grizzlies team to get confidence it can beat Chris Paul, that it can outwork the Clippers who have beaten them at their own game, that they are still the dangerous team they looked like a month ago. But it's even bigger for the long-term prospects of the team. The Grizzlies were a punchline for a decade in Memphis. They've finally become respectable.
A Game 3 loss could prompt the front office to try to fix something that the fans don't think is broken, and the results could be dramatic.
We've got you covered for all the scores and highlights from Sunday's NBA games

The Cavs superstar compared Kaepernick to Martin Luther King Jr. and Muhammad Ali

The Warriors coach isn't surprised that the president and LaVar Ball are in a war of words
Kyle Kuzma is tired of how his teammate Lonzo Ball is being treated

The Warriors used a huge third quarter to come back from a 23-point deficit to get the win

Three takeaways from Golden State's 24-point rally past the Sixers