Grizzlies, coach Dave Joerger agree on contract extension
The Memphis Grizzlies and coach Dave Joerger have agreed to a contract extension after a tumultuous week of uncertainty.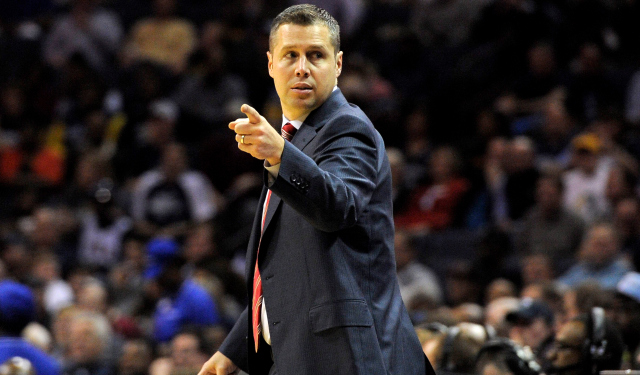 More postseason coverage: Playoff schedule, results | Latest news, notes
After a tumultuous period in which it was assumed Dave Joerger was either going to be fired by Memphis Grizzlies owner Robert Pera or allowed to leave after one year to go coach the Minnesota Timberwolves, the team and their coach agreed to a contract extension. Pera had been unhappy with the direction of the organization and seemed to be looking to clean house after the Grizzlies regressed from their 2012-13 success.
Joerger was allowed to interview with the Timberwolves this past week, but ultimately decided to stick with the Grizzlies and ride out his initial contract. The team announced on Tuesday they have agreed to a contract extension, that is presumed to be a two-year deal and extra job security on top of the original deal. There is also assumed to be increased compensation to Joerger.
The Memphis Grizzlies today announced they have signed head coach Dave Joerger to a contract extension. Per team policy, terms of the deal were not disclosed.

"I am excited to announce that we have reached an agreement to extend Dave Joerger as the head coach of the Memphis Grizzlies," Controlling Owner Robert Pera said. "Following an open and honest dialogue with Dave, it became clear that Dave was fully committed to Memphis and we are committed to him. I look forward to seeing Dave build upon the foundation he helped establish over the last seven years, and we are both committed to bringing a championship to Memphis."
The Grizzlies hired Joerger in the summer of 2013 after parting ways with Lionel Hollins. The team was coming off of their best season in franchise history with 56 wins and an appearance in the Western Conference finals. However, differences between Hollins and the front office led to his removal from the sidelines and assistant Dave Joerger took over the coaching duties. 
After Jason Levien and Stu Lash were removed from the front office following the Grizzlies' first round exit in the 2014 playoffs, Joerger immediately was on the chopping block. The Grizzlies won 50 games, despite Marc Gasol missing 23 games due to injury, but it didn't seem to be enough to save his job. After nearly taking the Wolves' coaching position, Joerger talked things out with Pera and decided to remain with the Memphis organization.
Westbrook's late layup gave the Thunder a 109-108 victory

LeBron became the seventh player in league history to reach the milestone

There were a few things that stood out from Tuesday's All-Star selections
Here are three players from each conference who had legitimate claims to make the game

LeBron achieved the milestone in the first quarter Tuesday

Here are the full lineups for the 2018 NBA All-Star Game