Grizzlies coach Dave Joerger talks Grizzlies' offensive adjustments
Memphis coach says team will focus on getting into sets quicker, moving Zach Randolph to the high post more, and you know, hitting shots.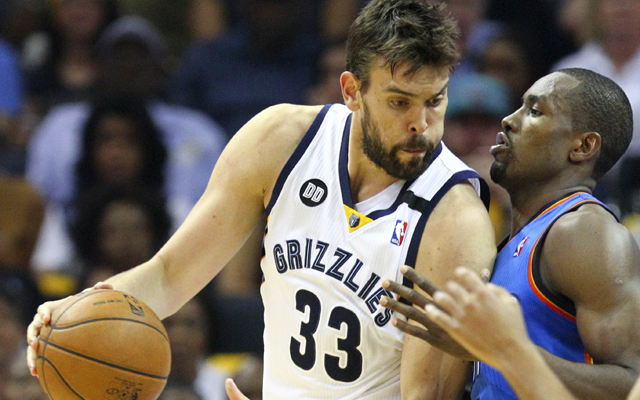 New Grizzlies coach Dave Joerger who replaced Lionel Hollins this summer in a controversial move by the new Memphis front office told reporters last weekend of his plans to adjust the Grizzlies offense. Most notably, he wants the Grizzlies to speed up the pace... of getting into their sets. From Grizzlies blog 3 Shades of Blue: 
For instance, it is Joerger's intention of crossing mid-court with at least 20 seconds left on the shot clock, something that rarely if ever happened last season. To accomplish this Conley may be used more as a decoy allowing other players to quickly bring the ball up the court. When informed he would have greater responsibility bringing the ball up the court, Tony Allen was reportedly happy. How this translates onto the court is another question. The thought of Tony Allen bringing up the ball may sound shocking but that idea of getting the ball up quicker was clearly the correct thing to say to the fans.

Joerger also mentioned spreading the court more with perimeter shooters such as Prince, Miller, QPon and Bayless being given a green light more. However, it is not to go away from the interior game but to open things up inside for Randolph, Gasol and Conley to have more room to operate. One particular idea espoused was to use Miller as a screener on the perimeter to allow Conley to roll off the screen and leaving Miller alone or guarded by a smaller defender on the arc. Joerger also mentioned bringing Randolph to the high post at times to give Gasol more opportunities inside.
via 3sob.com | Joerger Addresses the Fans.
This sounds like a simple thing, but it has huge ramifications for the Grizzlies' dismal offense from last season. The best example of a team working to get into its sets quicker is San Antonio. The Spurs have Tony Parker push the ball constantly, off of a miss or a make. It's not about a "7 Seconds or Less" approach, but instead it has the objective of getting the Spurs into their sets so that they can run multiple play dynamics within the shot clock. 
So if Mike Conley pushes the ball, he can run pick and roll with Marc Gasol on the outside before feeding to Zach Randolph, who can then kick to a shooter, and if that doesn't work, they can reset the play and try to create something different. Memphis' offense last year was basically "walk the ball up, throw it in the post, try and find a shot, begin praying almost immediately." 
It did not work well. 
The shooters for Memphis have to knock down perimeter shots if things are going to open up down low for the Grizzlies. Against San Antonio in the Western Conference Finals, Memphis couldn't scare the Spurs off their zone-and-help-low schemes for an instant, making life miserable for the Grizzlies' talented big men down low. That's their bread and butter and without it, Memphis died on the offensive vine. 
Finally, the wrinkle of moving Randolph to the high post is interesting, because it singles out Gasol as a primary offensive scoring threat, where he's been used as a setup man primarily in the past despite being extremely efficient. The question will be whether moving Randolph there leads to more elbow jumpers for Randolph, and if that becomes a good thing (allowing Randolph to score without taking a beating on a body with a lot of miles on it) or a bad thing (too many missed mid-range jumpers). 
Either way, every coach talks about offensive changes, but few talk about specific elements like this that could have real-world impact on a title contender. There are a lot of questions about how Joerger will replace Hollins and if that was the right decision. At least his conversations with the fans are starting off on the right foot. 
The Blazers guard was a guest on the Sirius XM radio show 'Sway in the Morning'

L.A. reached a three-year jersey ad patch deal with Wish, a San Francisco-based e-commerce...

John Paxson doesn't intend to buy Wade out without some sort of compromise from the 3-time...
Lonzo's signature shoes have a sleek, all-black design and will be available in November

Durant recently apologized for tweets criticizing the Thunder and Billy Donovan

Jackson says he has 'no respect' for Durant after KD created fake Twitter pages