Grizzlies fail to capitalize on Durant's continued struggles
Memphis had its chance to gain a 3-1 chokehold on its series vs. OKC, but couldn't get the job done and now face a Thunder with new life.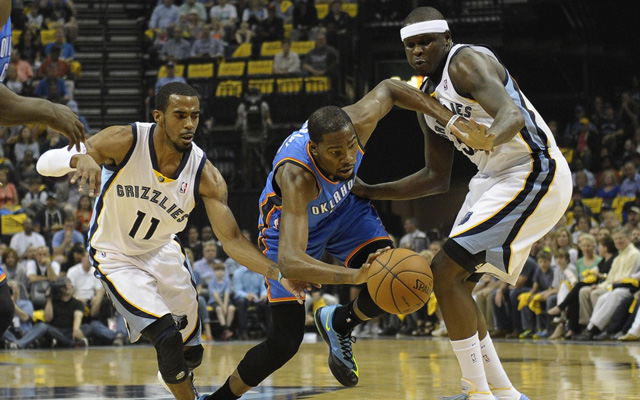 More postseason coverage: Playoff schedule, results | Latest news, notes
Look, I hate to go "The Wire" here, knowing full well how cliche it is, but it's all I can think of. 
"You come at the king, you best not miss."
Now, LeBron's nickname may be the King, but in Grizzlies-Thunder, Kevin Durant is the king, and the Grizzlies missed him on Saturday night. With a chance to go up 3-1 and put the Thunder into a hole that any veteran team knows they can't crawl out of, the Grizzlies held Durant to 5-of-21 shooting, his third straight poor game in a row. 
And he missed good looks, too. Many of the shots were contested, often expertly, by Tony Allen, Tayshaun Prince, Marc Gasol. But there were also these: 

It's not the only game in which Durant has missed these shots. But the Grizzlies are relying on duplicating an anomaly, Durant missing both open and contested looks (when he can hit both) game after game. They were given that gift again in Game 4, and made their comeback in the fourth quarter. They had the lead, once again, but this time, there would be no heroics in overtime. 
You can't win close game after close game vs. an opponent with superior firepower, and you can't shut down Durant game after game. He's going to get loose, and when he does, the Grizzlies will have a much more powerful problem on their hands than Reggie Jackson. 
But that's the playoffs. In the game OKC absolutel had to have, with both Westbrook and Durant struggling, the Grizzlies had their opportunity to deliver the critical blow. Reggie Jackson made them miss, and now the Grizzlies head back to the Thunderdome after OKC has recovered homecourt advantage. 
You only get so many breaks, so many chances, so many fortunate moves. This isn't to denigrate the Grizzlies' superb defense on Durant. They have not only harrassed him and contested his shots, they haven't just made him work or bodied him. They're in his head. Durant is looking for help defenders where there are none. He's pressing and rushing when provided opporunities and clearly aware of what's happening. 
But mental pressure you can work through. Tough games you can forget about. The great ones do. Durant will keep shooting, and it's unlikely that the percentages hold in Memphis' favor. 
They had their chance Saturday in the Grindhouse. Now they have to hope their luck holds two out of three times. That's how quickly things can turn, from having a chokehold on a series to being desperate for survival and regretting missing your best chance. 
Chris Paul sat out the fourth quarter of the Rockets win due to an apparent knee injury

Durant couldn't quite get the shot off in time, and the Rockets prevailed

Draymond Green walked off the floor limping and rubbing his knee in the third quarter
Golden State raised its second banner in three years. Now they start their run for another

Hayward's injury left the Celtics shocked for a moment.

The 11-carat rings hold more diamonds than any other ring awarded in any other major sport...