Grizzlies need Zach Randolph to play better, give smarter effort
With the Memphis Grizzlies in danger of going down 0-2 to the Los Angeles Clippers Monday night, Zach Randolph needs to lead his team with smarter effort.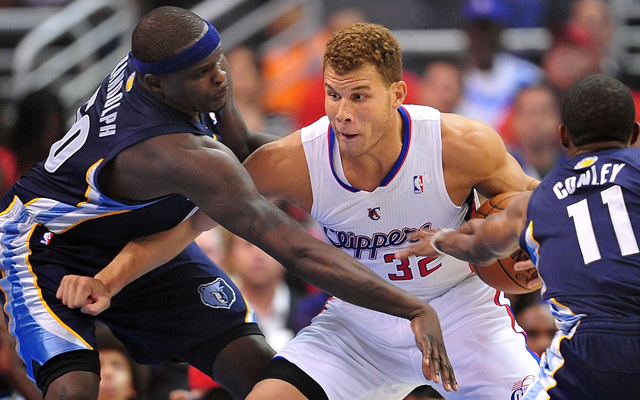 The Memphis Grizzlies typically do two things to win basketball games:
1. They play incredible defense. They were the second-best defensive team in the NBA this season, giving up just 97.4 points per 100 possessions.
2. They win the rebounding battle, especially on the offensive boards. The Grizzlies had the second-best offensive rebounding rate this season (31.0 percent) and gave up the ninth-lowest offensive rebounding rate (25.7 percent). 
Everything else just becomes a grind-it-out process for the Grizzlies when they're trying to beat an opponent. You always have to end up scoring more points than the other team, but even if you're a bad offensive team, you can still come out on top by playing great defense and controlling the glass. 
The Grizzlies didn't do that in Game 1 against the Clippers. In fact, they got manhandled on the boards and really just made a lot of basic effort mistakes that can be avoided with more intelligent play by Zach Randolph. Randolph is arguably the Grizzlies' most important player on the basketball court. Sure, Marc Gasol is the guy who plays all-world defense and helps facilitate a ton of the offense on the other end of the floor.
However, Randolph has to be there to help the Grizzlies finish off the stellar efforts of Gasol and the rest of their five-man units when they're on the floor. Randolph didn't do that in Game 1 for a couple of reasons. The first problem he had is he committed really unnecessary fouls in short bursts, and they all could have been avoided with the typical fundamental play we often see from Z-Bo.
Here is a video of Randolph's five fouls:
The first foul called on him is a late whistle, and it's a little ticky-tacky, but it's also something Randolph doesn't have to commit. As he bumps Blake Griffin to get position in the middle of the lane, he creates space by bringing his arm up and extending it. Even if it's a weak foul, it's something referees notice when the arm comes up higher than the midsection.
His next two fouls are bad perimeter defensive fouls that he commits in the middle of the floor. You can't give Chris Paul an easy jumper, but you're unlikely to pick him up off the dribble and defend him well if you're Randolph. Instead of guarding against the drive, Randolph bumps him unnecessarily. You can't do these things when you just picked up your first foul a minute and a half earlier. The other foul is putting two hands on Griffin while he's attempting to drive. It's ignoring the rules and the fundamentals of defense.
The fourth foul he commits is against Lamar Odom. Instead of rooting Odom out of position in the paint for a post-up, he once again goes high on his defender and clears space with his left arm. Did Odom flop? Possibly. But Randolph could have just sat down into his position and had all of the leverage he needed to win that battle for positioning. 
The fifth foul was a double foul called against Randolph and Griffin. Randolph has his arm over Griffin's shoulder as they battle for positioning, allowing Griffin to hook his arm and flail for the foul call. He gets the double foul instead, but he accomplished his goal of drawing another foul on Randolph. It's not that Z-Bo can't pick up fouls throughout a game; it's just that he can't pick up unnecessary fouls that take him out of what he does so well.
Let's take a look at a few of the offensive rebounds the Grizzlies gave up to the Clippers while Randolph was on the court:
This was the most surprising part of going back over the film; it was how bad Randolph was on the boards. In his 24 minutes on the court, he grabbed just four rebounds. I wanted to see how they were attacking him with boxing out to see why he was so ineffective on the boards. It turns out he was just not doing the dirty work under the boards that he typically does. 
The first offensive rebound you see the Grizzlies give up in this video can be attributed to someone not boxing out Caron Butler and Randolph not working to stay low. When Griffin gets into the lane and goes up for his shot, Randolph isn't in a defensive stance. He's just standing there and it causes him to lose position. Tayshaun Prince never slides over to stop the crashing Butler, and Randolph still isn't getting low to box out the opposition. A little shove in the upper back is all Butler needs to gain the advantage.
The second rebound is quick, but for some reason Randolph is just watching Ryan Hollins on this play. As the ball is hitting the rim, Randolph is just turning around to see where the rebound is headed. Hollins has a career rebounding rate of 12.4 percent. The third rebound given up is again a slow reaction by Memphis' best rebounder. He isn't watching the shot and you can't excuse it by saying he was busy boxing out. He's just hanging in the middle, not being proactive. The Clippers end up grabbing a long rebound that he could have tracked and hustled to.
The two rebounds he gives up to DeAndre Jordan didn't happen because Jordan is more athletic than him. It's because Jordan outworked him and beat him to where Randolph needed to be. On both occasions, Randolph is battling Jordan with his upper body, instead of taking the legs out of Jordan and rooting him out of position. Since Jordan is never knocked off balance, he's allowed to use his length to keep his team's possessions alive.
This isn't the normal Zach Randolph we see on the boards. We usually see him battling by getting low and moving players out of the way.
The Grizzlies lost this game (and badly) because they were killed on the offensive boards, which kept possessions alive and allowed the Clippers to pour on the points. They had a 25-5 advantage on second chance points. On average, Memphis wins this second-chance points battle 14.3 to 11.9.
Memphis actually scored pretty effectively in this game. The Grizzlies had 91 points in a game that saw roughly 85 possessions. That's an offensive rating of 107.1, way above their 101.7 showing this season. Part of the reason they scored so well was Randolph. 
Randolph scored 13 points in nearly 25 minutes by making 6 of 10 from the field. As you can see in the video, he got great positioning inside on a lot of plays by either driving, cherry-picking, posting up or diving into the correct position when his teammates drove the lane.
It's just with his foul trouble and the Grizzlies' rebounding and defensive struggles, it wasn't nearly enough to stay in this game when Los Angeles went on its big runs in the fourth quarter. This is all completely avoidable and fixable for Randolph and the Grizzlies. 
They just have to be willing to grit and grind like we've seen from them most of this season.
Davis left the Pelicans' game against the Nuggets in the third quarter

Popovich was upset about an out of bounds call

Wall went 3-for-12 from the field, and had just eight points in the Wizards' loss
Noah was reinstated from his 20-game suspension on Monday, but is yet to play for the Knic...

In his first season with the Cavs, Rose has not played since Nov. 7

Keep it right here for all your Friday NBA scores, updates and highlights