Grizzlies part ways with CEO Jason Levien
Front office head and assistant GM Stu Lash leave team over what are reportedly personal conflicts with majority owner Robert Pera.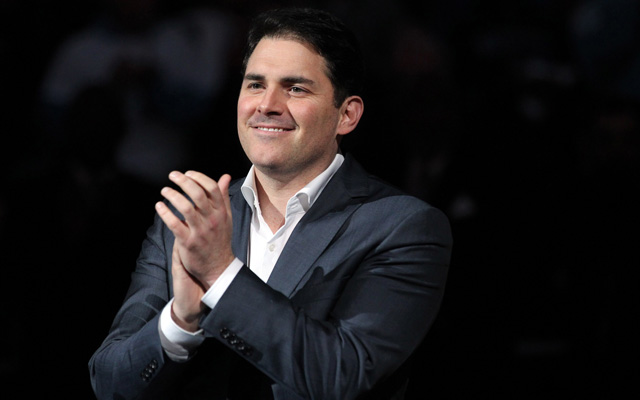 More Offseason Analysis: Coaching changes, news | Free Agency | Draft
The Memphis Grizzlies announced Monday that CEO Jason Levien and assistant executive Stu Lash have both departed the organization. 
"Our franchise has made tremendous strides over the last few seasons and we thank Jason for his hard work and dedication and wish him nothing but success in his future endeavors," said Grizzlies Controlling Owner Robert Pera. "Rest assured that we remain as committed as ever to bringing a championship to this great city and we are confident that when the new season begins our fans will be excited about both our roster and the direction of our organization."
The team announced former GM Chris Wallace will reassume control over the team's basketball operations. 
It's a stunning move for an organization that saw major changes when Pera took over the team last year. The Grizzlies went on to set a franchise record for wins and reach the Western Conference Finals for the first time in team history. Then that summer, the decision was reached to not re-sign coach Lionel Hollins after his deal expired. Assistant coach Dave Joerger was hired in his place. The team struggled through early season malaise and a knee injury to Marc Gasol to win 50 games and reach the seventh seed in the Western Conference, losing to Oklahoma City in seven games. 
Wallace had been the architect of the team's contending core with Mike Conley, Zach Randolph, and Marc Gasol under former owner Michael Heisley who passed away this spring. 
The fate of assistant GM John Hollinger and Joerger are unclear at this point, as both were choices made by Levien. The Commercial Appeal reports that Wallace intends to keep Joerger on:
Just got off the phone with Chris Wallace. Quick report coming soon, but Dave Joerger is and will remain the coach.

— Geoff Calkins (@geoff_calkins) May 19, 2014
 Levien, a former agent, owns a minority share of the team and is a former minority owner of the Philadelphia 76ers. He and his front office had constructed a lot of flexibility for the Grizzlies' roster this summer, with Zach Randolph, Mike Miller, and Ed Davis free agents in advance of Marc Gasol's free agency in 2015. 
ESPN reports Pera may look to lure Tom Thibodeau from the Bulls: 
Hearing that, if the Grizz totally clean house, the Memphis owner will look to trade for Tom Thibodeau + give him an SVG/Pistons-type deal.

— Bill Simmons (@BillSimmons) May 19, 2014
And Yahoo Sports reports on how long the conflict has been going on:
Grizzlies owner Robert Pera and Jason Levien have been at odds for over a year, a source said.

— Marc J. Spears (@SpearsNBAYahoo) May 19, 2014
Westbrook's late layup gave the Thunder a 109-108 victory

LeBron became the seventh player in league history to reach the milestone

There were a few things that stood out from Tuesday's All-Star selections
Here are three players from each conference who had legitimate claims to make the game

LeBron achieved the milestone in the first quarter Tuesday

Here are the full lineups for the 2018 NBA All-Star Game