Grizzlies' Robert Pera refutes report team is in chaos
Owner calls accusations that he wanted Joerger to wear a headset, install player-coach "crazy."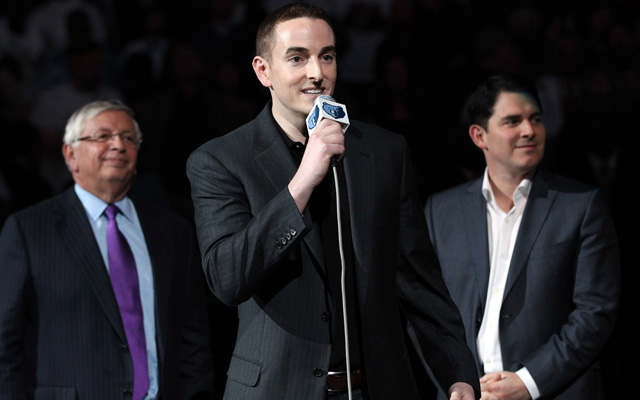 More Offseason Analysis: Coaching changes, news | Free Agency | Draft
There's blood in the water in Memphis after the firing of Grizzlies CEO Jason Levien and assistant Stu Lash and the near-departure of coach Dave Joerger to Minnesota that ended in Joerger's bizarre return Sunday night. 
The words being used to describe the situation: "mess," "chaos," disaster," and those are some of the more common ones. 
On Monday morning, SI.com posted a feature that outlines the tension in the organization and includes what can only be described as a series of allegations that he's kind of crazy. Let me show you what I mean. It started after Pera challenged Tony Allen to a fun game of one on one for publicity and charity, and then Allen lost interest. And then things go off the rails: 
The problem? Allen had lost interest. Joerger, a first-year head coach, didn't like the idea of the game -- like many in the organization he found it goofy and unbecoming of a professional team, according to sources -- but it was Allen's indifference that caused it to be called off. Yet Pera directed his frustration at Joerger and, according to a source, directed upper management to fire him.

Said a source familiar with the situation, "He absolutely wanted Dave out."

It was the first of several early season clashes between Joerger and Pera. When the Grizzlies opened the season 2-3 -- including double-digit defeats to Dallas and New Orleans -- Pera flew to Memphis and held individual meetings with players, sources say. He began offering bizarre suggestions. He suggested Mike Miller, a longtime Grizzlies player who was re-signed in the offseason, could become a player-coach. He brought up the idea that Joerger could wear an NFL-style headset and take instructions on the sideline. When the Grizzlies faced Golden State in early November, Pera insisted that Joerger give significant minutes to fourth-year power forward Ed Davis. Davis played just one. Again, according to sources, Pera insisted that Joerger had to go. Only after it was explained how dysfunctional the franchise would look if it fired a first year head coach six games into the season did Pera back down.
via Robert Pera's Grizzlies a mess despite Dave Joerger's return - NBA - Chris Mannix - SI.com.
So that doesn't paint a great picture. An NBA coach with a headset? He wouldn't look like an NBA coach, he'd look like the manager at Olive Garden on Friday night. Player coach? That's a great idea, except for it not only being a terrible idea, but outlawed by the CBA. 
Playing Ed Davis more? OK, that's not a bad plan. They needed to rest Zach Randolph and find out if Davis is worth re-signing this summer. But, no, for real, headsets. 
Then, after Pera launched a Twitter Q&A Sunday night to try and calm the waters, Pera went after the writer on Twitter. 
Wow..@ChrisMannixSI What happened to journalistic integrity? No wonder people are calling me crazy. I would too if any of that was true

— Robert J Pera (@RobertPera) May 26, 2014
@ChrisMannixSI Btw..you never contacted me. If you want to get your "source" on TV/radio, let's be open and have a talk. Name your time

— Robert J Pera (@RobertPera) May 26, 2014
Well, now that's certainly a bold accusation, and that calls into question the writer's... oh, wait.
@RobertPera Due respect, made multiple requests through the Grizz p.r. department. Ask Ross/Jason.

— Chris Mannix (@ChrisMannixSI) May 26, 2014
None of this looks good for the team. The owner that looks like he's off the rails and way too meddlesome, the rudderless team with a month left until the draft, yelling at reporters on Twitter, and all of this as Zach Randolph has an opt-out this summer and Marc Gasol is entering the last year of his deal.
The Grizzlies have been a powerhouse for four years. The question is whether all of this means legitimate impacts on the floor, or if it's simply palace intrigue. How the team performs will be the real test of Pera's decisions and his impact on the team. 
With 2K18 out everybody wants to know who has the 10 highest ratings in the game. Here's the...

Durant noted in an interview that all of the criticism in the immediate aftermath hit him...

Want the swagger of LaVar Ball? "NBA 2K18" lets you copy his absurd run from his WWE appea...
Durant apologized for a few tweets in which he criticized OKC and his former coach Billy D...

Lue does not expect the Cavs' big trade to affect the team's starting frontcourt ... at least...

Dwight Howard wants to be a farmer in his future and retire with his donkeys