Grizzlies surviving Western Conference turbulence
A look at life in the Western Conference playoff race with the Memphis Grizzlies.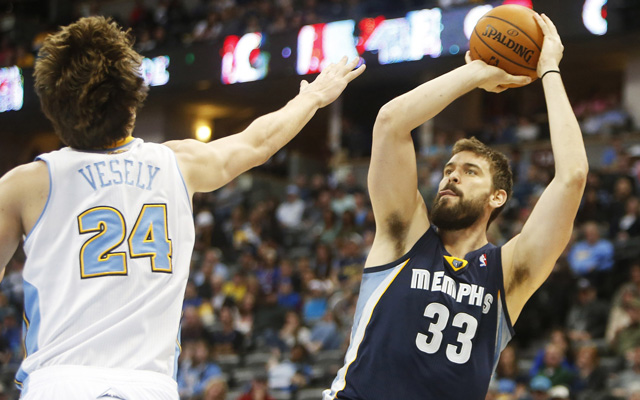 More NBA: Power Rankings | Expert Picks | Latest news, notes | Playoff Picture
DENVER -- "So I heard you had a rough flight in?"
Three different players answered "Oh my God!" with a shake of their heads. One personnel person told me it was the worst flight they'd ever been on. Players were talking about how thankful they were to be on the ground. The plane went up and dropped randomly, shifted hard from side to side. It wasn't a near-death experience, but it felt a lot like it.
And that's life in the Western Conference.
On Monday, the Memphis Grizzlies were supposed to get to Denver early after a 6 p.m. PT game against the Portland Trail Blazers. The loss put them back out of the playoffs by a half-game behind Phoenix and Dallas. Instead, their plane was delayed, and after the "flight from hell" as one player termed it, got into Denver at 3 a.m. The next day they played the toughest back-to-back in the league, the altitude-deficient gasser at Mile High, knowing a loss would drop them a game back in a playoff race that is reaching new levels of hyper-competitive.
Four games separate the Portland Trail Blazers, the fifth seed, from being out of the playoffs. If the Golden State Warriors were to lose against the Dallas Mavericks Tuesday and the Spurs on Wednesday, they could find themselves tied for the 8th seed. Phoenix experienced its own turbulence Monday, as it started the night as the seventh seed thanks to tiebreaker over Dallas... and ended in the ninth spot when Memphis won and moved into a three-way tie, knocking Phoenix back out. Phoenix dropped two spots without playing a single game.
So things are a little nuts in the West right now.
Memphis has had a season they won't forget. Whereas last year defined the high points of the team's history, winning a franchise record for games and making the Western Conference Finals for the first time, this year has been a constant battle against adversity. After coach Lionel Hollins wasn't retained, new coach Dave Joerger's efforts at remaking the offense sputtered out of the gate. Then Marc Gasol and Quincy Pondexter went down with significant injuries.
Things got worse. Then all of a sudden, they made a run. They tore off a huge January, added James Johnson who gave them a spark off the bench. They traded for Courtney Lee, giving them two floor spacers with Mike Miller. Gasol came back early from injury.
Since then, it's been a constant battle to stay in the playoff race, having bounced in and out several times. It's not just that they have games where they struggle, like when they lost two games over the weekend to Golden State and Portland. It's that the other teams in contention, Dallas and Phoenix, won't stop winning. Phoenix was left for dead a few games ago, but now is back to playing top notch ball. Dallas has lost easy ones and won tough games. It's brutal, every night.
All of this was encapsulated Monday night for Memphis.
They went down early 7-1. They built a 16-point lead. They were outscored in the paint and shot worse from the field. Mike Conley hits a dagger three with 35 seconds left. Zach Randolph misses two free throws. And then things got weird.
The Nuggets drew up a three for center Timofey Mozgov, after coac Brian Shaw had sung Mozzy's praises in practice from range for weeks. It went back iron, Mozgov rebounded his miss, and instead of kicking out for three, took the easy open dunk. Up one, Courtney Lee made the first free throw to make it a two-point game.
Then ... Lee intentionally missed the second free throw, the Nuggets rebounded with .07 left, time expired, game over.
Except... wait, why are the Nuggets pointing at the rim and yelling? Wait, did Lee hit rim on that free throw.
He didn't. Lee missed the free throw too badly, missing the rim entirely, which is a violation. So it should be Nuggets ball, with .07 remaining, right?
Except ... it wasn't called on the floor. And of all the things the NBA stops games to review, of all the mindless, endless reviews that go on in the league with the new replay rules (which overall I like), they can't review this one. Game over. Grizzlies win.
"I'm going to have to get some clarification on why that isn't reviewable," Shaw said after the game.
Memphis moved into a three-way tie with Dallas and Phoenix and thanks to tiebreaker, land in the 8th spot, back in the playoffs. The plane lands safely.
I walked up to point guard Mike Conley after this one and just raised my eyebrows. He shook his head.
"Welcome to the Western Conference. Every game, man. Every game."
"That's how it is," Zach Randolph said after the game. "Every game, we just have to keep at it."
You've got no other choice. You're on the plane, and it's shaking. You just have to keep going and hope you land safely.
Bell was injured defending a Robin Lopez dunk and had to be taken off the floor in a wheel...

Trevor Ariza and Gerald Green are reportedly both suspended two games

We've got all the scores, highlights and news from the night's games
Jonah Keri talks with NFL and NBA broadcaster Ian Eagle

SportsLine simulated Wednesday's Nuggets-Clippers game 10,000 times

Galin Dragiev has his finger on the pulse of the Lakers and just locked in a play for Wedn...