Grizzlies take hard way out to the very end in loss to Thunder
Memphis plays OKC tough to seven games but falls and wonders what they have to do going forward.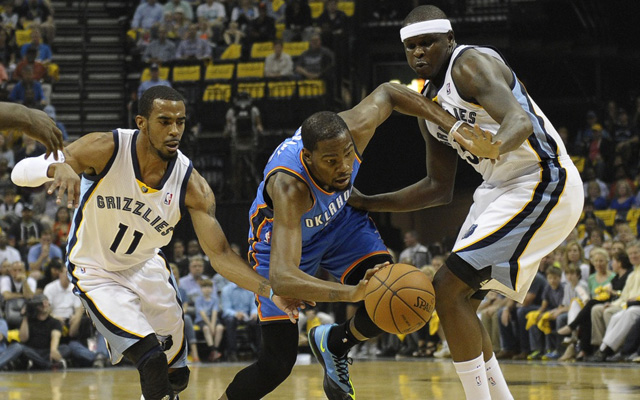 More postseason: OKC 120, MEM 109 | Playoff schedule, results | Latest news
On the one hand, you have to be happy with what the Memphis Grizzlies accomplished this season. They came back from a terrible start, trying to adjust to a new coach, then suffered major injuries to Marc Gasol and Quincy Pondexter. They looked sunk and you wondered if the front office that has made so many head fakes at blowing up the core would do so. 
But they rallied, and behind strong performances from first James Johnson signed from the D-League and then Courtney Lee, acquired in trade with Boston, the Grizzlies went on a run. Gasol got healthy, they pushed even higher. They struggled to finish making it into the playoffs, needing back to back wins vs. the Suns and Mavericks ... but they won both and landed the seventh seed. 
And honestly that should have been enough. A tough year ending in a tough matchup, a lot to be proud of in terms of resilience, some roster issues to fix, a five-game series and go back at it next year. 
But no, not these Grizzlies. Destroyed in the first half of Game 1, the Grizzlies made a furious comeback in the third, but that seemed like a blip. 
Instead, Memphis won three of the next four games. They pestered the soon-to-be-MVP into a miserable series, forcing him to need motivation from his hometown newspaper to get him going. They never ground so hard as they did for those four games. Four overtimes, winning three of them, rebounding from losing a lead each time. 
And in the end, they were outgunned, out-manned and the breaks didn't go their way. Zach Randolph (rightfully) suspended for retaliating to what everyone knows is Steven Adams' questionable play. Mike Conley limited by a hamstring, struggling to move up and down the floor. Tony Allen's depth perception affected by an eye injury, when it's not like he's a great shooter to begin with. 
Oh, yeah, and Kevin Durant and Russell Westbrook were amazing. 
From injuries, to the coaching transition, to suspensions to needing one more bad game from the Thunder in Game 7, Memphis had to take everything it earned, nothing was given, nothing fell in its lap. But in the end, it still wasn't enough in a 120-109 defeat. 
So now the question becomes, and I'm telling you I've written this four years in a row, is this the year that the front office decides to make a big move? Does the nucleus go away now? The early returns on a Memphis team without Zach Randolph were good for about a quarter ... and then a disaster for another 36 minutes. 
They still need to stretch the floor ... don't they? Except they had Mike Miller and Mike Conley and Courtney Lee and still had a strugglefest of an offense. Is there a way to make this roster into a championship contender? 
It's hard to say, because had even Gasol's injury not happened, or if the early start hadn't been such a struggle, just one of the two, they likely finished with a significantly higher seed. There's just no way to tell. 
It's a litany of what ifs for Memphis. What if Gasol or Pondexter hadn't been hurt? What if Conley hadn't been hurt? What if Joerger had gotten through to the team sooner or compromised sooner? What if Randolph hadn't been suspended? Every team has these questions. The Grizzlies just have a few more than most. 
But if this was the last run for Memphis, and there's very little reason to think it will be, they acquitted themselves well. They often made their own path as difficult as possible, but then, that's what made it fun.
Warriors' forward doesn't understand the reasoning behind the all-too-common double technical...

Hardaway Jr. gave a 'safe' call like he was an umpire in baseball

Barnes hits the trey with less than a second left to lift Mavericks to dramatic 95-94 vict...
Kevin Durant was once again back in Oklahoma City

Gregg Popovich has never seen an injury lead to the issues that Kawhi Leonard has been fac...

Kobe Bryant, of course, had his 81-point game against Rose and the Raptors back in 2006