Grizzlies take necessary step back by trading Rudy Gay
Realizing they can't have an L.A. appetite on a Memphis budget, the Grizzlies move on without Rudy Gay.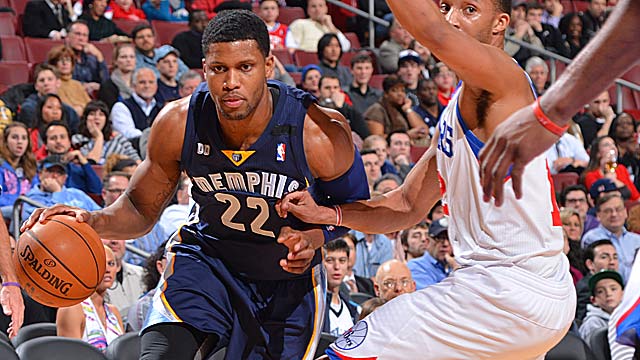 By dealing Rudy Gay, the Grizzlies save themselves $26.4 million over the next two seasons.
(Getty Images)
The first domino has fallen in the rapidly building trade frenzy leading up to the NBA's Feb. 21 deadline: Rudy Gay to the Raptors in return for, essentially, $26 million.
That's approximately what the Memphis Grizzlies save this season and the next two by parting ways with one of their three highest-paid players -- $26.4 million to be exact. The Grizzlies went from staring at a $7 million luxury tax bill a week ago -- and exponentially more punitive penalties the next two seasons if they kept Gay -- to shaving a total of $12.1 million off this season's payroll and a whopping $37.2 million total over three years.
By my count, Memphis has swung from $4 million over the luxury-tax line this year to about $8 million under, potentially leaving room to take on short-term salary in future deals. But on the heels of Oklahoma City trading James Harden to the Rockets, this was simply another example of the harsh realities of the new collective bargaining agreement coming home to root in a small market.
More on Gay trade
Related links
New owner Robert Pera didn't buy the Lakers, after all. He bought the Grizzlies, and anyone with the ability to read a spreadsheet could figure out that Memphis could not afford to have three players -- Gay, Marc Gasol and Zach Randolph -- making a combined $50 million in each of the next two seasons.
The question is, why do it now? Last week's trade with Cleveland in which the Grizzies sent Marreese Speights, Wayne Ellington, Josh Selby and a protected first-round pick to the Cavs for Jon Leuer got them comfortably under the tax line this season. With the fourth-best record in the West, in a rare season when both the Lakers and Mavs appear to be non-factors, why not keep the core together and take one more crack at it?
That is a question that only Pera, CEO Jason Levien and new vice president for basketball operations John Hollinger can answer. But understand that the tax burden Memphis was facing next season was real and unmanageable. The decision was made to move Gay now while tax relief also was going to come with three players and a draft pick.
The Grizzlies wound up getting Ed Davis and a second-round pick from Toronto, plus Tayshaun Prince and Austin Daye from the Pistons for Gay. Jose Calderon went from Toronto to Memphis, but was rerouted to Detroit in a separate deal. Prince can fill some of Gay's role on the wing at nearly a third of the cost, while not needing as many touches or shots on offense. With $8 million of room under the tax line, Memphis also has time and room to explore other deals that could replenish the depth they've sacrificed in their payroll purge -- an option they wouldn't have had if they'd waited until the summer to move Gay.
The Raptors got the closest thing to an All-Star that was currently available, and that's another reality that many teams with more cap space than the Raptors are beginning to recognize. Cap space and assets do you no good unless there's a player worth spending them on. As in the draft, sometimes you suck it up and take the best available athlete.
The Pistons get off of Prince's contract, which had two years and $15 million left, plus they get a short-term mentor in Calderon for Brandon Knight. Calderon's $10.6 million expires after the season, giving the Pistons $26.5 million in expiring contracts this summer. Again, with a lean free-agent class after Chris Paul and Dwight Howard (both presumed to be staying in L.A.), the Pistons might find it more advantageous to move those contracts between now and Feb. 21 rather than wait and overpay marginal free agents. (They've already tried that with Ben Gordon and Charlie Villanueva, and we all know how that went.)
Are the Grizzlies better on the court as a result of all this? No, they would've had a better shot if they'd stopped after the Cleveland trade and kept plodding along. But it's clear that the new tax penalties in the CBA have been heard loud and clear. Unlike in Los Angeles or Brooklyn, in Memphis you play chicken with the luxury tax at your own peril.
Do I like the trade for Memphis? It doesn't matter if I like it or not; I understand it. You can't have an L.A. appetite on a Memphis budget. In the new financial reality of the NBA, Big Threes costing $50 million-plus are reserved for places like L.A., Miami and New York -- and even in those glamour markets the tax man is going to have the final say eventually. Check back with me in two years and tell me if Brooklyn still has Deron Williams, Joe Johnson and Brook Lopez making a total of $59 million -- or if LeBron James, Dwyane Wade and Chris Bosh all stay in South Beach with $20 million opt-outs at the same time.
"They showed their hand completely," one rival executive said of the Grizzlies. "You can't fool players. They will have a hard time thinking winning is the priority. That erodes consumer confidence in the Association."
Winning is important, but tax bills are real. And in my opinion, we've only seen the beginning.
Not many games, but still plenty of action and intrigue Sunday in the Association

An old rivalry is reignited between LeBron James and the Cavaliers and John Wall and the W...

SportsLine's Mike McClure, a DFS pro with more than $1M in winnings, gives optimal lineup...
LeBron had 29 points, 11 rebounds, and 10 assists in the Cavs' 109-100 win over the Jazz

The montage showed Carmelo's best Knicks moments before playing the Thunder game

KCP can't leave California for 25 days due to the terms of his pleading guilty to a misdemeanor...