Grizzlies withstand magic of Durant to even up series with Thunder
The Thunder have a chance it seems at any moment of any game, regardless of situation because of Kevin Durant. But the Grizzlies were able to survive No. 35's magic.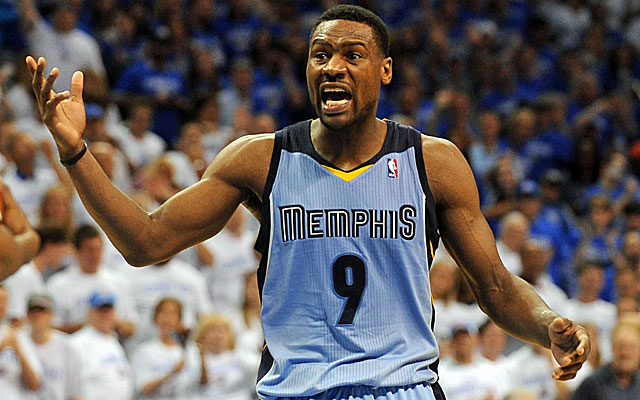 More: Grizzlies 111, Thunder 105 (OT) | Playoff schedule, results | Court Vision
OKLAHOMA CITY -- There was a moment, even with the Grizzlies up six with nine seconds to go, that we all had to pause to remember, "No, not even Kevin Durant can make a six-point shot."
With the stunning events that transpired over 53 minutes of heart-stopping action in Game 2 between the Thunder and Grizzlies, it actually seemed possible. The Thunder were dead in the water, cooked by the trademark grit and grind of the Grizzlies. With 13 seconds left and the Thunder down five, Durant was bumped deep in the left corner, and flung the ball at the basket. Whistle blown, ball in. Four points in a blink, and life for the Thunder.
Mike Conley split a pair of free throws, and just as everyone expected, it was Kendrick Perkins who miraculously sent the game to overtime with a putback at the buzzer. 
All of that, all of those sucker punches, were about to test the mental fortitude of this tough Memphis squad. But, as you'd expect, the Grizzlies started the overtime scoring the first four points, shrugging off Durant's wizardry, and settling back in. 
"We have to weather the storm," said Tony Allen, with a pun I'm thinking was unintended. "We have to stay together and not get down. And just understand we're going to keep feeding it to Marc, Mike's going to keep running the show and believe in getting stops."
The Grizzlies' plan is a simple approach, built on toughness and physicality. They want to play you inside-out with Marc Gasol and Zach Randolph, but against the uniqueness of the Thunder, that doesn't always work. Primarily because the Thunder have a chance at every moment, in every situation, because of Durant's ridiculous nature. There hasn't been an answer to his offensive brilliance, except for essentially just hoping he misses. 
Every coach every game has laid out the same defensive game plan when asked how to stop Durant. They say you can't stop him, you just have to try and make him work for his points. And while Durant got the Grizzlies for 36 in Game 2, I'm not sure I've ever seen him have to work quite like that for it. 
While Tayshaun Prince started the game on Durant, the bulk of the assignment fell to Allen, who relies on a certain tenacity for his defensive prowess. He's giving up six inches to Durant, but with a tough-minded I'm-going-to-work-harder-than-you mentality, Allen makes life as difficult as it can be for the league's best scorer. 
"We got schemes that we try to take advantage of on the defensive end, and all we can do is hope for the best when [Durant] shoots it," Allen said. "I've got to do my work early, if that means being physical with him. Just trying to push him through screens, trying to just cause havoc the best way possible is kind of to my favor.
"But like I said, the guy still had 36 points tonight," Allen said. "He's going to get his. The biggest thing is to not get discouraged and keep fighting throughout the game."
Allen is known for his defense, but was asked postgame about the Grizzlies trying to control tempo and he basically cut the reporter off. 
"I don't know much about the offensive end," he started. Ironically enough, though, it was the bumbling, stumbling Allen, who with every touch is an adventure, that came up with a critical offensive play, drawing two defenders and setting up Randolph for a go-ahead bucket with 26 seconds left. To which the Grizzlies somehow held off another burst from Durant, to steal home court advantage with a 111-105 overtime win. 
The Thunder have been a top-five offense the last four seasons, but it's pretty clear how to slow them down. Disrupt Durant, disrupt the offense. What can often look like an unstoppable attack with Russell Westbrook's frenetic, relentless style combined with Durant's free-flowing efficiency, the Grizzlies just turned the Thunder into long distance shooters. The Thunder took 30 3-pointers, hitting just nine, as Memphis completely upset the rhythm of OKC's offense. Allen's ball denial and bulldog defense was at the middle of all that, upsetting any comfort the Thunder had.
"I wish I knew what makes Tony Allen tick," Conley said. "He's hard to explain. He comes in every day with a chip on his shoulder. We don't know why, what's got him mad, what's got him angry, but you just roll with it."
Cuban weighed in on the ongoing feud between the basketball dad and the POTUS

Embiid has taken his trash-talk game to the next level this season, but he's not scared

Last year Durant said returning to his old home was 'never going to be a regular game'
The All-Star forward injured his wrist during Sunday's loss to the Lakers

Steven Adams believes he's the problem with the Thunder struggles in the clutch

LaVar claims that Luke Walton has been 'soft' on Lonzo so far