Harden deal exposes new, harsh realities for small markets
Sam Presti and Daryl Morey positioned themselves for the NBA's new normal, and the result was a stunning, proactive trade sending James Harden from the Oklahoma City Thunder to the Houston Rockets on Saturday night. In the league's new financial and competitive landscape, it's called a win-win.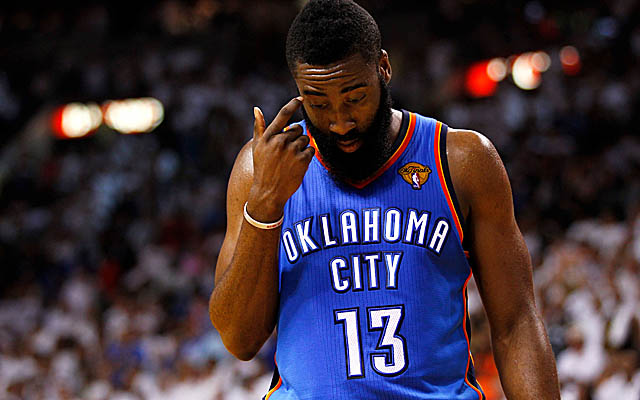 Harden and the Thunder couldn't find common ground in talks about an extension. (Getty Images)
Every deal is different, every negotiation distinct. There were aspects of Oklahoma City's extension talks with James Harden that were as unique as his talents -- and others that merely foreshadowed what's coming for other small-market teams like the Thunder.
Make no mistake: In the NBA's new model, the financially strapped teams that succeed will be those that act swiftly and proactively when faced with the threat of losing their stars.
The trade Saturday night sending Harden to Houston was a case study in how two of the league's shrewdest executives -- one in a big market and one in a small one -- chose to position themselves for the fallout from last December's collective bargaining agreement.
Thunder GM Sam Presti had a remarkable record for extending his players, from Kevin Durant, Russell Westbrook and Serge Ibaka to Kendrick Perkins, Nick Collison and even Nazr Mohammed. The very fact that Presti was seriously engaged in extension talks with Harden's agent, Rob Pelinka, signaled Oklahoma City was committed to venturing into luxury-tax territory to keep him. This was a major commitment from a team that had the third-lowest average payroll over the past five seasons despite two straight trips to the Western Conference finals and a loss to Miami in last season's NBA Finals.
But every team has its limits, particularly a team in a small market with tiny local broadcast revenues when compared to its chief competitor in the West, the Lakers, and others. Presti's final extension offer stopped short of the four-year max deal Pelinka had been seeking, and the wheels already were in motion for Presti to execute his Plan B.
This is where Presti's notoriously shrewd long-term planning collided with a very different, but similarly motivated strategy undertaken by Rockets GM Daryl Morey. With what he knew would be franchise-shaping decisions forced upon teams of all resources and market sizes under the new CBA, Morey had stripped his roster mostly bare, loaded up on draft picks and was ready to pounce when teams from markets big and small would be forced to make decisions on retaining their core players.
With only one eight-figure salary on his books, that of Kevin Martin, Morey quickly pivoted from his failed pursuit of Dwight Howard and furnished offers to restricted free agents Jeremy Lin and Omer Asik that proved unpalatable to the big-market Knicks and Bulls. With Lin and Asik on the books now at $8.4 million each, Morey ideally positioned Houston to be a landing spot for Harden in the event Presti was unable to fit the prolific sixth man into his small-market budget at a starter's salary.
Harden's future in Oklahoma City was always going to be about whether he'd be willing to take less money and continue in a lesser role than restricted free agency would eventually afford him in both areas. Facing a similar decision, Ibaka decided to hitch his defensive-player-of-the-year credentials to Durant and Westbrook and chose winning over money.
Harden, whose scoring and playmaking skills made a max offer in restricted free agency next summer a virtual certainty, couldn't swallow the notion of being underpaid and underutilized -- factors that were inevitable had he agreed to Presti's last, best offer. That's his decision, one the Thunder don't and shouldn't begrudge -- but one Presti decided he wouldn't helplessly watch unfold.
So Harden will get his max extension from Houston before Wednesday's deadline, and he'll have the opportunity to assert himself as the No. 1 option and a future All-Star on Morey's revamped roster. The Thunder avert the prospect of losing Harden for nothing next summer and add Martin -- a proven shooter and scorer with only one year left on his contract at $12.4 million -- plus more building blocks for the future in 12th overall pick Jeremy Lamb and a guaranteed lottery pick from the Rockets (via Toronto). The Thunder also get another first-round pick and a second-round pick in the deal, which sends Daequan Cook, Cole Aldrich and Lazar Hayward to Houston. 
In the NBA's new, high-risk landscape, it's what they call a win-win.
The Thunder already had more than $53 million committed to Durant, Westbrook, Ibaka and Perkins for the 2013-14 season. Retaining Harden presented an untenable pinch: Would the Thunder be able to venture simultaneously into the rarefied air of being a luxury-tax and revenue-sharing payer? This double-whammy couldn't be justified, necessitating the breakup of the NBA's most prolific young cores.
The lesson here was one that first asserted itself in February 2011, when the small-market and historically tax-paying Jazz stunned the NBA by trading Deron Williams to the Nets -- 17 months before he would hit free agency and 10 months before the league's new CBA would be ratified.
This kind of proactive risk-taking is the new norm for teams of all market sizes in the league's new financial and competitive landscape. Teams that let the decisions and deadlines come to them will do so at their peril. The only way to claim victory is to get out in front of the impending doom.
Jackson is reportedly unable to make the trip from Montana

The Rockets are on fire, and my money is on Durant to join LeBron and Harden in the MVP ra...

Then-Lakers owner Jerry Buss eventually shot down the idea
Bryant will have both No. 8 and No. 24 raised to the Staples Center rafters on Monday

The Lakers will be retiring Kobe Bryant's No. 8 and No. 24 jerseys at halftime

The Nuggets will look for their second-straight win with Nikola Jokic back in the lineup