Has Kobe Bryant lost confidence in Lakers exec Jim Buss?
With Phil Jackson's agreement to join the Knicks, Kobe Bryant and the Lakers are at another crossroads. Has Bryant lost faith in Jim Buss to turn it around?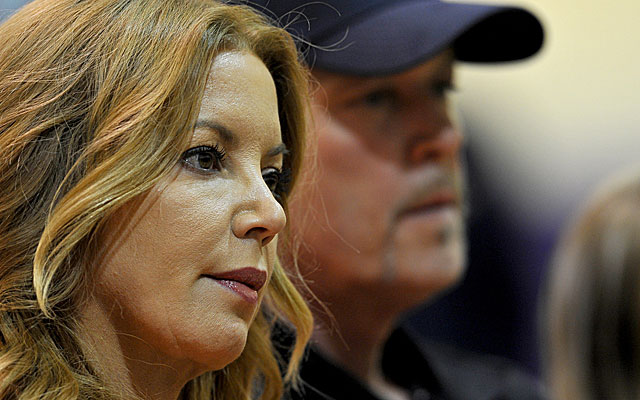 More NBA: Power Rankings | Expert Picks | Latest news, notes
As Phil Jackson and the Knicks move closer to an official partnership, much to the chagrin of Kobe Bryant and Magic Johnson, a certain LA storyline comes full circle.
In November 2012, it appeared inevitable that the Lakers would bring Jackson out of semi-retirement to coach the team again. The experiment with Mike Brown and the Princeton offense had failed miserably after only five games, and the Lakers needed stability. They needed Phil, and Phil was ready to do what he thought he would never do again -- return to the bench and coach.
Instead, executive vice president Jim Buss turned the tables on Jackson -- and on his own sister, Jeanie -- by hiring Mike D'Antoni instead. The rift between Jim Buss and Jackson was deep, and upon GM Mitch Kupchak's late-night phone call to Jackson to relay the news of D'Antoni's hiring, it went from being a rift to a canyon.
Jeanie Buss, Phil's fiancée, wrote in her book, Laker Girl, that her brother's decision was "a betrayal."
"How do you do that to your sister?" she wrote. "How do you do that to Phil Jackson?"
The idea that D'Antoni would bring Showtime back to the Lakers proved to be a false prophesy. Showtime turned into Go Time for Dwight Howard, and the Lakers are still trying to pick up the pieces. Sadly for D'Antoni, all the king's horses and all the king's men couldn't put Steve Nash back together again.
Then on Wednesday, the blowback of Jackson's agreement in principle to become the Knicks' president of basketball operations wafted all the way to El Segundo, Calif., where Bryant addressed the decision to shut him down for what is left of this miserable, last-place season for the Lakers. 
Of the Lakers' decision to let Jackson get away a second time, Bryant said, "Personally, it would be hard for me to understand that happening twice. It would be tough. I don't really get it."
Then, even more tellingly, Bryant took aim at Jim Buss and placed the onus squarely at the feet of the great Jerry Buss' bon vivant son, whose record of calling the shots for one of the most storied franchises in the history of American team sports has left quite a bit to be desired.
"You've got to start with Jim," Bryant said. "You've got to start with Jim and Jeanie and how that relationship plays out. It starts there and having a clear direction and clear authority. And then it goes down to the coaching staff and what Mike is going to do -- what they're going to do with Mike -- and it goes from there. It's got to start at the top."
Notably absent from Bryant's comments was the optimism and confidence he's unfailingly expressed in the past about the Lakers' perpetual knack for figuring out a way to keep the team competitive during his 18-year career. Sure, some of it was Bryant's personal disappointment with his inability to come back from this latest injury and his disgust with the Lakers being "like 100 games under .500." But based on what Bryant said and didn't say, you'd be naive not to read into it a wavering confidence in Jim Buss' ability to get the Lakers back on track before it is too late for Bryant to have anything to say about it.
Throw in a report from Sporting News that Bryant has "no interest" in playing for D'Antoni next season, and Jim Buss has a cauldron of ill will on his hands.
Jolly Jim may not listen to Magic Johnson any more, but he would do well to listen to Bryant. That's part of the psychic cost of signing the 35-year-old great to a two-year, $48.5 million extension a few months ago. For better or worse, Jim Buss and Bryant are inexorably linked in finding a way forward for the Lakers.
Were Bryant's comments about Jackson -- and Magic Johnson's tweets -- part of an orchestrated campaign to persuade Jackson to back out of his agreement with the Knicks? Wishful thinking, on several counts. First, if Jim Buss didn't want to bring Jackson back in 2012 and made no effort to prevent the Zen Master's very public courtship with East Coast Jim, as in Dolan, then I think it's pretty clear where he stands on that issue.
Further, executives around the league who have heard the Knicks will make Jackson the highest-paid coach or executive in the NBA believe no amount of persuasion from current or former Lakers -- no matter how great -- will be able to trump Madison Square Garden's cold, hard cash.
So what do the Lakers do now? Even with Bryant coming back at $23.5 million next season and $25 million in 2015-16, they'll have ample flexibility to pursue free agents this summer and next -- plus a premium draft pick this June and a top-five protected pick in 2015. They'll have more cap room if Steve Nash retires and the Lakers can prove it is due to a career-ending injury and receive a salary exclusion. (Short of that, they can waive Nash and stretch his $9.7 million over three seasons, providing some relief.)
As for bitterly clinging to the status quo and waiting until the summer of '15 to make a free-agent splash, Bryant isn't down with that. When asked about the Lakers taking such a patient, longer-term approach, Bryant said dismissively, "Let's play next year and suck again? Absolutely not."
"It's my job to go out onto the court and perform; no excuses," Bryant said. "Gotta get this. It's the same with the front office. The same expectations the front office has of me when I'm on the court, I have the same expectations of them."
But what matters more than the timing and substance of any roster moves the Lakers can make is Bryant's point about having a "clear direction and clear authority." In other words, who's in charge? If D'Antoni is gone, who replaces him -- and what's the plan?
In some ways, maybe it's best for the Lakers to stop chasing the ghost of Phil Jackson; that Zen Master has left the meditation circle and is ready to take his talents and motivational books to New York.
A world of intrigue and family drama and impatient Hall of Famers past and present roils in his wake. It wouldn't be the Lakers without it.
Porzingis is questionable for Carmelo Anthony's return to MSG on Saturday

The Spurs and Rockets will renew their in-state rivalry on Friday night

Anthony will play at Madison Square Garden on Saturday for the first time since being trad...
SportsLine's Mike McClure, a DFS pro with more than $1M in winnings, gives optimal lineup...

The Cavaliers won the much-anticipated matchup, 121-112

Two of the league's most interesting teams will meet on national TV on Friday night