Have Sixers experienced diminishing returns in their rebuild trades?
A look at what the Sixers have done in the Sam Hinkie era and if they've faced lowered returns than expected for their veterans.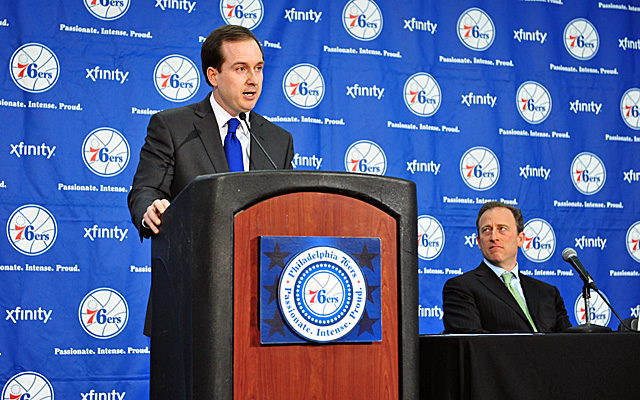 Philadelphia 76ers blog Liberty Ballers has a breakdown of the realities of the Theaddeus Young trade and it brings up an interesting point: 
The second move, the Jrue Holiday trade, was a slam dunk. For the second offseason in a row, the Sixers had traded my favorite player on the team, this time trading a player who had just made the All-Star Game at 22 years of age. But the move was such a slam dunk, such a tremendous coup for new general manager Sam Hinkie, that it was impossible to be upset with. As much as I liked Jrue Holiday, both the player and the person, he had significant holes in his game that needed to be corrected for him to become a superstar. A good player, but not likely to be great. To be able to get the best prospect in the 2013 draft, along with a second lottery pick, all the while improving the Sixers positioning for a draft that looked to have incredible top-end talent? The team was transformed overnight.

With the Thaddeus Young trade, for the third offseason in a row, the Sixers have traded a fan favorite, but the rewards are not nearly the same. It is a move that had to be made, but it's one that isn't necessarily likely to have a major impact going forward.

Over the last 4 years, Young has contributed 23.4 win shares for the Sixers. When looking at data from the drafts between 1990 and 2007, players selected between 18th and 22nd have only contributed 16.3 win shares for their careers, on average. Only 32% of those players contributed more for their careers than Thaddeus Young has in the last 4 years. Only 16% contributed more in their career than Thaddeus Young has through his age 25 season. Only 4% contributed greater than 60 win shares over their career, a conservative estimate on where Young may finish his career with. A mere 23% had a single season in their careers where they contributed 6.2 or more win shares, something Thad has done in 3 of the last 4 years. Over 40% never had a single season as productive as Thaddeus Young's worst professional season (2.1 win shares).

In short, the odds are against the Sixers getting a player as good as Thaddeus Young with Miami's pick. But the Sixers aren't getting Thaddeus Young's career by holding onto him, they're getting one more season, and it's a season where Young's production really doesn't provide any benefits in the grand scheme of things. Were they contending, the one season of Young's production may be more beneficial than the career of the Miami Heat's pick. But they're not.

Again, the left side of my brain recognizes the value in the trade. Even so, we should maintain a realistic expectation of the value of the pick that they received.

More than that, the Thaddeus Young trade is a realization of the consequences of the Sixers rebuild. As a player who just turned 26 years old, and who could have 15,000+ NBA minutes still left in him, Thaddeus Young didn't need to be jettisoned. He could still be useful to the Sixers when the rebuild starts to materialize. By many reports, it was Young's reluctance to go through with the rebuild that put the Sixers in this position, but it was the Sixers rebuild that put Young in his.
via The Thaddeus Young Trade Was An OK But Sobering Exchange - Liberty Ballers.
The Sixers traded Holiday to New Orleans at the 2013 draft or Nerlens Noel and the Pelicans' 2014 first-round pick, which landed at No.10. They then used that pick to draft Dario Saric, a high-upside, low-floor prospect who won't be coming over from Europe for at least two years. 
Philly sent Spencer Hawes, who was actually having a productive season, to Cleveland last year for two second-rounders and Earl Clark.
They moved Evan Turner to Indiana for Danny Granger, who they waived, Lavoy Allen, and a 2015 second-round pick. 
And they moved Young for a first-rounder which as Liberty Ballers notes above, could wind up higher than 20. 
Is Young right now a better player than Holiday, and than Holiday will be? Holiday was an All-Star two years ago and could have been very good for the Pelicans if he hadn't suffered a major injury this season. But Young, as a vetran with established value, and considering his versatility, still has significant value. Even if Holiday has more value, the return went from a top ten pick and a future first (which later became a top 10 pick) to one late first-round pick. (Apologies to Alexey Shved and Luc Richard Mbah a Moute.)
When you look at the relative value of the four veterans Philly has traded in the Hinkie era, you can make an argument that they're losing value from trade to trade. The point of rebuilding is to move your best players to find ways to get better later. The Sixers just seem to be getting worse. Even the top 10 pick they acquired turned into a player that's a Euro unknown, and won't play for two years. A lot can happen in two years. 
This is going to come off as more Hinkie-bashing, as I've been harsh on him since the draft, so I'll say this: This isn't necessarily Hinkle's fault. A lot of this has to do with the evolving NBA trade market. Veterans are fetching less and less in return; that's why we've seen the NBA trade deadline dry up. First-round picks have become more valuable. The Sixers, you can argue, have gotten the highest return for what they've had to offer. 
Furthermore, it's not like Hinkie had an alternative. As Sixers fans are quick to point out, the other option is to do what the team has done for years, limp along as a low seed in the East, always mediocre, never terrible. Rebuilds are always painful, the Sixers just opted to get the pain out of the way quickly, though it increased the ouch. 
Their tendency to turn assets into long-term foundational pieces trending toward "meh" more and more is a concern. Tearing down a team isn't easy, and Hinkie has been thorough with that. What he does to build the team back up will be far more important. 
Mirotic and Portis combined for 49 points as the Bulls won their fifth straight game, beating...

Gobert, who missed 11 games earlier this season with a knee injury, will have an MRI

Get all the latest scores, news and highlights from Friday's NBA games
Porzingis is questionable for Carmelo Anthony's return to MSG on Saturday

The Spurs and Rockets will renew their in-state rivalry on Friday night

Anthony will play at Madison Square Garden on Saturday for the first time since being trad...