Hawknado to Superman advice: Journey down the rabbit hole
You can go from a Hawknado to meeting Superman and receiving some health advice pretty easily. Just journey down the rabbit hole.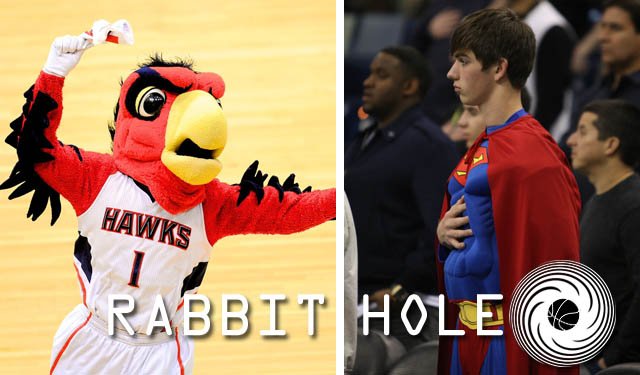 There are a lot of things that can fly in the air and change your life. Some would say fighter jets or 3-point aerial assaults from a record-breaking shooter might do this. Others might say that a tornado of hawks and/or sharks might also accomplish such a frightful reality. Regardless of what you fear in the air, know that you can escape the danger by heading down the NBA rabbit hole. It is your safe haven on Friday the 13th when you should be dodging all superstitions and guys in hockey masks. 
Let's journey down the rabbit hole and kill some time, shall we?
First Stop: Hawknado!
By now, you should all know the phenomenon that is Sharknado. If you're unfamiliar with Sharknado, it's arguably the greatest movie of all time. By arguably, I mean whatever movie you try to say is better than Sharknado, I will argue with you that you're wrong. The description of Sharknado says it all, "When a freak hurricane swamps Los Angeles, nature's deadliest killer rules sea, land, and air as thousands of sharks terrorize the waterlogged populace." Throw in the fact that Ian Ziering and Tara Reid starred in it, and I rest my case.
Thanks to Lang Whitaker at NBA.com, I now know that Sharknado has been parodied by the Atlanta Hawks. As a promotion for their cheerleaders' calendar, the Hawks have presented this incredible ad that will steal your breath and dazzle your senses.
Kyle Korver is there to warn everybody about Hawknado because of course he is. I don't know if there is another person on this planet that I would trust to warn me about a tornado of hawks. If the Hawks turned this into a full-length feature film, would anybody be mad? I didn't think so.
There are some solid Kyle Korver videos out there
Speaking of Kyle Korver, he just did something pretty cool. He broke Dana Barros' NBA record of 89 consecutive games with a made 3-pointer and has actually pushed the record now to 91 games and possibly counting. The NBA gave us a cool presentation on their YouTube channel of all 90 games in 90 seconds for Korver's record-breaking consistency.
That might not be the best thing you can find of Kyle Korver on YouTube though. Back in 2009-10, Korver was a member of the Utah Jazz. That season, he led the league in 3-point percentage (53.6 percent!) in just 52 games. It was the best mark of his career but also came on just 110 attempts from downtown. He was so good that a Jazz fan decided to write a rap song about him.
Yes, that's right. A Utah Jazz fan wrote a rap song about Kyle Korver. It's everything you would hope it could be. (WARNING: He drops an S-bomb in there so possibly not suitable for work)
Normally, I would just say to go to the YouTube page to read the lyrics all typed out, but instead I'm just going to embed them into this post, despite the length of such a decision.
attacker off the bench what else i gotta say
its the double k droppin all the tres in your face 
beatin buzzers watchin time tic toc
hes the white boy with the long hair and the long sox

behind the backboard is one of many tricks
whats better than 23 the number 26
dont call him bad or any names 
or hel chase you down like he did to lebron james
fade away , yea yo hows that taste 
you gotta cover or atleast get a hand in the face

he comes in code he comes in swagger 
he will make that basket s--- that was the dagger
better luck next time now the game is O(r)ver 
poppin tres in the face call him kyle korver

drafted by the nets, traded to philly
philly traded him yo that was pretty silly 
why trade him hes the best shuta
but i guess its all good cuz now hes on utah 


white boy that sometimes scores large 
if you drive in hel get you with a charge
his playin is like a record breakin deal
game changing shot game winning steal


swish swish DID NOT touch the rim 
hes a white boy so no tattoos on him 
hes a supaman gotta call him clark kent
shows no pain with 100 percent

hell of a guard u can call him satan
gettin all the points down at creighton
and for all the jerks that be hatin
hes the best , and thats a statement
While that song may be one of the greatest things I've ever found on YouTube, there's is a pretty great mix of his shooting stroke and ability to fill it up from downtown. Is this YouTube mix better than the tribute song to Korver? You be the judge.
No, the song is definitely the best thing you can possibly find about Kyle Korver on the internet. And that's with the knowledge that there was a time in which Korver teaming up with Deron Williams for a rousing game of dodgeball was a big deal.
You can't dodge a three but can you dodge a ball?
Deron and Korver apparently love dodgeball and they love charity. They decided to team up for an annual dodgeball charity game to raise money for the Boys and Girls Club. It was a great cause that produced some great promotional material for the tournament.
Korver grew up in California for much of his childhood but he went to high school in Pella, Iowa. This is no doubt where he learned how to shoot the ball the way he does and apparently appreciate the finer things in life like cornfields and dodgeball. He's not the only unsuspecting for Utah Jazz player that gets caught off-guard with a dodgeball to the grill.
Some good old-fashioned dodgeball hits
The movie Dodgeball seemed to spark a resurgence in the appreciation for a physical education class game that often let the adequate-to-good athletes prey on the kids that were just hoping to get through the day without getting hit in the face with a fist or rubber ball. Dodgeball leagues became more en vogue and it led to some TV channels trying to capitalize on it with televised leagues.
There aren't many better ways to kill a Friday at work than by watching some great "kills" in the dodgeball dojo.
Really, this should be more of a thing than it is. It looks like they combined Slamball with the XFL and dodgeball. It's kind of a brilliant business model that should be making billions of dollars. 
Thanks to the renaissance of the sport and the invention of YouTube, you can kill quite a bit of time online watching people getting pegged in the face with a dodgeball. That's exactly what I did to find this video of random rec leagues that had ill-equipped survivalists trying to hang on when the rubber starts to fly.
As good as some of those are, I'm not sure it will match the acrobatic display this one guy gave before knocking out an opponent. (WARNING: S-bomb gets dropped in this video too but it's not excessive)
Raise your hand if you think you can do that. All of your hands should be down.
Deron Williams played some beautiful music for the Jazz
Back to Deron Williams, he's struggled with his ankles the last couple of seasons and it's started to make quite a few of us forget just how absurdly talented he is on the basketball court. While the debate of best crossover will always be fun and contentious, anybody that says Deron Williams' crossover doesn't belong in the conversation is a liar. 
Remember that he used to be just dirty on the basketball court, which considering his size at the point guard position makes it all the more impressive.
The first two crossovers in that Top 10 video were good but it wasn't anything that truly got my attention. However, No. 8 when he gets Kirk Hinrich to look like a struggling marathon runner on the court was just filthy. No. 6 against Chris Paul was just so mean. A few years back, Jazz fans were passionate about the "best point guard" debate and this play only helped their cause, even if I disagree with their stance.
No. 4 was Toney Douglas forgetting directions on where he was supposed to go. Either that or he wanted Deron to look at his back. No. 3 is a highlight Orlando Magic players should have holstered in any film session in case Jacque Vaughn is getting on them about playing poor defense. No. 2 is probably the reason Jose Calderon doesn't try to defend anymore. The No. 1 crossover on this compilation is the exact moment in which Derek Fisher became too old to be out there.
There are a lot of really good highlight mixtapes of Williams out there that show more than just the great crossovers. This is probably my favorite one.
It was a shame things didn't work out with Williams and the Jazz because he was the face of the franchise. Since he's left, he's been a bit of a disappointment, largely due to his ankles failing him. While he was in Utah, he did some commercials for a moving and storage company that may actually be footage of what it looked like when he was traded to the Nets.
Here's the first one in which he's trying to get his teammates to help him move:
Then he went after help from the broadcast teams and some front office folk:
Personally, I'm shocked Kyrylo Fesenko didn't help him move. 
Jerry Sloan was tougher than you
Part of the fallout with Williams in Utah was centered around his working relationship with coach Jerry Sloan. During Williams' final season with the Jazz, Sloan retired while rumors of a contentious relationship between the coach and the star player ran wild. Many thought that Sloan eventually just walked away from the gig because he was too tired to put up with catering to stars.
He was kind of above that mentality and if he couldn't get guys to buy in anymore, it probably wasn't worth his time as a coach. Sloan is as old school as they come and when he played for the Chicago Bulls a long time ago, he was as tough as nails. Here's a cool retrospective on his playing career.
Sloan definitely wasn't afraid to play a physical brand of basketball and Jerry West's hair when he's interviewing Sloan was more than enough validation for me playing that video. But did some of those charges he was taking look like flops to you? If they did, don't say anything out loud -- just in case Sloan decides he wants to defend his honor. You'll lose that battle; you'll lose that battle nine times out of ten.
Jerry Sloan meets Superman because why not?
There was a time in which Jerry Sloan was used in a commercial to try to get you to join the United States Air Force. Just in case it didn't work, they brought in a teammate of sorts to help Sloan deliver the message. The result? An incredible awkward ending to this commercial:
I mean... they're just staring at each other! I don't even think they paused the shot. They might just be holding those poses for what had to have felt like an eternity. I will say that it did make me consider joining the Air Force as I watched it but the uncomfortable staring eventually broke my will to try to serve. I'll leave it up to much tougher people than myself to do the job.
If Superman can't get you to fly fighter jets, maybe he can get you to kick that smoking habit of yours.
Not so fast, Nick O'Teen! Have a good, smoke-free weekend, kids!
Jonah Keri talks with NFL and NBA broadcaster Ian Eagle

SportsLine simulated Wednesday's Nuggets-Clippers game 10,000 times

Galin Dragiev has his finger on the pulse of the Lakers and just locked in a play for Wedn...
No more McNuggets allowed in the Barnes household

Leonard has played in only nine games this season for San Antonio

Pierce is set to have his jersey retired on Feb. 11, but there's been a lot of controversy...